Found April 08, 2013 on Pirates Prospects:
PLAYERS:
Gerrit Cole
,
Jameson Taillon
,
Gregory Polanco
,
Alen Hanson
,
Luis Heredia
,
Josh Bell
,
Kyle McPherson
,
Tony Sanchez
,
Bryan Morris
,
Jin-De Jhang
,
Stolmy Pimentel
,
Phil Irwin
,
Adalberto Santos
,
Brett Carroll
,
Matt Curry
,
Darren Ford
,
Michael Ryan
,
Jeff Inman
,
Raul Fortunato
,
Josh Smith
TEAMS:
Pittsburgh Pirates
,
East Carolina Pirates
TOP OF THE SYSTEM A look at how the current top 20 prospects did today.  Note that this list doesn't include players currently in the majors. If a player is in the majors, he will be removed, everyone below him will be shifted up a spot, and a new player will be added to the bottom of the list. Rankings are from the pre-season rankings, and links to each prospect writeup can be found by clicking the player names below. Players who weren't in the original top 20 are linked to their player page on the site. 1. Gerrit Cole, RHP, Indianapolis (0-1, 6.75) - DNP 2. Jameson Taillon, RHP, Altoona (0-0, 0.00) - DNP 3. Gregory Polanco, CF, Bradenton (.267) - DNP 4. Alen Hanson, SS, Bradenton (.211) - DNP 5. Luis Heredia, RHP, Extended Spring Training 6. Josh Bell, RF, West Virginia (.125) – 1-for-4, 2B, BB, 3 RBI 7. Barrett Barnes, CF, Extended Spring Training 8. Tyler Glasnow, RHP, West Virginia (0-0, 0.00) - 5.0 IP, 4 H, 0 R, 0 ER, 0 BB, 6 K, 0 HR 9. Kyle McPherson, RHP, Indianapolis (0-0, 9.00) - DNP 10. Nick Kingham, RHP, Bradenton (0-1, 3.60) - DNP 11. Clay Holmes, RHP, West Virginia (0-0, 9.82) - DNP 12. Dilson Herrera, 2B, West Virginia (.286) - 2-for-5 13. Tony Sanchez, C, Indianapolis (.125) – 1-for-3, 2B 14. Bryan Morris, RHP, Indianapolis (0-0, 0.00) – DNP 15. Wyatt Mathisen, C, West Virginia (.133) – 0-for-3 16. Adrian Sampson, RHP, Bradenton (0-0, 10.13) - DNP 17. Victor Black, RHP, Indianapolis (0-1, 8.10) - DNP 18. Andy Oliver, LHP, Indianapolis (0-0, 0.00) - DNP 19. Jin-De Jhang, C, Extended Spring Training 20. Stolmy Pimentel, RHP, Altoona (0-0, 0.00) - DNP   ORDER YOUR 2013 PROSPECT GUIDE The 2013 Prospect Guide is now available, and is the perfect resource to follow the minor league system during the 2013 season. You can order your copy on the products page of the site. Order together with the 2013 Annual and save $5!   DAILY SUMMARY Top Pitcher: Phil Irwin, RHP (1-0, 1.50) – 6.0 IP, 4 H, 1 R, 1 ER, 1 BB, 5 K, 0 HR Top Hitter: Adalberto Santos, 3B (.444) – 2-for-4, HR Home Runs: Brett Carroll (1), Matt Curry (1), Adalberto Santos (1), Stetson Allie (2)   AAA: INDIANAPOLIS INDIANS Box Score Result: Indianapolis 3, Toledo 1 Starting Pitcher: Phil Irwin, RHP (1-0, 1.50) – 6.0 IP, 4 H, 1 R, 1 ER, 1 BB, 5 K, 0 HR Top Hitter: Brett Carroll, LF (.167) – 2-for-4, HR, 2 RBI Other Notable Performers Darren Ford, CF (.364) – 2-for-4, 2 3B Bryan Morris, RHP (0.00) – 2.0 IP, 0 H, 0 R, 0 ER, 0 BB, 1 K, 0 HR Game Notes: Brett Carroll hit his first homer of the year. Darren Ford became the first Indian to hit two triples in a game since Michael Ryan in 2007. Phil Irwin reached Indianapolis at the end of the 2012 season, striking out 28 in 21 innings with a 2.57 ERA. Irwin continued his success in Triple-A with his first start of the season. He could reach the majors as a starting option this year, but seems more likely to be a reliever in the short-term due to all of the starting options the Pirates have. Bryan Morris now has two strikeouts in three shutout innings.   AA: ALTOONA CURVE  Box Score Result: Akron 5, Altoona 3 Starting Pitcher: Tyler Waldron, RHP (0-1, 6.00) – 6.0 IP, 7 H, 4 R, 4 ER, 1 BB, 3 K, 0 HR Top Hitter: Adalberto Santos, 3B (.444) – 2-for-4, HR Other Notable Performers Jeff Inman, RHP (6.75) – 2.0 IP, 3 H, 1 R, 1 ER, 1 BB, 2 K, 1 HR Matt Curry, 1B (.273) – 1-for-4, HR Game Notes: Adalberto Santos hit his first homer of the year tonight. He's now 8-for-18 to start the season, with a double and a homer. Matt Curry also hit his first homer of the year. Both players were held back from Triple-A this year, despite strong numbers last year in Altoona. Curry hit for a .285 average and an .832 OPS, but you'd like to see more power out of him in the future. Santos had a .340/.425/.433 line, but also needs more power to be more than a future utility player.   A+: BRADENTON MARAUDERS Bradenton was off today.   Tyler Glasnow struck out six in five shutout innings. A: WEST VIRGINIA POWER Box Score Result: Charleston 9, West Virginia 4 Starting Pitcher: Tyler Glasnow, RHP (0.00) – 5.0 IP, 4 H, 0 R, 0 ER, 0 BB, 6 K, 0 HR Top Hitter:  Stetson Allie, 1B (.250) – 1-for-3, HR, 2 BB Other Notable Performers Raul Fortunato, LF (.353) – 3-for-4, 3B Dilson Herrera, 2B (.286) – 2-for-5 Game Notes: Tyler Glasnow had a strong debut with West Virginia. The most encouraging thing was the lack of walks. Last year he had great numbers in the GCL, but struggled at times with his control. Stetson Allie homered for the second day in a row. One red flag is that he has eight strikeouts in 20 at-bats. Josh Smith and Bryton Trepagnier combined to give up all nine runs, with Trepagnier giving up seven in 1.2 innings.
Original Story:
http://feedproxy.google.com/~r/Pirate...
THE BACKYARD
BEST OF MAXIM
RELATED ARTICLES
The Pirates released Jeremy Farrell. The Pittsburgh Pirates have released third baseman Jeremy Farrell, according to the latest minor league transactions from Baseball America. Farrell didn't make either of the top level teams out of Spring Training. In two seasons with Altoona he combined for a .241/.330/.346 line in 610 at-bats. Farrell also had problems staying healthy throughout his career.
Three more pitchers make their season debut today, two of them can be considered sleep prospects, though they are on the opposite ends of the chart. Phil Irwin pitched great last year and was added to the 40-man roster this off-season, putting himself on the map for Pirates fans as a possible call-up during this season. On the opposite end is 19-year-old Tyler Glasnow, who pitched...
It took more than a week, but the Pittsburgh Pirates finally showed something resembling consistency on offense in the Bucs' 6-5 win on Wednesday against Arizona at Chase Field. Starling Marte had two hits, including a two-run double in the fourth, in the Pirates 6-5 win at Arizona. Photo credit: David Hague The Pirates posted a season-high in runs scored and broke into double...
The Pittsburgh Pirates jumped out to an early lead against the Los Angeles Dodgers on Sunday afternoon. Starling Marte, who was the only Pirate to get a base hit off of Clayton Kershaw in Saturday nights game , led off the game with a single to left field off of MLB rookie Hyun-Jin Ryu. Ryu got Neil Walker to pop out to shortstop before Andrew McCutchen hit a two-run home run to...
More than anything, this was a James McDonald Game. McDonald had a 1-0 lead when he took the mound in the first inning. He walked two of the first three hitters, then gave up a double, then a home run. It looked like the Pirates were going to be stuck with J-Mac at his worst. Instead, McDonald set down nine of the ten hitters he faced in the second, third, and fourth innings, only...
After posting a 2.78 ERA over 71 appearances for the Astros in 2011, Mark Melancon did not adjust well to the American League last season. He was traded to the Red Sox in the offseason and recorded a 6.20 ERA in 41 appearances. The right-hander came to Pittsburgh in the Joel Hanrahan deal and told PiratesDugout.com's George Von Benko that he feels comfortable in the Bucs bullpen.
Pirates (1-4) at Dodgers (3-2) 4:10 PM–Dodger Stadium, Los Angeles MLB.com Gameday TV: ROOT The Pirates look to avoid a series sweep (or at least avoid a series shutout) today against the Dodgers. They've dropped eight straight at Dodger Stadium and have obviously been completely dreadful at the plate so far this year. It's gotta change some time soon.. Tonight's starters…...
A bittersweet night in Phoenix saw a Pirates win as well as an injury to perhaps the Pirates' best pitcher.  The Arizona heat warmed up the Pirates' bats as they scored a season-high 5 runs to give them a 5-3 run over the Diamondbacks. Wandy Rodriguez was standing in the on-deck circle before he had…
Through six games, the Pirates have scored eight runs and allowed 16. That puts them dead last in the NL in runs scored and second in runs allowed. They are 1-5. Through six games, the Diamondbacks have scored 37 runs and allowed 27. That puts them third in the NL in runs scored and ninth in runs allowed. They are 5-1.  If we're being honest, right now I'm more concerned...
Swept.  It's embarrassing.  Watching these guys bat actually makes me embarrassed.  Like I'm out there doing it. That guy knows. Someone else who knows a thing or two is Matt Shoemaker.  He is looking for someone to replace Kevin Correia. That should take care of my plugs for this preview. Now it's on to Arizona.…
MLB News

Delivered to your inbox

You'll also receive Yardbarker's daily Top 10, featuring the best sports stories from around the web. Customize your newsletter to get articles on your favorite sports and teams. And the best part? It's free!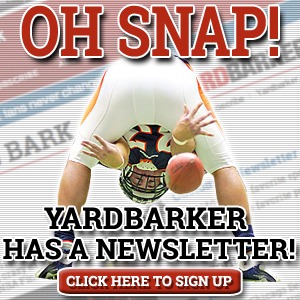 Latest Rumors
The Backyard

Today's Best Stuff

For Bloggers

Join the Yardbarker Network for more promotion, traffic, and money.

Company Info

Help

What is Yardbarker?

Yardbarker is the largest network of sports blogs and pro athlete blogs on the web. This site is the hub of the Yardbarker Network, where our editors and algorithms curate the best sports content from our network and beyond.