Found March 27, 2012 on Mike Silva's New York Baseball Digest:
PLAYERS:
Michael Pineda
,
Andy Pettitte
,
Freddy Garcia
,
Ivan Nova
,
Phil Hughes
,
CC Sabathia
,
Hiroki Kuroda
,
Jesus Montero
,
Carlos Silva
TEAMS:
New York Yankees
,
Seattle Mariners
,
Boston Red Sox
Andrew Marchand of ESPN NY has consistently been concerned about Michael Pineda's velocity this spring. He, along with some other members of the media and blogosphere, have almost comically tracked each Pineda pitch. The thought of sending Pineda down to the minors seemed absurd earlier in spring, but the signing of Andy Pettitte gave the meme a more realistic chance. With the surplus of pitching many writers are trying to figure out the odd man out, and proposing trades and demotions.
Marchand suggested in a blog post earlier today the Yankees should not trade Freddy Garcia, and choose between Michael Pineda, Ivan Nova and Phil Hughes starting the year at Triple-A. I think trading Garcia is a bad idea, but Marchand's alternative is even worse.
I really like Freddy Garcia. He is a guy that has built a long career by adjusting to the physical limitations that Father Time has thrown at him. He went from a power pitcher to someone that relies on control and changing of speeds. His career looked over when he tried out for the Mets in 2009, only to revive it in Chicago by the end of that season. He makes Yankees fans nervous each time he takes the mound, but regardless of the amount of base runners he seems to come away with 6 innings/3 runs in every start.
With that said, Garcia is an insurance policy on a team that can win now and develop young arms. CC Sabathia and Hiroki Kuroda are a great 1-2 punch. Ivan Nova has done nothing but compete and win since he was called up in 2010. Why should he get sent down? Because he doesn't strike out enough batters and that doesn't pass the mustard with some sabermetric ideology? Phil Hughes deserves a chance to prove he can be a consistent #3 starter in the big leagues. No good will come out of sending Pineda down to Triple-A. He needs to learn how to handle the glare of the Bronx. He needs to learn his craft on a big league mound, not in various Upstate New York outposts. He should be given every opportunity to fail, and then some, before he is sent down. You can lose a kid for good by doing that in this town. You want to destroy the confidence of a 23-year old prospect that cost you Jesus Montero before opening day?
Garcia and Pettitte are not the future. Pineda, Nova and Hughes are. There needs to be a balance between winning and development, and the Yankees are in the perfect position to do just that.
The real culprit behind this discussion isn't Garcia; it's the guy that was brought in two weeks ago- Andy Pettitte.
Everyone seems to think it's a feta compli that Pettitte will be in the Yankees rotation this year. We saw veterans like Kevin Millwood and Carlos Silva attempt minor league comebacks last year. Each was unsuccessful and later released by the organization. Pettitte, because of his resume, will get a longer look, but the fact remains that he will be 40-years old in June and hasn't pitched in well over a year. To count him as a certainty is foolish. To mess around with the rotation because of him is insanity.
Unless his health prevents him from coming out of the bullpen, Garcia should stay there all year. He can provide innings when a starter gets hit early. If you have an injury he can be there to step in. Most importantly, he can continue to help mentor young pitchers like Nova and Pineda.
I don't get the obsession with sending down Nova, Hughes or Pineda. Considering the Yankees Triple-A rotation is already stacked with Banuelos, Betances, Warren, Mitchell and Phelps, there isn't room for an obligatory stint for anyone else.
Pitching surplus can turn into pitching scarcity very quickly. Ask the Red Sox how their surplus worked out last season. Don't trade Freddy Garcia. Don't put him in the starting rotation. Let's see Andy Pettitte throw a pitch in a simulated game before we sign him up for a quality start every five days in the Bronx. Let's allow Hughes, Pineda and Nova to pitch themselves into a minor league assignment before we send them on the next bus Upstate.
Let's all calm down and let this develop in a sensible manner.
Don't put the cart before the horse.
Original Story:
http://nybaseballdigest.com/2012/03/2...
THE BACKYARD
BEST OF MAXIM
RELATED ARTICLES
Andy Pettitte is increasing his workload by throwing in a simulated game, and Yankees manager Joe Girardi thinks the 39-year-old left-hander could pitch in a spring training game next week. Pettitte came out of retirement by agreeing to a minor league contract March 16. He threw 20 pitches in batting practice Tuesday before making 13 more pitches to four batters in a simulated...
TAMPA The Tampa Bay Rays have reason to feel optimistic about a rotation that now features a pair of heat-throwing lefthanders in David Price and Matt Moore. But dont look now here come the New York Yankees, with their own matching set of stellar southpaws: All-Star ace CC Sabathia and newly unretired Andy Pettitte. Pettittes surprise return to the game, following a year away...
The Yankees roster has pretty much been set since the start of spring. They have 13 positional players and 11 pitchers locked. The final probably comes down to the Yankees taking one of the two situational lefties: Clay Rapada or Cesar Cabral. Originally I thought it would be a far easier choice, as Rapada only has a little over a year of service time and wouldn't be able to reject...
The New York Yankees have released Preston Mattingly, who had agreed to a minor league contract in January. The 24-year-old son of former Yankees star and current Los Angeles Dodgers manager Don Mattingly had been playing for Double-A Trenton in spring training games. The Yankees confirmed the move on Tuesday. Mattingly hit .232 with five doubles, five home runs and 19 RBIs in...
Former "Sopranos" star Jamie-Lynn Sigler has traded in a turtle for a cutter. The New York Post reports actress Jamie-Lynn Sigler is dating Cutter Dykstra, the son of disgraced ex-MLB All-Star Lenny Dykstra. The Post says the two have been dating for a few months and that things are going really well. They say the couple met through mutual friends Yankees OF Nick Swisher and...
I came across a poorly listed Russ Martin relic on eBay, and I'm happy I took the time to read the item description. Had I not, I would have almost certainly missed out on my newest Russ hit, a great addition to my Martin Collection.This sweet red swatch is the black refractor parallel /25, and my copy is numbered 23/25. It was had for a measly 99 cents plus shipping, and has...
The upcoming season brings us a bunch of milestones on thehorizon for both the National League and the American League. That said, there's one guy out there that isa walking milestone tracker.Alex Rodriguez.The New York Yankees superstar has been creeping up all-timegreatest lists for a while now and beginning next week, he continues hisassault.1997Alex Rodriguez needs just ten...
The New York Yankees signed outfielder Jack Cust to a minor league contract Wednesday, according to Sweeny Murti of WFAN.Cust was released by the Houston Astros on Tuesday after he had only a single hit in 25 spring training at-bats. The 33-year-old batted .213 with three home runs and 23 RBIs in 67 games for the Seattle Mariners last season.
Clearly the Yankees are a little concerned with Ibanez's struggles and bat speed and felt the need to pick up a little insurance at the DH spot. It's another quality trash-heap signing by Cashman. Cust hit just .213/.344/.329 with 3 HR and 23 RBI in 225 at-bats for Seattle, but in 2010 he did have one of hit better overall offensive seasons. That season year he hit .272...
National Baseball Expert Frankie Piliere saw Michael Pineda pitch and has a scouting report for you on the new addition to the Yankees' pitching stable. Pineda is one Yankees fans are watching as he was part of a huge trade with Seattle. Find out the latest from spring training with the Yankees right here:
MLB News

Delivered to your inbox

You'll also receive Yardbarker's daily Top 10, featuring the best sports stories from around the web. Customize your newsletter to get articles on your favorite sports and teams. And the best part? It's free!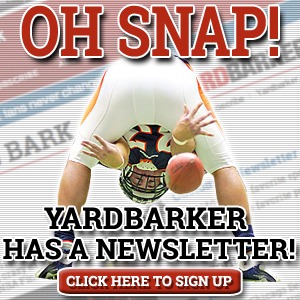 Latest Rumors
Best of Yardbarker

Today's Best Stuff

For Bloggers

Join the Yardbarker Network for more promotion, traffic, and money.

Company Info

Help

What is Yardbarker?

Yardbarker is the largest network of sports blogs and pro athlete blogs on the web. This site is the hub of the Yardbarker Network, where our editors and algorithms curate the best sports content from our network and beyond.