Found June 20, 2012 on Midwest Sports Fans:
R.A. Dickey of the New York Mets has been about as dominant as humanly possible over the past few weeks, and it has put him in a spectacular position in the NL Cy Young race.
R.A. Dickey's amazing start to 2012 has him leading Cy Young discussion in the National League.
Dickey has been extremely impressive over his past several starts, baffling batters with his unhittable knuckleball.
In his past 5 starts, he hasn't allowed a single earned run, becoming the first pitcher in MLB history to not allow an earned run and strike out at least 8 batters in 5 consecutive starts.
Going back to his previous start, where he allowed a single run in 7 innings, he has thrown 42 2/3 consecutive innings without giving up an earned run. If he manages to keep the dominance up, Dickey could break Doc Gooden's franchise record of 49 straight innings without allowing an earned run.
Dickey could have even threatened Orel Hershiser's untouchable record of 59 straight scoreless innings, had Dickey not allowed an unearned run during this amazing stretch. Dickey can still break Hershiser's record for consecutive innings without allowing an earned run).
Most impressive has been Dickey's past 2 starts, both 1-hitters. He's the first man to throw back-to-back 1-hitters since Dave Stieb in 1988, and only the 9th man to do it in the past 90 years. An interesting side note is that Stieb lost his no-hitter in both those games with 2 outs in the 9th inning.
But getting back to Dickey, this story is not only a feel-good one, but it's far from a fluke.
Dickey has been pretty good all season long, and he leads the NL in wins, ERA, and strikeouts. He is 11-1 with a 2.00 ERA and 103 strikeouts as a matter of fact. And while Dickey was never bad in the past, this does come as a big surprise.
A journeyman throughout most of his career, the 35-year old Dickey joined the Mets in 2010 and started the season in Triple-A. He's come a long way, since then and is now on one of the most dominating runs in MLB history. In his past six starts, Dickey is 6-0 with a 0.18 ERA and 63 strikeouts. In his last start on Monday night, Dickey struck out 13 Orioles, a career-high, and set the franchise record for most consecutive hitless innings with 13.
Ironically, this all happened against Buck Showalter's team, the man who introduced Dickey to the knuckleball when both men were with the Texas Rangers.
All this being said, it's very clear that R.A. Dickey is the frontrunner to win the NL Cy Young Award. If the season ended today, Dickey would be the unanimous choice for the Cy Young, and would even have to be in the discussion for MVP as far as I'm concerned (see: Justin Verlander in 2011).
Behind Dickey, the usually hopeless Mets are 36-32, 2nd in the NL East and tied with the Giants for the lead in the Wild Card race. Things are looking up for the Mets, with Dickey's powerful run and Johan Santana's no-hitter (the first in franchise history), but history tells us that we have to wait until the end of the season to see if the Mets can actually stay this good.
History also tells us that we'll have to wait before giving out any awards to Dickey as well. We've seen how quickly things can go south for a knuckleballer. One second they can be making a batter look like a complete a fool, and the next second they can be serving up a pitch on a silver platter to be cranked out of the park.
Despite that, I truly believe that R.A. Dickey will at the very least be in the conversation for the NL Cy Young Award. He's on one of the most dominating runs in history, and it's fun to watch. I wish him the best of luck going forward, and I hope he can keep this unbelievable stretch going.
Original Story:
http://www.midwestsportsfans.com/2012...
THE BACKYARD
BEST OF MAXIM
RELATED ARTICLES
THAT's what's up We don't need to scream from the back of the Dickey congregation any longer. He's been found by all at this point. It's simply awesome to watch. A knuckleballer that's captivating any baseball fan worth his salt. The story is amazing. But, more impressively, the pitching is amazing. Dickey's array of knucklers is dazzling. The fast one. The slower...
Baffling the League Tonight, the New York Mets beat the Baltimore Orioles by a score of 4-0, but the real talk is of the amazing story of R.A. Dickey. With his one-hit shut-out, Dickey became the first MLB pitcher to throw back-to-back one-hitters since Dave Stieb, of the Toronto Blue Jays, completed the feat in 1988. The accomplishment had not been done in the National League since...
R.A. Dickey's story is an incredible one. The veteran right-hander has seen ups and downs at every juncture of his life, but it's safe to assume he's never seen a peak this high. The Mets knuckleballer has found himself as a pitcher while throwing what some consider a gimmick pitch, and he's throwing it better than he ever has this year. Dickey has been relatively...
R.A. Dickey became the first major league pitcher in 24 years to throw consecutive one-hitters and Ike Davis hit a grand slam to lead the New York Mets past the Baltimore Orioles 5-0 on Monday night. Coming off a one-hit gem at Tampa Bay last Wednesday, the knuckleballer struck out a career-high 13 and allowed only Wilson Betemit's clean single in the fifth inning. The previous...
R.A. Dickey leads the Majors in strikeouts. He has more than Stephen Strasburg, more than Justin Verlander, more than Gio Gonzalez. Nobody in baseball has generated as many strike threes as R.A. Dickey. Since he has never done anything like this before — his next strikeout will actually match his 2010 total — people are asking him what he's doing differently. After his...
Starting Lineup Kirk Nieuwenhuis CF Jordany Valdespin 2B David Wright 3B Lucas Duda RF Ike Davis 1B Scott Hairston LF Josh Thole C Omar Quintanilla SS R.A. Dickey RHP The Mets are on a real streak kick. They got swept. Then they swept. Then they got swept again. Anyway, the Mets hope the pendulum swings back in their favor tonight as they start a series with the Baltimore Orioles...
NEW YORK -- Immediately after R.A. Dickey completed his latest masterpiece Monday night, the Citi Field scoreboard flashed a picture of Dickey along with the phrase "Really Awesome." "Really Absurd" might be the better phrase. Dickey continued a dynamic run of pitching that almost defies description Monday by throwing his second straight one-hitter to lead...
After an impressive weekend where Jason Hammel and Wei-Yin Chen pitched back-to-back shutouts in down in Atlanta, they ventured up to New York to continue their interleague swing. The Orioles faced the Mets on Monday night, and the tables got turned on them in terms of their situation over the weekend. R.J. Dickey – who started for the Mets on Monday – has been on a roll, and...
The Orioles made a go of it in New York yesterday, but came up just short. Getting swept while only scoring 3 runs in the three game series is pretty bad (though you do have to tip your cap to the Mets' pitching staff - especially RA Dickey, who is one of the best stories in baseball this year). With Adam Jones no longer hitting the cover off the ball - just .268/.307/.408 with...
Over his last two outings, R.A. Dickey has thrown back-to-back one-hit shutouts, striking out 25 batters over that span. Over his last seven starts, he's posted a remarkable 71:6 K:BB ratio over 54.2 innings. Dickey also hasn't allowed an earned run over his past 43.0 innings during one of the best stretches any starter has had in the history of baseball. He currently sports...
In many ways, Ike Davis' grand slam in the Mets' 5-0 victory over the Orioles on Monday was even more meaningful than R.A. Dickey's second consecutive one-hitter. The Mets have amazingly come to expect this sort of production from Dickey, who has allowed one hit over his last 17 innings and no earned runs over his last 42 2/3. But they have not come to expect anything...
MLB News

Delivered to your inbox

You'll also receive Yardbarker's daily Top 10, featuring the best sports stories from around the web. Customize your newsletter to get articles on your favorite sports and teams. And the best part? It's free!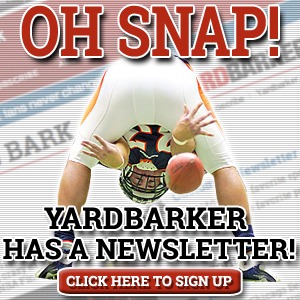 Latest Rumors
Best of Yardbarker

Today's Best Stuff

For Bloggers

Join the Yardbarker Network for more promotion, traffic, and money.

Company Info

Help

What is Yardbarker?

Yardbarker is the largest network of sports blogs and pro athlete blogs on the web. This site is the hub of the Yardbarker Network, where our editors and algorithms curate the best sports content from our network and beyond.