Found March 07, 2013 on NorthWest Sports Beat:
Veteran Presence, Good Game Interesting facts about Raul Ibanez: If Ibanez plays in 53 games this season, he will have played in 2,000 major league games in his career. Last season, while playing for the Yankees, Ibanez finished 24th in the AL MVP voting. There are multiple surprises with this fact, the first is that the results are exact all the way to 24th, the second is that someone felt his lowest amount of plate appearances and lowest batting average since 2001 was worthy of a vote over every other AL candidate. 2013 will be Ibanez's eleventh season playing for the Seattle Mariners. Let's avoid facts as much as we can and dive into love and hate for Mr. Ibanez. Love 'Em 1. Pop Pop In 2007 and 2008, the Seattle Mariners felt that Ibanez was beginning to lose some of his power numbers, recording 21 and 23 home runs, respectively. In hind sight and in relation to the last 4 years in Seattle, those numbers sound great, but Raul has continued to have some power in slightly more limited plate appearances. M's fans would love to see Raul crush home runs into the Hit it here Café. 2. Veteran Confidence It might be looked at as overconfidence, maybe even cockiness. That edge is what made Ibanez who he is–someone that never let a slump drag him down and let the good times roll on. Who could use that swagger? Justin Smoak, Dustin Ackley, and Jesus Montero need that. Maybe his presence will help. 3. Pinch Hitting This is not the role he wants, but when he was called on to do with the Yankees, he showed moderate success. He hit .320 with a couple home runs a year ago, and hopefully that success flows into this season as well. Raul Ibanez is back with the Mariners and crushing it in spring training. Hate 'Em 1. Desire to play I love his confidence, love his desire to help the team win and get the work done himself, but I am incredibly nervous that he will need playing time or he will be annoying in the clubhouse. Ibanez should play, Ibanez should not play over young OF's like Casper Wells, Michael Saunders, or Eric Thames on a regular basis. 2. True downslide What we thought was happening in 2008, will actually happen in 2013. The decline in average and OBP have been acceptable with the continued power, but if the power starts to go, Ibanez doesn't have much else to contribute. 3. Run production Yes, home runs are fantastic. Seattle misses them greatly. Every season since 2008, Ibanez has seen a decrease in RBI production. Are these home runs coming without men on base? Perhaps. But the reality is that Ibanez's production to drive the runner home from second on a single are becoming less and less frequent. In the end, I am glad he is here. Hopefully a hot spring moves into a great 2013. CLICK HERE TO CHECK OUT THE MARINERS BLOG IN OUR CLUBHOUSE TODAY AT NWSB!
Original Story:
http://www.nwsportsbeat.com/mariners/...
THE BACKYARD
BEST OF MAXIM
RELATED ARTICLES
The Seattle Mariners' Offense Blooming in the Spring The Seattle Mariners' front office didn't make any media-frenzied splashes during the off season, but they did fill holes. It is no mystery that the offense in 2012 was a record-breaking disaster, and they were desperate for some change in the lineup. GM Jack Zduriencik made some adjustments – adding Kendrys Morales and Mike...
What happens when you trade a big chip for a can't miss prospect, a can't miss prospect for another can't miss prospect, and draft a guy first round and put all these hot prospects all in one lineup? Well, if you are the Seattle Mariners and their fans, you watched all three collectively flop in 2012. We, of course, are talking about Dustin Ackley, Justin Smoak and...
Cheer For The Yanks…sometimes I find it so strange when a franchise player like Ichiro Suzuki leaves a team. After all, what is the team that we cheer for anyway?  Isn't it the collection of athletes?  Or is it simply the uniform with our city name embroidered across the front? Now I feel like I have to cheer for Ichiro as well as the Seattle Mariners, which means cheering...
Jeremy Bonderman signed with the Seattle Mariners hoping for another chance at the big leagues. He is getting closer to making that happen. Mariners manager Eric Wedge said that Bonderman "continues to impress" in camp. In the right handers latest outing he struck out two over three innings while allowing one run. Bonderman does not seem like a candidate for a rotation spot but...
Seattle 6 – 7 Milwaukee The recent news coming out of the Seattle Mariners' camps was that everything was going according to plan, and then some. In fact, the Mariners had rattled off 10 straight victories in the Cactus League after dropping their first contest of the year. During that time frame, Seattle launched 24 home runs. For comparison purposes, last year they hit 28 total...
A letter to the M's skipper There is a lot being said about the expectation and projections for many of the Mariners young players and incoming veterans this season. Much of it centers on Justin Smoak to live up to his failed hype and to become the middle of the lineup guy we wanted out of the Cliff Lee trade. I really hope that the bone spur issue that was reported about Dustin...
Felix Hernandez allowed one run and two hits over two innings in his spring training debut and Stefen Romero homered twice and had seven RBIs and a Seattle Mariners split-squad pounded Kansas City 12-2 on Thursday, ending the Royals' 11-game winning streak. Hernandez, who signed a seven-year $175 million deal last month, struck out two and threw 33 pitches. Romero finished...
SURPRISE, Ariz. (AP) -- Felix Hernandez waited almost two weeks to get in a game for the Seattle Mariners. The Kansas City Royals went just as long without a loss. Hernandez pitched two innings in his Cactus League debut and Stefen Romero had seven RBIs to help a Mariners split squad beat Kansas City 12-2 on Thursday, handing the Royals their first defeat this spring after 11 straight...
Power surge in AZ Jack Z, and the rest of the Mariners front office set out to do one thing this off season; add some bats. It looks like their plan has worked, for now. The Mariners are tearing the cover off of the ball from every spot in the lineup, but does the higher elevation, drier air, and spring training pitching have more to do with this than anything else? That is the question...
Sometimes it's worth unpacking something that seems like it's fairly cut and dry. Like, for example, the Mariners are showing quite a bit of power in spring training right now, but it seems like folly to put too much stock in those numbers. That statement alone can send you on a journey. As of Thursday morning, the Seattle Mariners had hit 30 home runs this spring. The second...
Mariners News

Delivered to your inbox

You'll also receive Yardbarker's daily Top 10, featuring the best sports stories from around the web. Customize your newsletter to get articles on your favorite sports and teams. And the best part? It's free!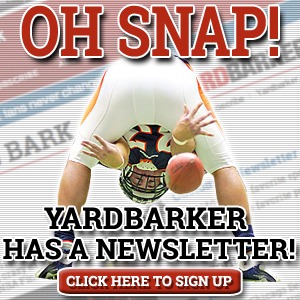 Latest Rumors
Best of Yardbarker

Today's Best Stuff

For Bloggers

Join the Yardbarker Network for more promotion, traffic, and money.

Company Info

Help

What is Yardbarker?

Yardbarker is the largest network of sports blogs and pro athlete blogs on the web. This site is the hub of the Yardbarker Network, where our editors and algorithms curate the best sports content from our network and beyond.