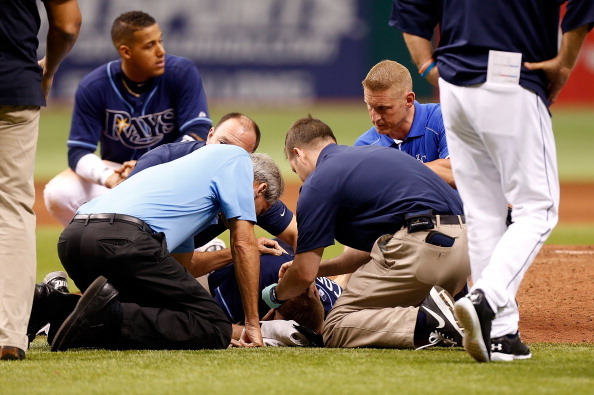 There were a few tense moments moments after Tampa Bay Rays right-hander Alex Cobb was drilled in the head by a line drive in the fifth inning of Saturday's game at Tropicana Field. Cobb was taken off the field on a stretcher after he was hit on the right ear by a liner off the bat of Kansas City's Eric Hosmer. The visibly distressed Cobb put a hand on his head after being struck as trainers from both teams and other medical staff immediately ran onto the field. Cobb could be seen kicking his legs while being examined on the mound in front of the silenced crowd at The Trop. The Rays announced that Cobb remained conscious the whole time and was taken to Bayfront Medical Center in St. Petersburg for further examination. The Rays announced during their game against Kansas City Sunday that Cobb had been released from the medical center less than 24 hours after the frightening incident.  The good news was just the opposite of the ear cringing sound of the ball hitting Cobb...
Read the rest of this story...
MORE FROM YARDBARKER
MLB News

Delivered to your inbox

You'll also receive Yardbarker's daily Top 10, featuring the best sports stories from around the web. Customize your newsletter to get articles on your favorite sports and teams. And the best part? It's free!