Posted March 27, 2013 on AP on Fox
PLAYERS:
Josh Beckett
,
Adrian Gonzalez
,
Carl Crawford
,
Bobby Valentine
,
Terry Francona
,
Dustin Pedroia
,
John Farrell
,
Ryan Dempster
,
Joel Hanrahan
,
Mike Napoli
,
Shane Victorino
,
Stephen Drew
,
Jonny Gomes
,
David Ross
,
Jackie Bradley
,
Jacoby Ellsbury
,
David Ortiz
,
Will Middlebrooks
,
Jarrod Saltalamacchia
,
Jon Lester
,
Clay Buchholz
,
Felix Doubront
,
John Lackey
TEAMS:
Boston Red Sox
,
Los Angeles Dodgers
,
Cleveland Indians
,
Toronto Blue Jays
The Boston Red Sox knew they couldn't ignore the awful results of the last two seasons, so they decided to address the issue directly. In billboards around Boston and a full-page newspaper ad, the team presents its motto for 2013: ''What's broken can be fixed.'' ''It's a marketing slogan. But I think this one has the added virtue of being true and transparent,'' Red Sox president Larry Lucchino said as the team embarked on spring training and began the effort to make fans forget the previous 199 games. ''We know that last year and the final month of the preceding year were the beginning of a very downward trend for this franchise, a historic collapse, a disastrous 2012; that it was no secret that things needed to be repaired, reset, rebuilt, reloaded, reset - whatever `R' word you want to use. And that acknowledging it was probably and honest way to approach the season.'' The first step in the tear-down was the August trade that shipped underperforming and over-complaining Josh Beckett, along with Adrian Gonzalez, Carl Crawford and more than a quarter-billion in future salaries, to the Los Angeles Dodgers. Then they got rid of manager Bobby Valentine, who was brought in to shake up Terry Francona's coddled and complacent clubhouse but made too many enemies in the process. ''Bobby didn't go out there and get any hits or make any errors or do any of that. We lost those games. It's on us,'' said second baseman Dustin Pedroia, who had never finished the season on a losing team before. ''I don't want it to happen again. ... We've got to do everything better than we did last year. It was difficult. We had a tough time. We lost a lot of games. So I think everybody's motivated to make sure that doesn't happen again.'' Now the Red Sox turn to manager John Farrell's steady and familiar style to turn around one of the worst stretches in the history of the franchise. The former Red Sox pitching coach had been team's first choice before it hired Valentine after the unprecedented collapse in September of 2011. Farrell moved south from the Toronto Blue Jays to take over the team that is rebuilding after its salary and talent purge sent it to the bottom of the AL East but provided the chance at a fresh start in 2013. Instead of a big splash on the free agent market, the Red Sox made a series of smaller moves in the offseason, acquiring starter Ryan Dempster and closer Joel Hanrahan along with first baseman Mike Napoli, outfielder Shane Victorino and shortstop Stephen Drew. Outfielder Jonny Gomes and catcher David Ross were also added in the offseason, and outfield prospect Jackie Bradley Jr. has impressed this spring. Pedroia is back in the infield, Jacoby Ellsbury is in center field and David Ortiz will be the designated hitter when healthy, which probably won't be on opening day because of inflammation in both heels. Third base is Will Middlebrooks' job to lose, and Jarrod Saltalamacchia will catch when Ross doesn't. The Red Sox are hoping for bounce-back years from Jon Lester and Clay Buchholz now that Farrell, their former pitching coach, is back and they are out from under Beckett's influence. Dempster solidifies a rotation that was suspect in 2012, Felix Doubront has the potential to contribute and John Lackey, who missed all of last season with Tommy John surgery, has a chance for a fresh start as well. ''Everybody who has surgery has doubt, for sure, when you first start throwing. Got a big zipper in my arm for a reason,'' Lackey said. ''At the end of last season when I came down here and threw two innings, I felt pretty good about that. Things went well and I had a normal offseason and that was nice in terms of confidence coming into this season.'' Lackey hopes to recapture the form that once made him a Game 7 winner, in the 2002 World Series for the Angels. The Red Sox twice won the World Series since then, but those glory days seemed a long way away recently at Fenway Park. ''I don't think we played to our potential,'' Saltalamacchia said. ''Going through what we went through last year, it wasn't us. It's not Red Sox baseball and we all know that. Even guys that come in from another team, right away you know what Red Sox baseball is about and last year wasn't that. So I think we all have a chip on our shoulder.'' -- AP freelance writer Maureen Mullen contributed to this story from Fort Myers, Fla.
Original Story:
http://msn.foxsports.com/mlb/story/Re...
THE BACKYARD
BEST OF MAXIM
RELATED ARTICLES
Jackie Bradley Jr. is an exciting prospect, but there are pros and cons if he starts in Boston Jackie Bradley Jr. may legitimately be the first truly exciting prospect that the Boston Red Sox have had since Jacoby Ellsbury or Dustin Pedroia first took the field in the Boston Red Sox uniform. He shares many of the same qualities that Jacoby Ellsbury possesses when he is having a good...
Baseball is finally here. While Spring Training can hold people off, many are fiending for the season to start. We're right there with you. We look forward to the brutal grind of the baseball season. The braintrust behind Ted's Army came together and put out expectations for our beloved Boston Red Sox and how they would fair in the 2013 campaign. Without further ado... I...
USA TODAY Sports To start off, Forbes ranks the Red Sox as the 3rd most valuable MLB franchises at $1.31 billion. That's only behind the New York Yankees ($2.32 billion) and the Los Angeles Dodgers ($1.615 billion). Also, according to Forbes, the Red Sox had $336 million in revenue and an operating income of $23.9 million. Also, the Red Sox have an Opening Day starter, and his...
BOSTON — The Boston Red Sox are hoping to lure fans back to Fenway Park after a subpar year by offering them free food and cut-price beer for the first month of the season. Kids under 14 will get a free Fenway Frank, Goldfish and a juice box from certain concession areas before the third inning during April. Hot dogs will he sold two for the price of one; hot chocolate will be...
Baseball is finally here. While Spring Training can hold people off, many are fiending for the season to start. We're right there with you. We look forward to the brutal grind of the baseball season. The braintrust behind Ted's Army came together and put out expectations for our beloved Boston Red Sox and how they would fair in the 2013 campaign. Without further ado... I...
The Boston Red Sox have solved their catching dilemma for now. Earlier this morning the team optioned Ryan Lavarnway to their AAA affiliate Pawtucket. With Lavarnway being sent down it leaves 2 catchers still at the Sox spring training, Jarrod Saltalamacchia and David Ross. This is a great developmental move for Lavarnway who will not be thrown to the wolves to face major league...
With baseball season right around the corner, the Mad Fisherman is gearing up for the season, himself. On Friday, March 29 from 7 p.m. right up until NESN Daily at 10 p.m., Charlie Moore Outdoors will be holding a marathon of episodes with a Red Sox theme. That's right, six back-to-back episodes with Mr. Mad Fish himself, featuring the likes of Tim Wakefield, Jason Varitek and...
The Red Sox released first baseman Lyle Overbay today. Overbay, 36, signed with Boston as a minor league free agent in January and was a non-roster invitee to Major League Spring Training.  In 19 games for the Red Sox this spring, he batted .220 with one double, two triples, and seven RBI. The Yankees quickly signed Overbay to a minor league deal after his release from the Red Sox.
John Farrell has officially named Jon Lester as the Red Sox' Opening Day starter against the New York Yankees. CSNNE: On Wednesday morning, manager John Farrell finally made it official.      "It is Jon Lester," confirmed Farrell Wednesday morning. "There's a surprise."      Farrell acknowledged that, given the way the pitchers had been...
Sox fans and to some degree the wider universe of baseball fans have become quite smitten with Jackie Bradley, Jr. His banner year in the minors last year, leading up to him stealing spring training with his five-tool skills, finds Bradley at the center of the debate as to what the Sox should do with him right now, with everyone weighing in. I'll leave that alone, because you...
Hockey not not your thing? Or would you just prefer to watch some Red Sox spring training action over the Bruins? Well, NESNplus has you covered. On Saturday, while the Bruins take on the Philadelphia Flyers live on NESN, NESNplus will be airing the Twins and Red Sox from JetBlue Park. Check out the grid below for a complete list of television providers and corresponding channels...
MLB News

Delivered to your inbox

You'll also receive Yardbarker's daily Top 10, featuring the best sports stories from around the web. Customize your newsletter to get articles on your favorite sports and teams. And the best part? It's free!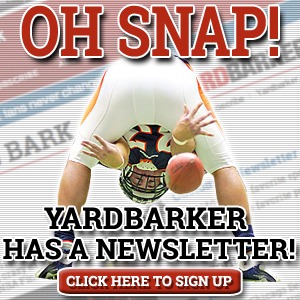 Latest Rumors
The Backyard

Today's Best Stuff

For Bloggers

Join the Yardbarker Network for more promotion, traffic, and money.

Company Info

Help

What is Yardbarker?

Yardbarker is the largest network of sports blogs and pro athlete blogs on the web. This site is the hub of the Yardbarker Network, where our editors and algorithms curate the best sports content from our network and beyond.