Found July 28, 2012 on Three-Way Chili:
PLAYERS:
Ryan Ludwick
,
Chris Heisey
,
Alfredo Simon
,
Denard Span
,
Shane Victorino
,
Drew Stubbs
,
Brandon Phillips
,
Joey Votto
,
Juan Pierre
,
Wandy Rodriguez
TEAMS:
Cincinnati Reds
,
Washington Nationals
,
Baltimore Orioles
,
Minnesota Twins
,
Philadelphia Phillies
,
Pittsburgh Pirates
,
New York Yankees
,
St. Louis Cardinals
With 100 games in the books of the 2012 season, the Cincinnati Reds are 60-40. That's tied for the best record in all of Major League Baseball along with the New York Yankees and Washington Nationals. Just like you anticipated, right? Hey, most Reds fans had high expectations entering this season, but no one could have forecasted the Reds would be standing at 20 games over .500 with just 62 contests remaining in the year.
Biggest Pleasant Surprise/Bargain Players
For a team to piece together the kind of season the Reds are having, unsuspecting heroes must rise up and this club has two in particular that stand out from the rest:
*Ryan Ludwick –
In just 254 at-bats, Ludwick is batting .252 with 17 home runs and 46 RBIs, and owns an OPS of .850. (OPS is my favorite baseball stat. For those who don't know, it simply adds a player's on-base percentage to his slugging percentage. So, if a player has an on-base percentage of .400 and a slugging percentage of .500, his OPS is .900. The stat shows which players not only get on base a lot, but have the ability to drive the ball. An OPS of .700 is considered average/mediocre, an OPS of .800 is considered good, an OPS of .900 is considered great and an OPS of 1.000 or more is considered Votto-like.) Anyway, Ludwick's one-year, $2.5 million contract turned out to be one of the best under-the-radar signings across MLB during the offseason. (He can make an extra $500K through incentives this year.) After a platoon situation for the first three months of the season with Chris Heisey, Ludwick won the everyday left field job for the Reds in resounding fashion. He smashed two home runs against the Rockies on Saturday, making it the third time this season he's had a multi-HR game.
*Alfredo Simon –
Released by the Baltimore Orioles at the end of spring training, the Reds gobbled up the right-handed reliever and he's been lights-out good ever since. Simon, 31, is making the veteran minimum of $487,000, but is giving the Reds maximum production. In 38.1 innings, he's posted a 1.41 ERA and a WHIP of 1.30. He's given up 37 hits and 13 walks, and has recorded 35 strikeouts. And although win-loss record is meaningless for relievers, if you care about that, he's 2-1. You usually don't find bullpen help like that on the scrap heap. No one expects that Simon will keep up this pace for the remainder of the season, but he's a power arm that has been one of the most-staggering surprise stories of the season. You think the O's would like to have him back?
Will A Trade Happen? Who Will It Be?
Those are the big questions, huh? From all reports, the Reds have zeroed in on a pair of leadoff hitters/centerfielders in Denard Span of the Minnesota Twins and Shane Victorino of the Philadelphia Phillies. However, the Reds are not prepared to give up a top prospect to get either one of them. Span is signed through 2014 (he'll make $4.75 million in 2013 and $6.5 million in '14), while Victorino will be a free agent after this season. Span, 28, is batting .286 (.748 OPS) with three HRs, 32 RBIs and 10 steals. The Twins' 2002 first-round draft pick's best season came in 2009 when he batted .311 (.807 OPS) with eight homers, 68 RBIs and 23 steals in 578 at-bats. In his worst season since he established himself as a starter, Victorino, 31, is batting .256 (.711 OPS) with eight homers, 39 RBIs and 23 steals. However, he's a two-time All-Star (2009, '11) and there's no question he still has a lot left in the tank. It would be foolish to write him off at his age because of one poor season (really, a little more than half a season). Victorino has been a very-consistent player throughout his career and has put together many quality seasons. Going by OPS, his best year by a slight margin actually came last season when he batted .279 (.847 OPS) with 17 HRs, 61 RBIs and 19 steals. Something certainly needs to be done. According to Mark Sheldon of Reds.com, Cincinnati's leadoff hitters are batting a combined .201 this season. Both Zack Cozart and Drew Stubbs are more comfortable in the two-hole, but one of them is always forced to leadoff. The best leadoff hitter on the team – Brandon Phillips – is usually forced to bat cleanup to give Joey Votto some right-handed protection in the lineup. (And now Phillips is batting third with Votto briefly on the shelf.) Span or Victorino could step right in and be the leadoff hitter/centerfielder the Reds have been looking for. Will it happen? If I had to guess, no, but I still think it's a strong possibility. I just think the Reds are going to be content to stand pat with Stubbs as the starting CF, even though it's obvious to many that he's not the right man for the job. (Except when he's facing Coco Cordero.) After being ultra-aggressive in terms of trading prospects in the offseason, if I had to bet, I think general manager Walt Jocketty won't make a big trade before Tuesday's deadline. We might see a minor deal, but I'd be somewhat surprised if Cincinnati actually lands Span or Victorino. I definitely hope I'm wrong though. As for those calling for Juan Pierre, he's a leftfielder – not a centerfielder – and the Reds already have one of those thanks to Ludwick. Pierre might be a decent leadoff hitter, but I don't think he's a good fit on the Reds due to his defensive liabilities. Span and Victorino are both quality defensive players. Oh yeah, and they're actually centerfielders, not leftfielders.
NL Central Race Still Heated
The Pittsburgh Pirates are not going away as they stand just two games back of the Reds at 58-42. However, it's good to know that the defending World Series champions -- the St. Louis Cardinals -- are now 6.5 games back of Cincinnati at 54-47. The Pirates made a trade to bolster their pitching rotation when they landed Wandy Rodriguez earlier this week. Will the Reds stand pat? Or will Jocketty pull the trigger on a deal?
Original Story:
http://www.threewaychili.com/reds-201...
THE BACKYARD
BEST OF MAXIM
RELATED ARTICLES
Lohse is a guy the Reds would have liked to keep In honor of the July 31st trade deadline that's fastly approaching, I've compiled a list of some of the worst deadline deals made by the Reds in recent memory. Click here to view a post highlighting the best deadline deals in recent memory. This post only includes trades made in July, so any made outside of that period...
Contrary to Friday, Saturday's affair between the Reds (60-40) and Rockies (37-62) featured offense aplenty. The two teams combined for 22 hits and 16 runs, however, Cincy wound up on the smiling side of the scoreboard by a tally of 9-7 to stretch their season-high winning streak to nine. Johnny Cueto certainly didn't have his best stuff on this night, but he got ample...
The Reds' remarkable play continued last night as they beat the Rockies 7-2. Mat Latos pitched a helluva game, going 8.0 innings and allowing 2 runs on 4 hits and 3 walks. Not bad for the thin air of Colorado, and far better than he really needed to do with all the offense that came out in support of him. Sam LeCure pitched the ninth and gave up 2 hits and a walk, but no runs...
7/29 Game Review Louisville won 3-1. Box Score Didi Gregorius went 2-4 with a solo HR (6). Dioner Navarro went 1-4 with a double. Cody Puckett went 1-4 with a HR (14) and 2 RBI. Chris Valaika went 1-3. Chad Reineke threw 7.1 shutout innings of relief with a walk and 9 strikeouts. Game notes Chad Reineke with an outstanding start led the Bats. A solo home run by Didi Gregorius...
Cincinnati (59-40) stretched their winning streak to a season-high eight games by blanking the Rockies (37-61), 3-0, at Coors Field on Friday. Bronson Arroyo made the start for the visitors and proceeded to earn his sixth victory of the campaign, while Colorado rookie Drew Pomeranz (1-6) took the loss. Aroldis Chapman notched his 20th save of the year after fanning the side in the...
Bronson Arroyo during Reds Opening Night 2012.It was the Bronson Arroyo show for the first … [visit site to read more]
Cueto is one of many aces who are struggling to find run support in 2012 Think quick. What do Clayton Kershaw (LAD), Cliff Lee (PHI), Justin Verlander (DET), Felix Hernandez (SEA), Ryan Dempster (CHC), Clayton Richard (SD) and Johnny Cueto all have in common? Well, the obvious similarity between them is that each one is the ace of their respective team. What may not be so obvious...
Earlier this month the Reds position in first place was threatened when slugger Joey Votto went on the DL for knee surgery. Last night's win at Colorado extended a winning streak to nine games before they go for a third consecutive series sweep Sunday. Over that time their runs/game have increased 25% as multiple players in the lineup have stepped up to pick up the slack from his absence.
7/27 Game Review Louisville won 3-1. Box Score Neftali Soto went 1-3 with a HR (13), 2 RBI and 2 runs. Chris Valaika went 1-2 with a walk. Mike Costanzo went 1-1 as a pinch hitter. Tim Gustafson allowed an unearned run in 5 innings with a walk and 3 strikeouts. Donnie Joseph threw 2 shutout innings with a strikeout. Nick Christiani threw a shutout inning of work. JJ Hoover threw...
by: Chase Fitzgerald & Ron Driesen Staff Writer This is basically the same as my last article, but only with prospects. The difference is one or a few of these guys might be traded very soon. This is not a list of which prospects are the best but a list of the value that other teams have for them. So keep that in mind before you start complaining that player A is much...
Louisville 8 Toledo 4 Bats (42-67), T-3rd place International League West, 25.0 GB -Sean Gallagher (W 9-7, 4.86) allowed 4 earned runs in eight innings. Jordan Smith closed out the game tossing a scoreless inning. -2B Cody Puckett hit a grand slam (6) to give the Bats the lead in the ninth and 1B Neftali Soto had a clutch RBI to keep the game alive for the Bats. SS Didi...
The Red Hot Redlegs have won their 10th straight game, and swept their 3rd series in a row with a 7-2 victory over the Colorado Rockies.Mat Latos was off to a rocky start to begin the game, giving up two runs in the first, but came back with 7 strong innings after that. His line was 8 IP, 4 H, 2 ER, 3 BB, 8 SO and 1 HR, lowering his ERA to a 4.17 on the season. The offense also...
MLB News

Delivered to your inbox

You'll also receive Yardbarker's daily Top 10, featuring the best sports stories from around the web. Customize your newsletter to get articles on your favorite sports and teams. And the best part? It's free!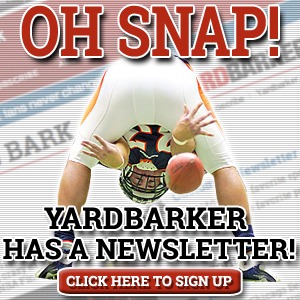 Latest Rumors
Best of Yardbarker

Today's Best Stuff

For Bloggers

Join the Yardbarker Network for more promotion, traffic, and money.

Company Info

Help

What is Yardbarker?

Yardbarker is the largest network of sports blogs and pro athlete blogs on the web. This site is the hub of the Yardbarker Network, where our editors and algorithms curate the best sports content from our network and beyond.