Found June 05, 2012 on Sports Blog Net:
Last week I took a look at the ZIPS Rest of Season projections for the primary Jays' hitters, concluding that while some players are due for a positive performance bump, the net gains would be about zero since the team's run scoring output was already surpassing what one would expect from their slash lines (AVG/OBP/SLG). I promised to take a look at pitchers as well, and the story here is less positive – while I'd expect the hitters to continue to produce roughly the same amount of runs per game, the team's run prevention may be in trouble according to some fielding-independent metrics. I should note here, however, that according to Defensive Runs Saved, the Blue Jays grade out as one of, if not THE best defensive team in baseball so far. What that means is that Jays pitchers would be expected to outperform their DIPS rates (Defense Independent Pitching Stats) relative to the league average, sporting slightly below average BABIP and therefore, maybe, ERA. But there are two factors to consider along with this information: for one, the impact of team defense on starter ERA is difficult to predict and may not be consistent or uniform; and two, the sample size for this year's defensive metrics is still relatively small, so it's not yet clear how far above average the Jays' defense is. With those caveats outlined, I created the chart below based on numbers from Fangraphs, showing each of the Jays' starting pitchers. The chart shows K/9, BB/9, and GB% as a means of displaying each pitcher's primary skills (or "pitcher type" if you prefer). I also displayed their current ERA, their ZIPS projection for Rest of Season ERA, as well as three different DIPS metrics – FIP, xFIP, and SIERA, as explained in extremely basic terms in the chart. Finally, I showed the MLB median rate among qualified starters (116 players) rather than average, hoping to weed out spot starters, although I realize this maybe should have been an AL-only experiment as the lower run scoring environment of the NL would skew these rates downward (e.g. NL median starter's ERA is 3.71 vs. 3.95 for the AL). Alas, here is the chart – you can ignore the heat mapping.
Obviously, this doesn't look good. What we would hope to see is pitchers who are
under
performing their DIPS rates, indicating any expected regression would be the positive kind. Instead, we see that every Jays' starter except Hutchison has outperformed what the metrics would expect, meaning the mathematicians would expect Toronto to be in for a slide in run-prevention results.
Ricky Romero
, the Jays' de facto ace, has struggled with command a great deal so far this season. You would expect the command to improve closer to 2010-11 levels (roughly 3.5 BB/9), while his K-rate and GB% are both in line with what we've come to expect from him. His high groundball rate is a nice sign if the Jays do in fact boast an elite defense, helping turn groundballs into outs at a rate better than the league average. This would explain part of his .238 BABIP, a number that was also extremely low (.242) last year, while some chunk of it would be chalked up to random variance (luck). The big issue with Romero isn't really the low BABIP though, it's the troublesome walk rate. He walked just one batter in his last turn, so maybe he's fixed a mechanical issue of some sort. The metrics see Ricky as more of a #3 starter (as they did last year) than a true ace, but if he can curb the walks he may be able to avoid some of the regression that we'd expect to be headed his way.
Brandon Morrow
has been the best Jays' starter, even if you wince at the memory of his 2/3 IP outing against the Rangers a few weeks back. Morrow's strikeouts are down but his walks are also down and he's keeping the ball on the ground more. This all adds up to see Morrow finally realizing the potential that DIPS rates always thought he had – he's been a constant underperformer in terms of ERA vs DIPS, so maybe the slight edge his ERA has this year is just the baseball universe correcting for prior years. Morrow looks to be a much different pitcher this year, and if he can bring his SwStr% (8.3%) back into the double-digit range we're accustomed to, there's no reason to think Morrow hasn't finally "arrived." I provided a warning about
Henderson Alvarez
a few weeks back, and since then his ERA has risen from 2.61 to 3.75. DIPS
still
thinks he's in line for more regression as his miniscule K/9 nearly negates his great control and high groundball rate. Basically, the metrics think that even with an elite defense, allowing almost every batter to put the ball in play is a recipe for disaster. With that said, SIERA (which accounts for batted ball data) and xFIP (which normalizes his ridiculous HR/FB rate of 18.8%) see him as a serviceable 5th starter, so it's not like he's minor league fodder. If he can somehow get back to his 2011 level of just 5.65 K/9, his outlook would improve significantly, though I'm not confident in the league's
worst
swinging strike rate (4.0%).
Kyle Drabek
, as we know, is an enigma wrapped in a puzzle of a mystery, or something stupid like that. Basically, he has the
stuff
to be successful but not the results, and his career path kind of reminds me of Nuke LaLoosh in Bull Durham – not the wild control and crazy heater, but the "million dollar arm/five cent head" tag that he gets labeled with. I think maybe Drabek just hasn't learned to pitch yet and is still more of a thrower, if you know your scout-speak. Drabek misses bats at an average rate but he also walks just about everybody, meaning his high groundball rate isn't a luxury, it's a life-and-death necessity. At 24, it's not out of the question that Drabek needs more seasoning, but the Jays don't exactly have major-league ready arms knocking at the door (most of their top pitching prospects are a year or more away, and Brett Cecil hasn't been anything special at New Hampshire). As it is, Drabek continues to learn on the job in the Majors, an opportunity the team can only really afford him in the short-term while the expectations are somewhere just south of "playoffs." And finally we get to
Drew Hutchison
, he of the six starts above A-ball before his Major League debut. Hutch had a rough start but has been a revelation over his last five outings, allowing just 9 runs over 30 innings. His K/9 is league-average, and while he's had some high-walk games, his control overall is strong and flashes even better potential. He doesn't keep the ball on the ground as much as the other youngsters, but because he whiffs more guys than Alvarez and walks far fewer than Drabek, the DIPS rates like him as the team's #3 starter right now, suggesting he's performed exactly as his peripherals would suggest. On top of this promising statistical review, keep in mind that Hutch is just 21 years old and, again, had pitched 
31 innings above A-ball
before his call-up. Most scouting profiles didn't see Hutchison as more than a #3, but I don't think anybody realistically expected to get to that level already. So overall things don't look great for the staff, as two pitchers are performing right around their peripherals while the other three have been the beneficiaries of huge doses of "luck." I guess you could expect Drabek to improve as he matures, Romero to figure out his control problem, and Alvarez to accidentally strikeout more than a better every three innings, but if we're trying to do a neutral analysis, you have to expect the Jays' rotation statistics to slide at least a bit. The Jays already lack a bit as a pitching staff, with the league's 20th best ERA of 4.15, though some of this is expected playing in the AL East and at Rogers Centre. The excuses have to be put aside at some point though, as all of the AL East teams face the same schedule and park obstacles, but the Jays find themselves 4th in the division in run prevention (they're 2nd in run scoring, just FYI). Are the Jays prime candidates to try and acquire an arm between now and the trade deadline, as a lot of rumors have suggested? It's certainly possible, but it's only really logical if management sees this as a playoff team immediately, which might be a calendar year too optimistic.
Original Story:
http://theondeckcircle.sportsblognet....
THE BACKYARD
BEST OF MAXIM
RELATED ARTICLES
ROGERS THAT: Vladimir Guerrero will be wearing a Blue Jays uniform soon. Once thought of as one of the most complete players in all of baseball, Vladimir Guerrero is coming closer to wearing a Major League uniform.  Late last week, Guerrero was promoted to the Blue Jays' Triple-A franchise in Las Vegas. Guerrero, who signed a minor league deal with Toronto on May 10, reported...
Toronto Blue Jays scouting director Andrew Tinnish isn't sure who would win in a race between Anthony Gose or D.J. Davis. "I would be very close," Tinnish said Monday after the Blue Jays made Davis their first of two first-round picks in the draft and the 17th player taken overall. Gose, 21, is the center fielder at Class AAA Las Vegas and one of the top prospects...
Some of the players have changed over the last three years, but one constant remains for the Toronto Blue Jays. They hate taking walks. Of course, they are not hitting all that well either this season and perhaps the two facts go hand in hand. They are eleventh of fourteen AL teams in batting average and on-base percentage. The on-base thing has been a problem for three straight...
In baseball, one game does not make a trend, except perhaps in late October. Just the same, the Toronto Blue Jays' revamped lineup looked good Tuesday in a 9-5 victory over the Chicago White Sox. After a slow start to the night, Brett Lawrie, batting leadoff for the first time as a professional, had three hits and scored three runs. Colby Rasmus, batting second for the...
The Toronto Blue Jays have two hitters currently at Triple-A that could make some noise the second half of the major league season and help fantasy owners out in their run to winning a league championship. Catcher Travis d'Arnaud has been on fire of late with a .409 batting average in his last 10 games with four home runs and 14 RBI. For the season, d'Arnaud is hitting .322...
Blue Jays' third baseman, Brett Lawrie went to Eaton Centre Mall in Toronto, Canada after the Jays' dropped a game to the visiting Red Sox, and was forced to evacuate in a stampede as a gang related shooting erupted in the food court. Lawrie, tweeted immediately after exiting the mall in a panic, and was not shy about admitting how terrified he was.
Colby Rasmus went 5 for 5 with a homer to help Ricky Romero earn his seventh win as the Toronto Blue Jays beat the Chicago White Sox 9-5 on Tuesday night. Rasmus and David Cooper hit two-run homers in the fifth off Phil Humber and both finished with three RBIs in Toronto's 13-hit attack. Romero (7-1) pitched seven-plus innings, allowing six hits and five runs - three earned...
After sweeping the Orioles,  I wasn't quite sure how the Blue Jays would do against the Boston Red Sox this past weekend. Well, the Jay's winning streak came to an end on Friday, as the Jays got hammered 7-2.  Earlier in the game, their defense was good, but they were unable to produce runs, which  allowed Boston to break the game wide open in the middle and late innings. ...
The Toronto Blue Jays are trying to end their longest road losing streak of the season. A visit to Chicago might not provide the ideal opportunity to get it done. The Blue Jays look to avoid a sixth consecutive road loss Tuesday night against the AL Central-leading White Sox. Though Toronto (28-26) is fresh off a 4-2 homestand against Baltimore and Boston, it lost the final five...
Before this year , it may have been a requirement to refer to Edwin Encarnacion as 'enigmatic' or similar. With 17 home runs already this year, the man who's iron glove garnered him the nickname 'E5′ is well on his way to a career year heading into free agency. In truth the enigma label was a little unfair on Encarnacion. Since his first full year in 2006, he has put up...
Blue Jays News

Delivered to your inbox

You'll also receive Yardbarker's daily Top 10, featuring the best sports stories from around the web. Customize your newsletter to get articles on your favorite sports and teams. And the best part? It's free!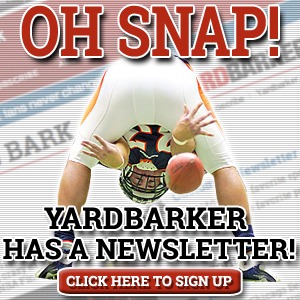 Latest Rumors
The Backyard

Today's Best Stuff

For Bloggers

Join the Yardbarker Network for more promotion, traffic, and money.

Company Info

Help

What is Yardbarker?

Yardbarker is the largest network of sports blogs and pro athlete blogs on the web. This site is the hub of the Yardbarker Network, where our editors and algorithms curate the best sports content from our network and beyond.