Found July 14, 2012 on Bronx Pinstripes:
PLAYERS:
AJ Burnett
,
Nick Swisher
,
Derek Jeter
,
Alex Avila
,
Shane Victorino
,
Melky Cabrera
,
Jorge Posada
,
Alex Rodriguez
,
Johnny Damon
,
Hideki Matsui
,
Robinson Cano
,
Francisco Cervelli
,
Juan Miranda
,
Mark Teixeira
TEAMS:
Pittsburgh Pirates
,
New York Yankees
,
Detroit Tigers
,
Philadelphia Phillies
,
San Francisco Giants
,
Cleveland Indians
,
Tampa Bay Rays
<a href="http://bronxpinstripes.com/wp-content/plugins/wordpress-feed-statistics/feed-statistics.php?url=aHR0cDovL2Jyb254cGluc3RyaXBlcy5jb20vbnl5L3JpcC15YW5rcy13YWxrLW9mZi0lY2YlODAvYXR0YWNobWVudC9uaWNrLXN3aXNoZXItcGllLw==" rel=\"attachment wp-att-9319\">

It was the kind of thing you'd see at a circus or on an episode of The Three Stooges, but in years passed at the House that Ruth Built, pie to the face was in recognition for a single swing that allowed our team to walk off the field in victory. A.J. Burnett moved on to Pittsburgh and took the pie with him, as he was the Yanks' official "Pie Guy" until he left. This season, I waited and waited for a Yankee game-ending and game-winning situation in hopes of celebratory pie. There were rumors that Nick Swisher would step up to the plate and serve as the Yanks new, designated pie-er., which we all know his energy and antics would have been perfect for. The season was underway and still no pie.
Then, a game vs. Detroit in late April came. Derek Jeter scored the winning run on a passed ball by Alex Avila. No pie. I thought, "Maybe a passed ball walk-off doesn't count" but was still anticipating to see Swisher run out with a towel full of cream. Weeks passed and there started to be walk-off homeruns or hits and still no pie. Burnett took the pie with him and I must say that is the only reason why I miss him. Although, like many once-Yankee-pitchers, he seems to be having a breakout season so far, after leaving the Pinstripes behind (10-2, 3.68 ERA), only making me more bitter.
But where did this: whipped-cream-saturated-Gatorade-towel-to-the-face-of-the-guy-responsible-for-the-win, all begin? Who actually first came up with the art of the walk-off pie as a celebration act in baseball? Well "pieing" began in the early motion pictures of the 20th century, seen as a comedic stamp in old black-and-whites. But as far as who started it in sports? When googling it, I only find Burnett's name. He may not have been the first athlete to do it but I can't find much info on any one who may have been. He probably wasn't the first one but he certainly put his trademark on it. His signature ingredient is whipped cream. Other players, like Shane Victorino enjoy pieing with shaving cream. The pie phenomenon has reached beyond game-winning hits to any outstanding performance (hitting a HR in MLB debut, no-hitter, etc.).
The walk-off pie cooked up a lot of Yankee success in 2009. The Yankees had 17 total walk-off wins: 15 regular season and 2 post season. The guys who got cream to the dome: Melky Cabrera (4/22, 5/15. 5/23), Jorge Posada (5/1, 7/4), Alex Rodriguez (5/16, 6/12, 8/7), Johnny Damon (5/17), Hideki Matsui (7/20), Robinson Cano (8/12, 8/28), Nick Swisher (9/8), Francisco Cervelli (9/16), Juan Miranda (9/29), Mark Teixeira (10/9), and Jerry Hairston (10/17). In May that season, in a 4 game set with Minnesota, the Yanks walked-off 3 straight wins, first time such feat had been accomplished since 1972. There were 5 pie victories in the first 16 games at the new stadium. The pie added to the drama of the post season, similar to spraying champagne all over each other in the clubhouse. You would see signs in the audience that read, "We want Pie" or "Pie or Die".
How sweet a fresh walk-off pie must have tasted. 17 pies in '09 may have played a part in fueling the Yanks to that World Series victory, who knows. The taste of victory mixed with embarrassment and the comedy of it all. I do miss that. After an exciting win, you'd see Burnett run to the dugout, emerge on to the field, and smack that day's hero with a face full of cream pie and it would splatter all over to whoever was interviewing them (usually poor Kim Jones). Burnett took, what started to be accepted as a Yankee tradition, with him to the Pirates. As the mid-summer has approached, the Yanks are starting to pick up on exciting wins again, which is great BUT…I'll forever…miss the pie.
Original Story:
http://bronxpinstripes.com/nyy/rip-ya...
THE BACKYARD
BEST OF MAXIM
RELATED ARTICLES
All it took was one bad inning from the Pittsburgh Pirates to see the club lose the series in Milwaukee and fall a 1/2 game back in the National League Central. A.J. Burnett was cruising along in his 16th start of the season for Pittsburgh. The right-hander was impressive through a few jams, and his veteran experience on the bump allowed him to continue to put up zeros. In the first...
A small indicator of how much the Pittsburgh Pirates have improved is their play this season at Miller Park, a place where wins were once extremely rare. A.J. Burnett, winner of nine consecutive decisions, will try to help his team prevail in another road series against Yovani Gallardo and the Milwaukee Brewers on Sunday. Pittsburgh (49-38) has added to its breakthrough campaign...
As terrible as Saturday's picks were, that is how good they were on Sunday. Only four picks were incorrect.. A.J. Burnett was out-pitched by Yovani Gallardo. The Red Sox look far better than the Rays these days. Ben Sheets was brilliant and thus making that Mets' pick stupid. And the Padres again beat the Dodgers. But that was it. Everything else was correct. Funny game...
This one gave me a sort of uneasy feeling right from the start. Yovani Gallardo was mowing down the Pirates from the get go and AJ Burnett got himself into trouble in the first, second, and fifth innings, but managed to avoid any damage. Both Drew Sutton and Garrett Jones made clumsy-looking plays in the outfield, as if to foreshadow how much of a problem the Pirates' lack of...
Two of three. Two of three. Two of three. Sweeps are sexy and sweeps move the win/loss record and sweeps can make a big change in the standings, but if you just keep on winning two of three, the wins will eventually pile up. The Brewers and Pirates have played some ugly baseball in this series, but with a win this afternoon, the Pirates get two of three. Win today, worry about tomorrow...
MLB News

Delivered to your inbox

You'll also receive Yardbarker's daily Top 10, featuring the best sports stories from around the web. Customize your newsletter to get articles on your favorite sports and teams. And the best part? It's free!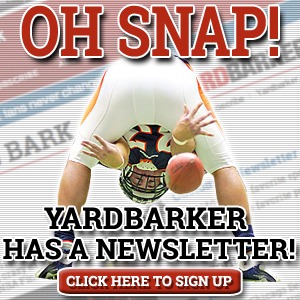 Latest Rumors
The Backyard

Today's Best Stuff

For Bloggers

Join the Yardbarker Network for more promotion, traffic, and money.

Company Info

Help

What is Yardbarker?

Yardbarker is the largest network of sports blogs and pro athlete blogs on the web. This site is the hub of the Yardbarker Network, where our editors and algorithms curate the best sports content from our network and beyond.