Found June 13, 2012 on B-More Birds Nest:
Welcome back indeed, Brian Roberts.
The Orioles second baseman made his long-anticipated return last night against the Pittsburgh Pirates, and he did not disappoint.
In his first at-bat, leading off the bottom of the first inning, Roberts had a vintage BRob-type AB. He worked the count to three-and-two, and on the sixth pitch he saw, laced a line drive to center field for a single. It was great to see not only because it was exactly the kind of AB we've come to expect from Roberts over his Baltimore career, but because without him in the lineup, there has been pretty much nobody on the team who even attempts to make the pitcher work on a regular basis (an even more glaring weakness with Nick Markakis temporarily out of the lineup).
His second AB was more Robert Andino-like than Roberts-like, as he struck out on three pitches.
Following that hiccup, though, it was more good from Brian. He singled in his final two official AB, the second of which came hitting from the right side, and added an RBI sacrifice fly for good measure.
Roberts' final line: 3-4, 3 singles, 1 RBI (somehow he never managed to cross the plate, despite the 2-3-4 hitters in the O's lineup going a blistering 8-15 with 5 RBI). Click here for video highlights from MLB.com.
It was a performance that fans – and Roberts himself – will not soon forget. Following the game, Brian admitted that when he first stepped to the plate to a standing ovation from the Oriole Park at Camden Yards crowd, he was a little more "emotional" than he expected to be, and had to take a moment to compose himself. Listening to him speak in the post-game press conference, it was tough not to get emotional ourselves as fans.
"I'm just so grateful. I sometimes don't have words for what I've been through and where we are now. I'm humbled and grateful to have the opportunity."

"I actually got a little more emotional than I thought I was going to," he said. "It took me a second to gather myself. It was very special and much appreciated. That's for sure. Everyone has been so good to me here in my career. The fans have been so great and supportive of me the whole time. That was very special.

"It'll be one of those (memories) that sticks out for sure. There's not a ton of games that stick out in your mind after a lot, but you have your few. Certain that will be, as much as my brain allows me to remember, it'll be one that's good."
Let's not forget – this is a guy who, as recently as last fall, couldn't even walk his dog or take a trip to the grocery store without becoming dizzy and nauseous.
While we will all hold our breath every time Roberts slides hard into a base or makes a diving attempt at a ground ball for the rest of his career, for one night at least, Brian looked like his old self, and gave O's fans hope that he'll be able to finish out his career in B'More on his own terms, as the productive and professional player he has always been.
And what did the guy he replaced in the lineup, Andino, think about B-Rob's return?
Well, I'm not sure, but looking at this picture, I'm thinking it was something along the lines of…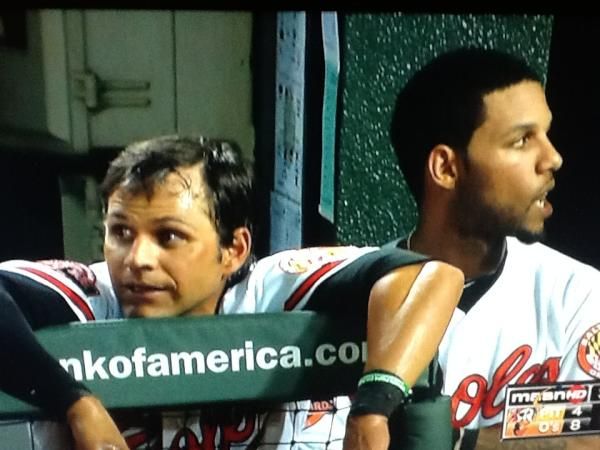 "Dis mufugga…."
Kidding, of course. After the game, Dino gave Roberts a big ol' bear hug in the hand-shaking line.
Anyway, despite Roberts "taking Andino's job," Robert should be given the opportunity to start at third base more often than not moving forward. Wilson Betemit can't hit his way out of a wet paper bag lately, and last night he misplayed a pop-up that led to Buck Showalter inserting Andino – who had been on the bench – at third.
As Roberts discussed his play on the field directly after the game with the MASN booth, O's fans knew what was coming – a shaving-cream pie in the face, most likely from Adam Jones. After some of the shaving-cream punches we've seen Adam deliver this year though – I swore he damn near broke Nick Johnson's nose a month or so back – we were hoping AJ would take it easy on B-Rob.
And take it easy he did – click here for the video (I'll put up a gif if I can find one).
Awwww, AJ. So gentle.
The O's attempt to take the series from Pittsburgh tonight – in what would be their third consecutive series win – but their starter for the game is currently up-in-the-air after Brian Matusz took a foul ball off his nose yesterday during a bunting drill. Stupid interleague play.
Original Story:
http://feedproxy.google.com/~r/bmoreb...
THE BACKYARD
BEST OF MAXIM
RELATED ARTICLES
Brian Roberts has returned to the Baltimore Orioles after being out for 13 months with a concussion. The Orioles planned to activate the two-time All-Star second baseman from the 60-day disabled list on Tuesday. He was penciled into the lineup at his customary leadoff spot against the Pittsburgh Pirates - although wet weather threatened to delay Roberts' season debut for at...
Many thought he'd never play again, yet barring a last-minute setback, second baseman Brian Roberts is due to return to the Baltimore Orioles on Tuesday. Roberts, who suffered a concussion in September 2010 and another in May 2011, wrapped up his rehab assignment Sunday and is expected to rejoin the 25-man roster Tuesday after spending the past year on the disabled list. ...
Brian Roberts is set to play tonight for the first time in 13 months, so what better time to dust off some three-year-old, half-baked research? I put this together in the fall of 2009 to see where B-Rob ranked among the best 2B of the past decade, and I don't know why I didn't post it then. But here it is, the top 2B of the '00s ranked by WAR (with OPS+ and plate appearances...
On Wednesday Brian Roberts completed a long road back from injury making his first start with the Orioles since May 16, 2011. I never thought I would be writing those words this year. I honestly doubted I would ever write those words again. Brian Roberts' recovery was so long and his body seemed so delicate this spring that I never thought he would get back to Camden Yards....
Soon after a concussion interrupted his baseball career, Brian Roberts was more concerned with simply living a normal life than returning to the game he loves. ''There were times throughout the process that the future looked so bleak,'' the Baltimore Orioles second baseman said Tuesday, hours before he was to play his first major league game in 13 months. Roberts...
ORIOLES IN THE NEWS Nolan Reimold, who started out the season on fire, looking like he was going to be a mixed league force in the outfield, continues to linger on the sidelines with that herniated disk in his neck (the pain has subsided, but there is still weakness in the area). Tuesday he was moved from the 15 day DL to the 60 day DL pushing back his return to action even farther...
Last night, the Orioles won their third straight game in a row as they defeated the Pittsburgh Pirates in interleague action, by a score of 8-6. Wei-Yin Chen (6-2) won another game – he went 6 1/3 innings, gave up four runs, Adam Jones had four hits, along with his 18th homer of the year; in addition, Mark Reynolds and Chris Davis went deep. Jim Johnson got his 19th save of the...
Brian Roberts returned from a 13-month layoff to get three hits and an RBI, and the Baltimore Orioles homered three times in an 8-6 victory over the Pittsburgh Pirates on Tuesday night. Activated from the 60-day disabled list before the game, Roberts went 3 for 4 with a sacrifice fly. Playing in the majors for the first time since sustaining a concussion on May 16, 2011, Baltimore...
Here's a running list with injury updates around the Major Leagues: – Second baseman Brian Roberts could rejoin the Orioles tomorrow according to Roch Kubatko of MASN. The decision depends on whether Roberts experiences any setbacks today while playing in the Orioles' Triple-A team or not. "I don't know,"manager Buck Showalter said. "I'm not sure how he felt...
Football remains the flash point for the still-evolving discussion of concussions and brain injuries in American sports. Last week saw the latest development, as litigation involving thousands of former players coalesced into a master complaint against the NFL. The issue is less prevalent in baseball, where the risk of neurologic injury is dramatically lower. But the awareness of...
ORIOLES IN THE NEWS Nolan Reimold, who started out the season on fire, looking like he was going to be a mixed league force in the outfield, continues to linger on the sidelines with that herniated disk in his neck (the pain has subsided, but there is still weakness in the area). Tuesday he was moved from the 15 day DL to the 60 day DL pushing back his return to action even farther...
MLB News

Delivered to your inbox

You'll also receive Yardbarker's daily Top 10, featuring the best sports stories from around the web. Customize your newsletter to get articles on your favorite sports and teams. And the best part? It's free!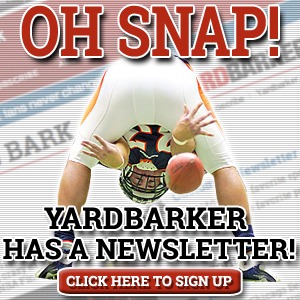 Latest Rumors
Best of Yardbarker

Today's Best Stuff

For Bloggers

Join the Yardbarker Network for more promotion, traffic, and money.

Company Info

Help

What is Yardbarker?

Yardbarker is the largest network of sports blogs and pro athlete blogs on the web. This site is the hub of the Yardbarker Network, where our editors and algorithms curate the best sports content from our network and beyond.