Found January 08, 2012 on Mets Fever:
PLAYERS:
Scott Hairston
,
Ronny Cedeno
,
Fernando Martinez
,
Kirk Nieuwenhuis
,
Justin Turner
,
Dan Murphy
,
Armando Rodriguez
,
Chris Schwinden
,
Jeremy Hefner
,
Chuck James
,
DJ Carrasco
TEAMS:
New York Mets
,
Pittsburgh Pirates
This week the Mets signed two players to major league contracts, Scott Hairston is believed to have already been to NY for his physical and Ronny Cedeno's contract is awaiting a physical.
With Mets roster already at 40 they need to make two moves; they can cut players outright, DFA a player hope they can make it through waivers and accept the assignment ( if they have the option to decline) or make a trade.
Those two spots might not be the only ones they need as there still looking for a reliever and bench players.  Even if they sign them to minor league deals, at some point they're going to need to add them.
Here are some thoughts on the roster;
Fernando Martinez
-  It was reported earlier this off-season that the Mets are considering unloading the former #1 prospect.  Is it time to consider a 22 y/o power hitting outfielder a bust because injuries have side tracked his career.  I wouldn't, but it has taken FMart so long to stay healthy that other outfield prospects like Kirk Nieuwenhuis are almost ready for the majors making him replaceable.  They could DFA him, hope he makes it through waivers and since it would be his first time he couldn't opt for free agency.
Justin Turner-
  I don't believe signing Ronny Cedeno was meant to have any implications for Turner, it was simply finding a player who could fill-in at shortstop.  But with Cedeno in the mix Turner now seems like a duplication of services.  I think Turner's biggest assets are his two options, that he hit .350 with RISP and concerns over Dan Murphy's health/defense.  Had the Mets not valued Turner they would have sent him to Colorado for Young Jr.
Dan Murphy-
  I still think Dan Murphy is more valuable as a trade chip to a small market AL team instead of as our starting 2B.  I'm a strong believer in up the middle defense ( C, SS, 2B, CF) and I still think that Murphy's bat doesn't out weigh his lack of glove.
Armando Rodriguez-
 The 23y/o is having some success as a starter but many project him to be a power arm reliever.  He has talent but has only pitch as high as A+, they might take the chance and try to slide him through waivers.
Chris Schwinden-
  Schwinden is a AAAA pitcher who can fill in at the back-end of the rotation, spot start or be a long reliever all from Buffalo.  That's not to say he isn't valuable in fact the Mets need those type of pitchers and should still be in the market for these type of pitchers. But more then likely Schwinden wouldn't be claimed and if he was could be replaced. Schwinden came up for four starts going 0-2 with a 4.71 ERA, in AAA he went 8-8 with a 3.96 ERA in 28 starts.
Jeremy Hefner-
 I think it's either Schwinden or Hefner whoever they feel is more valuable as starting depth    in Buffalo.  Hefner was selected by Sandy/Depo in the 5th round of the 2007 draft while Omar picked Schwinden in the 22nd round of the 2008 draft.  Hefner has never been in the majors, last year in AAA he made 28 starts with a 4.98 ERA and a record 9-7.  They can't risk both back-up starters but would of them could be designated.
Daniel Herrera-
The Mets have their primary lefty Byrdak and Chuck James could end up being the second lefty as a long reliever type instead of a specialist.  Herrera is a trick pitcher, using a screwball and sidearm delivery, they usually get figured out quickly.  Herrera already did his job for this team by getting the Mets out of Frankie's contract.  He made it through waivers last year and I suspect he could again this year.
D.J. Carrasco-
  Most of us would put Carrasco at the top of the list but I think his 1.2M contract will get him to spring training, that money would stop a team from claiming him but he could collect his money while electing for free agency.  He posted a 6.02 ERA in 45 appearances, 15 of those appearances were game finishes in mop up duty ( no saves) and as evident by his 67 innings he can pitch multiple innings.
Not discussing trades this would be my order of DFA; Carrasco, Rodriguez, Schwinden, Herrera, Hefner, FMart, Turner ( Murphy strickly a trade option only)...
Original Story:
http://www.metsfever.com/2012/01/rost...
THE BACKYARD
BEST OF MAXIM
RELATED ARTICLES
The Mets have reached agreement with infielder Ronny Cedeno on a one-year deal, worth just north of $1 million. The Mets had no backup shortstop on the roster so Cedeno certainly fills a need. He's very good insurance in case Ruben Tejada regresses or if Daniel Murphy gets injured again. Cedeno is not much with the bat in his hands, as he has a lifetime OPS+ of 68 in 2,309...
Since the Mets made their splash at the Winter Meetings about month ago they had been relatively quiet until this past week.  None of the moves that were made will wow you, but they filled some holes with quality yet affordable bench players who can start and fill in if necessary. SS-Ronny Cedeno: Ken Rosenthal of Fox Sports  has reported via Twitter that Ronny Cedeno has agreed...
Infielder Ronny Cedeno has agreed to a one year deal with the New York Mets according to Adam Rubin of ESPN New York. The deal is worth about $1.1 million and is pending a physical. Cedeno will fill a bench role and backup Ruben Tejada at shortstop and possibly Daniel Murphy at second base for the Mets. Last season, he hit .249 with two homers and 32 RBIs in 413 at-bats for the...
Ronny Cedeno will help Ruben Tejada adapt to being an every day player with the New York Mets.Jorge Cantu could be headed to the west coast while Ronny Cedeno is headed to the east coast. Cantu and the Los Angeles Angels of Anaheim are reportedly close to finalizing a minor league deal while Cedeno and the New York Mets agreed to a $1.15 million one year contract.Cantu began last...
NEW YORK (AP) -- A person familiar with the negotiations tells The Associated Press that shortstop Ronny Cedeno and the New York Mets have agreed to a one-year, $1.15 million contract.
The Mets now appear completely set in at least one roster area, agreeing to terms Friday with infielder Ronny Cedeno on a one-year deal, according to a person with knowledge of the situation.
The Mets added a veteran backup shortstop Friday, agreeing to a one-year deal with former Cub, Pirate and Mariner Ronny Cedeno, according to two baseball sources with knowledge of the contract. Cedeno is slated to earn about $1.2 million plus incentives next season as insurance for Jose Reyes' replacement, Ruben Tejada.
According to Adam Rubin of ESPN New York. Fernando Martinez and Daniel Herrera have both been put on waivers. Earlier today, Rubin warned that the Mets still needed to clear two spots from their full 40-man roster to make room for recent signings Scott Hairston and Ronny Cedeno. Martinez, 23, has faded as a prospect because of continual leg injuries. Even when healthy,...
As was reported on MMO yesterday, the New York Mets have signed defensive-minded shortstop Ronny Cedeno to a one-year, $1.1 million dollar contract. Cedeno, 28, was the Pirates starting shortstop since they acquired him in 2009. In 313 games for the Bucs, Cedeno batted a meager .254/.297/.367/.664 in 1,126 plate appearances. Obviously he's here for one purpose and that is to...
MLB News

Delivered to your inbox

You'll also receive Yardbarker's daily Top 10, featuring the best sports stories from around the web. Customize your newsletter to get articles on your favorite sports and teams. And the best part? It's free!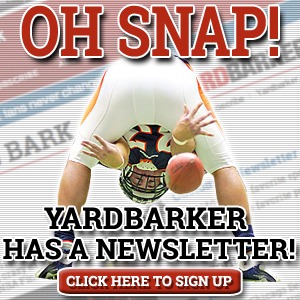 Latest Rumors
Best of Yardbarker

Today's Best Stuff

For Bloggers

Join the Yardbarker Network for more promotion, traffic, and money.

Company Info

Help

What is Yardbarker?

Yardbarker is the largest network of sports blogs and pro athlete blogs on the web. This site is the hub of the Yardbarker Network, where our editors and algorithms curate the best sports content from our network and beyond.