Found August 06, 2012 on Waiting For Next Year:
PLAYERS:
Grady Sizemore
,
Josh Willingham
,
Manny Acta
,
Justin Masterson
,
Ubaldo Jimenez
,
Derek Lowe
,
Josh Tomlin
,
Jeanmar Gomez
,
Zach McAllister
,
Corey Kluber
,
Chris Seddon
,
Roberto Hernandez
,
Drew Pomeranz
TEAMS:
Cleveland Indians
,
Minnesota Twins
,
Colorado Rockies
And I thought being swept back to back by the Twins and the Royals was rock bottom. I obviously thought wrong. I seriously couldn't decide where to go with this piece. The weekend in Detroit was an abject disaster. However, it was a mere add-on to a week that was a complete house of horrors from our Wahoos. Whatever could go wrong for this team, has gone wrong. The Tigers outplayed the Tribe in every single aspect of the game. They out-hit, out-pitched, out-ran, and out-defended the Indians. It was more of the same. The Wahoos have lost nine in a row, going 0-fer during this nine game make or break road trip through three AL Central cities. It was the first time in the history of the franchise they have gone 0-9 on a road trip. GM Chris Antonetti, who to me is dangerously close to losing his job with the way his moves last season (the Ubaldo trade) and this past winter (re-signing Grady Sizemore and then not properly backing that mistake up, not giving a third year to Josh Willingham, etc) have backfired, built this team with pitching and defense as its defining characteristic. Instead of flourishing and watching this staff grow, we are witnessing one of the worst rotations in the American League. How does a 36-49 record with an ERA of 5.15 sound to you? Said manager Manny Acta: "We were positive about the rotation going into the season. I was anticipating that these guys would be as good, if not better." Justin Masterson and Ubaldo Jimenez were supposed to be the two guys at the top who carried the load. The final three guys – veteran Derek Lowe, strike-throwing revelation Josh Tomlin, and youngster Jeanmar Gomez were going to back these two up and eat innings. Well here we are, in the first week of August and Masterson and Jimenez have been nothing but inconsistent, Lowe was designated for assignment despite leading the team in wins (proving wins as a meaningless statistic), Tomlin and his 5.75 ERA have been shipped to the bullpen, and Gomez has been in AAA since late June. Zach McAllister is currently the best starter Acta has, and he started the season in Columbus. Corey Kluber and Sunday's starter Chris Seddon (a journeyman making his first major league start since 2007), are currently getting turns. Oh, but don't worry, Roberto Hernandez will be ready in the middle of next week to reinforce this group. Did I mention he gave up four homers in a low-A ball game yesterday for Lake County? The lack of depth and the failures of the staff are borderline stunning. Antonetti dealt any kind of high-minors quality depth he had when he chose Ubaldo over two first round draft picks in Alex White and Drew Pomeranz last July. Lowe did all he could do, but he bombed over the last two months. The league figured out Tomlin after seeing him for more than a full year and he no longer fools anyone. However, Masterson and Jimenez are the guys who are probably the most disturbing though. As the guy who was supposed to have his big break out year, Masterson seems to be unable to focus and concentrate. There may be no nicer guy in the Cleveland clubhouse than Justin. However, it seems as though his mind wanders. After blowing up Friday night in a 10-2 loss (four innings pitched, 10 hits, seven earned runs), Masterson was asked about his performance. After a quick thought about how he didn't get the job done, he strangely said "On a brighter note, my wife told me that with her cookie business she wants to donate all her former and future profit to charity. So that brightens your night just a little bit when things don't go your way." I understand keeping things in perspective and maybe this is how he clears his head, but it was very odd timing. I'm sure one thing has nothing to do with another, but that is how Masterson is wired. He made six July starts and posted an ERA of 5.55. Then came Friday's debacle. He is fifth in the AL in walks (Ubaldo leads the AL) and second in wild pitches (Ubaldo also leads the AL). Maybe there is a reason the Indians were reportedly shopping Masterson at the trade deadline. It is starting to look like 2011 was the more of the exception than the rule. Ubaldo is the one who gets all the heat, but Masterson has been way bigger of a disappointment. As for Ubaldo, I seriously don't know what more to say about him other than he is an average starting pitcher, a back end of the rotation guy. It's not his fault, he is who he is. Antonetti hitched his wagon to Jimenez, and ultimately it will cost him his job. If Ubaldo was our fourth or fifth starter, you'd look at him as an innings eater and a guy you could be looking into possibly replacing. Tomlin had an ERA over five and was getting battered around to the point that he was shipped to the pen. Take a look at his numbers compared to Ubaldo's: Tomlin – 19 games, 5.75 ERA/1.43 WHIP/54 K's/23 BB's/16 HR allowed/2.52 K per BB Jimenez – 22 games, 5.29 ERA/1.61 WHIP/98 K's/76 BB's (leads AL)/18 HR allowed/1.29 K per BB (42 out of 43 in AL) Similar enough. Jimenez obviously has more upside being a power arm, strikeout with more of a track record, but his career is going in the wrong direction at the wrong time. We've got one more year to see what Ubaldo can do. But I think we are seeing what he is right now. During the season-breaking nine-game losing streak, the Indians starters went 0-7 with an ERA of 11.69 (55 earned runs in 42.1 innings pitched). Where do they go from here? Maybe Kluber will get past his first start jitters and become what McAllister has, a consistent power arm. Maybe Hernandez will be a decent back of the rotation option and put himself into play for 2013. Maybe Masterson and Ubaldo can turn things around over these next two months. Or maybe these guys continue their downward spiral and Hernandez is the same pitcher he was last year – a guy with a five plus ERA who couldn't be counted on from start to start. Whatever happens the rest of the way, Antonetti looks like he has a serious problem on his hands for 2013. At worst, he needs two more legitimate major league starters for the rotation. Then again, he may not be around to make those decisions. (AP photo/Carlos Osorio)
Original Story:
http://www.waitingfornextyear.com/201...
THE BACKYARD
BEST OF MAXIM
RELATED ARTICLES
Following the likes of Johnny Damon and Derek Lowe, veteran infielder — and one-time clean-up hitter — Jose Lopez has been designated for assignment by the Cleveland Indians. Lopez was hitting .249 with 13 doubles, four home runs and 28 runs batted in during 66 games with the Indians. He was designated for assignment earlier in the season, but cleared waivers and was later assigned...
Indians general manager Chris Antonetti expressed support for manager Manny Acta and his coaching staff following the least successful trip in the franchise's 112-year history. Cleveland went 0-9 at Minnesota, Kansas City and Detroit, ending the trip with a 10-8 loss to the Tigers on Sunday when All-Star closer Chris Perez gave up five runs with two outs in the 10th inning....
Infielder Jose Lopez was designated for assignment by the Indians after batting .249 with four home runs and 29 RBI in 66 games this season. Right-handed pitcher Frank Herrmann was recalled from Class AAA Columbus, where he had a 2-2 record with seven saves in nine chances and a 4.28 ERA in 39 appearances. Herrmann had allowed 23 earned runs in 48 1/3 innings pitched.
Roster Update: The Indians added Frank Herrmann to their overworked bullpen. To make room for him, they designated Jose Lopez for assignment. Player of the Game Shelley Duncan did not have any errors as tongiht's DH, so he is today's Player of the Game. Not only was Duncan error-less, but he also hit a 2 run home run in the second inning, giving him a score of 4.40...
Austin Jackson continued his amazing season Sunday afternoon compiling four hits in a 10-8 extra innings win over the Cleveland Indians. WATCH JACKSON'S FOUR HIT DAY Jackson finished the day going 4 for 6 with three runs scored and one RBI raising his average to an impressive .322 on the season. Not only that Jackson has 19 doubles and 7 triples on the season and an OBP of .409...
The Monday Takeaway The Indians must have been relieved when they sent the Twins down in order, then loaded the bases with nobody out in the bottom of the first inning, after returning home from a brutal, 0-9 road trip. Cleveland had fallen to 50-58 on the season, a likely insurmountable 9 ½ games behind the first-place White Sox, but at least the pain of Sunday afternoon's...
The losing streak has reached nine, though this one had some serious style points. The Indians against all odds prevented a leadoff triple from ending the game in the bottom of the ninth by intentionally walking Miguel Cabrera and Prince Fielder to load the bases following a strikeout of Omar Infante by Josh Tomlin. A 3-2-3 double play sent the game into extras, where Travis Hafner...
Hot dogs, buns, spider legs, Tribe losses: all things that comes in eights. Doug Fister went the distance and carried a perfect game into the sixth inning as the Tigers struck for more than enough off Ubaldo Jimenez to support their cause as they won the second game of the series 6-1. Fister allowed one run in the ninth inning but permitted just four hits while walking none and striking...
57-50, 2nd place, 1.5 games back. The Tigers rode Doug Fister's tremendous  fantastic complete game performance to another easy win. For the first time in a while, they beat up on Ubaldo Jimenez en route to the 6-1 victor. None of the Tigers' RBIs came from Cabrera or Fielder, as the BooBs went 6-16 with 4 XBHs and all 6 RBIs. Jud slept well for sure. Too Many Strikeouts Max...
MLB News

Delivered to your inbox

You'll also receive Yardbarker's daily Top 10, featuring the best sports stories from around the web. Customize your newsletter to get articles on your favorite sports and teams. And the best part? It's free!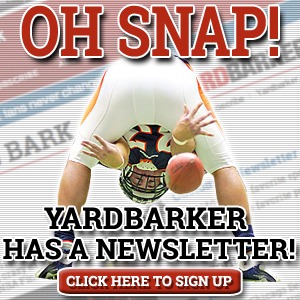 Latest Rumors
Best of Yardbarker

Today's Best Stuff

For Bloggers

Join the Yardbarker Network for more promotion, traffic, and money.

Company Info

Help

What is Yardbarker?

Yardbarker is the largest network of sports blogs and pro athlete blogs on the web. This site is the hub of the Yardbarker Network, where our editors and algorithms curate the best sports content from our network and beyond.