Found January 01, 2012 on Big League Stew:
Roy Halladay for the save? Only in the Amazon. (And not the online one.) Halladay, runner-up for the Cy Young Award in the National League, showed he could tame the deadliest of rivers just as effectively as he tames opposing lineups for the Philadelphia Phillies. On a recent fishing expedition to Brazil with buddy Chris Carpenter of the St. Louis Cardinals (and former major league closer B.J. Ryan), the Good Doctor helped to rescue a local fisherman who had been wounded by — gulp — an anaconda. Top that, Clayton Kershaw. Bassmaster Skeet Reese broke the news his blog that he and Halladay saw a man sitting "bare naked" on a tree by the side of the river. But he wasn't there scouting major leaguers who just happened to float by: What we were able to figure out is that he was fishing in the river for tropical fish to sell for aquariums when he got attacked by an anaconda. The snake apparently bit him on the [butt] but he was able to free himself before the snake wr...
Original Story:
http://sports.yahoo.com/mlb/blog/big_...
THE BACKYARD
BEST OF MAXIM
RELATED ARTICLES
Wait. What? Like an enthralling tale of Man vs. Nature ripped right out of an issue of National Geographic (or as story out of Reader's Digest if that's your thing) and arguably one of the strangest stories that will likely emerge during the MLB offseason (R.A. Dickey's upcoming climb of Mt. Kilimanjaro notwithstanding), Philadelphia Phillies [...]
SNAKE CHARMER
There's seemingly nothing that the Phillies' ace can not do, including even saving a young boy from an anaconda while on a hunting trip in the Amazon.
Roy Halladay generally concerns himself with wins. During a recent fishing trip to the Amazon, however, the Philadelphia Phillies ace righthander reportedly picked up one impressive save. According to a blog from Skeet Reese, Halladay and St. Louis Cardinals hurler Chris Carpenter joined the professional fisherman and others in Brazil in search of a good time. "Me and Doc...
So did you hear that one about the Cy Young award winner who spent part of his offseason vacation in a foreign land and just so happened to save a child from an anaconda? Apparently Phillies pitcher Roy Halladay did just that on a recent fishing trip to the Amazon in which he helped saved a local boy from an anaconda. CSN Philly (with a hat tip to Larry Brown Sports) points out a...
According to NESN, Roy Halladay was on a fishing trip in the Amazon with Chris Carpenter, B.J. Ryan and professional fisher Skeet Reese, when he and Reese stumbled upon a local boy being attacked by an anaconda. Here is what happened according to Reese's recent blog post: "Me and Doc Halladay even came across a local, sitting bare naked on a tree by the river. What we were able...
Earlier this month, some MLB pitchers took a fishing trip to the Amazon.  Roy Halladay, Chris Carpenter, and B.J. Ryan made the trek to Brazil with professional sport fisherman and outdoor enthusiast Skeet Reese.  According to Reese, it turned into more than just a fishing trip. In a post entitled "A Jungle Out There" on his website, Reese talked about the trip and noted that...
In the offseason, things to write about can be few and far between. It seems like news of trades or free agent signings come in bunches, and as soon as they appear, they vanish, leaving you with nothing but the flotsam and jetsam of other, better rumors.  So this morning, I was pleased to read a story about Roy Halladay's recent fishing venture, one that he shared with friend...
Every day this month, we here at Philthy Stuff will be counting down the New Year's resolutions of each member on the Phillies, and what they can do to guide this team back to October. Next up, Roy Halladay. There is an old saying "What do you get for the many who has everything?," which is usually reserved for birthday parties for oil magnates and Bruce Wayne. It's...
Roy Halladay has been back at work for weeks, getting ready for the 2012 season. When his teammates arrive in Clearwater, Fla., in February, he will see many familiar faces, but a few new ones, too.
It's the first Monday of 2012, and all the talk around Philadelphia is the Bridgestone NHL Winter Classic. Not the mummers. Not (really) the eagles. Not the Phillies, unless if course they were talking about how Roy Halladay saved a man from an anaconda attack the other day. We're set to begin in Philadelphia… Nope, Flyers hockey has completely has completely engulfed...
So, apparently, Roy Halladay, B.J. Ryan and our very own Chris Carpenter all went on a fishing trip with pro fisher Skeet Reese in the Amazon of all places. Reese  wrote about it on his site: "We had plenty of wildlife encounters though.  Along with the fishing, we decided to go hunting one night, and Carpenter and B.J. both shot a caiman; which is like an alligator.  Me...
ST. LOUIS • During an exotic fishing trip to the Amazon with pal Roy Halladay, the ace of the Philadelphia Phillies, St. Louis Cardinals pitcher Chris Carpenter not only stubbed his toe but apparently
MLB News

Delivered to your inbox

You'll also receive Yardbarker's daily Top 10, featuring the best sports stories from around the web. Customize your newsletter to get articles on your favorite sports and teams. And the best part? It's free!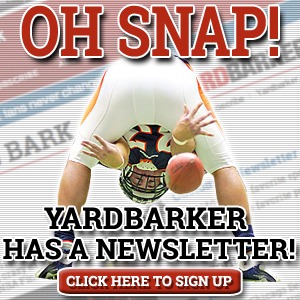 Latest Rumors
Best of Yardbarker

Today's Best Stuff

For Bloggers

Join the Yardbarker Network for more promotion, traffic, and money.

Company Info

Help

What is Yardbarker?

Yardbarker is the largest network of sports blogs and pro athlete blogs on the web. This site is the hub of the Yardbarker Network, where our editors and algorithms curate the best sports content from our network and beyond.