Found January 18, 2012 on Sports Blog Net:
Editor's note: Please welcome the latest from Joe Guzzardi. There are still a range of opinions in the steroid debate, and I welcome as many of them as possible here. __________________ I'm going to keep the Hot Stove stoked by returning to the fascinating Hall of Fame 
debates
 presented at Baseball Past and Present over the last couple of weeks. Specifically, I'll address the upcoming challenge the BBWAA faces regarding the 2013 and subsequent classes that will include suspected and confirmed steroid users. To vote or not to vote---that is their question. Many of the writers who have strongly hinted that they will vote for Barry Bonds, Roger Clemens and eventually Alex Rodriguez explain their decision by saying that "during the era" in which they played, PEDs were commonplace. I've pointed out, however, that while PEDs were indeed widely embraced, many outstanding players never touched them. The clean players, therefore, suffer in comparison. "So and so" took PEDs, racked up impressive numbers, earned larger contracts and possibly won post-season awards. "Mr. Straight Arrow" never touched the stuff, finished way down in the season totals and was never considered for the MVP or Cy Young. No one has expressed this sentiment better than Roy Oswalt. Oswalt insists that admitted PED users like Alex Rodriguez and Andy Pettitte have stained all baseball players. Said Oswalt: "I feel like they have cheated me out of the game because of the way they have enhanced themselves but I've done it by working out. I feel that going out there natural against those guys that are taking the drugs is not fair to me. They're already All-Star players and they're taking drugs. That's not fair to me. They're cheating." Oswalt continued: "They may have beaten you in the game where naturally they may not have been able to. It may have cost me a win or my club not getting in the World Series. I don't think it's fair from my standpoint.      "Their numbers shouldn't count. They should have their own record book, and it shouldn't count. All the guys before us they're cheating them. These guys from the past are in the Hall of Fame, and these guys (who are on steroids) are breaking their records. It shouldn't count. It's not fair." As for a solution, Oswalt proposes that:      "They can have their own record book and they can have their own records. They shouldn't have it with guys that did it on natural talent that played the game right like I did." [
Astros' Oswald Backs Berkman, Calls Out Steroid Users
, by Jose de Jesus Ortiz, 
Houston Chronicle
, February 10, 2009] As I review Oswalt's comments, I wonder where, if anywhere, is he wrong? The BBWAA has an option other than Oswalt's suggestion that abusers have their "own record book," however. Vote only for players known to be steroid free.
Original Story:
http://baseballpastandpresent.sportsb...
THE BACKYARD
BEST OF MAXIM
RELATED ARTICLES
Will Cole run in the same rotation as Roy past 2012? (Philly.com)Cole Hamels has signed for one more year at $15 million. That would seem like a good thing. That's just the feeling on the surface. Look for things to take a turn south if something doesn't get done before the season begins.Tom Verducci and Keith Law were both guests on "The Sports Bash with Mike Gill" on 97...
The Phillies have avoided arbitration with Cole Hamels, signing him to a one year, 15 million dollar contract, according to Jon Heyman of CBS.  This is a significant raise for Hamels, who made 9.5 million last season.The next step for the Phillies will be to wrap up Hamels long-term, something that may be tricky given all of the other big contract already on the books.  Avoiding...
According to CSN's Jim Salisbury, left-hander Cole Hamels and the Phillies have avoided arbitration and have agreed on a one-year deal worth $15M. The deal will give the Phillies and Hamels some time to possibly work on a long-term deal before Hamels has the chance to hit the open market at the end of this season. According to CBS' Jon Heyman, Hamels' incentives are as followed...
Nobody wants to go through an arbitration hearing. Not the player, not the club. Coming to an agreement prior to that is ideal and the Phillies did just that with Cole Hamels and Wilson Valdez today.Hamels, in his final season of arbitration before hitting free agency, gets $15M. That's one of the highest salaries for a player that is still arbitration eligible. Many fans were...
Cole Hamels wants to be paid. His agent, John Boggs, said that Jered Weaver and the paycut he took to stay with the Angels probably won't translate into this scenario. [Todd Zolecki's Zo Zone] "It would be natural to look at that as a comparison," he said. "Jered signed for his own personal reasons – and I applaud him for that – but it doesn't necessarily mean...
Here are 4 articles you may or may not have read. First, new farm director Joe Jordan says all the positive things you'd expect a new farm director to say about his new prospects. Phillippe Aumont seems to be in the right frame of mind heading in to 2012. Brody Colvin talks about his rough 2011. Trevor May talks about yoga.
Earlier today, the Phils have announced that Cole Hamels had earlier today signed a one-year contract worth $15 million dollars, thus avoiding arbitration. Hamels, who is the number three-man in the Phils' starting rotation, in 2011 had a 14-9 record with a 2.79 ERA, as he pitched in 32 games, all but one of which was as a starter. He pitched in 216 innings, striking out 194 batters...
Every day this month, we here at Philthy Stuff will be counting down the New Year's resolutions of each member on the Phillies, and what they can do to guide this team back to October. Next up, Cliff Lee. When the news broke in the late hours of December 15, 2010 that Cliff was coming back to Philadelphia, the buzz in the city was palpable. Even if you were far removed from...
Phillies outfielder Hunter Pence joined Anthony Gargano and Glen Macnow of Sports Radio WIP and was a blast. He spoke about Chase Utley, the pitching staff, his socks, his "long limbs", odd throwing styles, and much more. Enjoy. Listen here.
The Phillies avoided arbitration with Cole Hamels, agreeing to a $15MM deal with award incentives, tweets Jon Heyman of CBS Sports.  MLBTR had projected $14MM for the John Boggs & Associates client, who received one of the largest arbitration salaries ever given to a pitcher.  Three years ago Hamels signed a multiyear deal while leaving his last arbitration year open, and...
MLB News

Delivered to your inbox

You'll also receive Yardbarker's daily Top 10, featuring the best sports stories from around the web. Customize your newsletter to get articles on your favorite sports and teams. And the best part? It's free!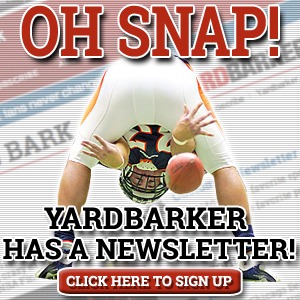 Latest Rumors
The Backyard

Today's Best Stuff

For Bloggers

Join the Yardbarker Network for more promotion, traffic, and money.

Company Info

Help

What is Yardbarker?

Yardbarker is the largest network of sports blogs and pro athlete blogs on the web. This site is the hub of the Yardbarker Network, where our editors and algorithms curate the best sports content from our network and beyond.