Found November 28, 2012 on The Sports Headquarters:
PLAYERS:
Mark Buehrle
,
Albert Pujols
,
Ervin Santana
,
Jeremy Guthrie
,
Justin Verlander
,
Chris Sale
,
Jake Peavy
,
Max Scherzer
,
Wil Myers
,
Jon Lester
,
James Shields
,
BJ Upton
,
Evan Longoria
,
John Farrell
,
Clay Buchholz
,
Clayton Kershaw
,
Jacoby Ellsbury
,
Jurickson Profar
,
Dylan Bundy
,
Edgar Renteria
,
Andy Marte
,
Felix Hernandez
,
Ryan Madson
,
Aroldis Chapman
,
Jonathan Broxton
,
Johnny Cueto
,
Mat Latos
,
Sean Marshall
TEAMS:
Toronto Blue Jays
,
Los Angeles Angels
,
Kansas City Royals
,
Detroit Tigers
,
Chicago White Sox
,
Boston Red Sox
,
Tampa Bay Rays
,
Los Angeles Dodgers
,
Texas Rangers
,
Baltimore Orioles
,
Cincinnati Reds
,
Seattle Mariners
,
St. Louis Cardinals
As I will continue to reiterate the MLB offseason is one of my favorite times of the year. Literally anything could happen. Impact players just changing hats like I do every morning, except they get paid to do so. For a dreamer like myself, it truly is a special time. With only a couple more days left in November, you can almost feel another big move on the horizon. What is it? Which teams will be involved? Will it be a trade or a signing? How many people had Jose Reyes, Josh Johnson, and Mark Buehrle heading to Toronto a month ago? Exactly no one did. That's what makes this time of the year special. No matter what you think you know about your team, your team's needs, or the needs of teams league wide, you can just never be sure who is going to sign where or what General Manager is ready to mortgage the farm in order to make a big time move for the present. If I woke up tomorrow and found out Albert Pujols had been traded to the Mets I wouldn't even be shocked. That's how unpredictable the Hot Stove can be. And with Christmas less than 30 days away, some fans are hoping they ended up on the nice list this year. Others are just hoping to throw away the coal from December's past. Royals Still Looking to Replace Greinke When the Royals traded Zach Greinke for a package of prospects surrounding Acides Escobar, just about everyone agreed it was the right decision. With the Royals still years away from competing for anything significant, there was no reason to hold on to Greinke when they could fill some voids. But by acquiring a franchise shortstop the Royals created a void in their rotation. Kansas City is aceless. Hell, I wouldn't even say the Royals have a solid number two. And that's a major problem for any team, let alone one with a strong young core of offensive talent looking to compete sooner rather than later. The Royals have already acquired Ervin Santana from the Angels while re-signing Jeremy Guthrie. In a division which boasts Justin Verlander, Chris Sale, Jake Peavy, and Max Scherzer, Santana and Guthrie aren't exactly looking like AL Cy Young candidates in comparison. Which is why Kansas City is dangling their top prospect, CF Wil Myers, in hopes of trading for an ace. So far, two teams have emerged as possible partners for the Royals: the Boston Red Sox and the Tampa Bay Rays. Both the Rays and the Sox experienced underwhelming 2012s and are looking for some changes. The Red Sox have apparently offered up Jon Lester in exchange for Myers while the Rays have talked about a package surrounding James Shields. While Tampa Bay and Boston have center fielders, both would welcome Myers' bat to their lineup no questions asked. It will be interesting to see if Kansas City actually moves Myers to either of these teams, or to any team for that matter. But what would the Rays or Sox do with Myers if they acquired him? For Tampa, it would be the final nail in the coffin for B.J. Upton's career as a Ray. Desmond Jennings would continue on as a corner outfielder and Myers would likely be their opening day starter. After giving Evan Longoria a six year $100 million extension earlier in the week, this move would make a ton of sense for Tampa. The Rays have more top shelf pitching than they know what to do with. Their offense has been their problem for a while now and securing one of the top offensive prospects in all of baseball would be a wise decision for the franchise moving forward. The Red Sox? That's a different story. The vast majority of people in the world today who have even heard the word "baseball" before firmly believe that the Sox need to add an ace, not trade one away. But there are a couple of different factors in play here. For starters, this is still a team looking to clean house. While Lester has been a model citizen and a hell of a pitcher during his time in Boston, I believe he is due for a change of scenery. I think there is plenty of quality baseball in his future but I'm not sure he can ever fully regain form in Boston. Even with John Farrell back in the mix. Second, what happened to Clay Buchholz? For YEARS now, all I've heard about is that this guy has everything you look for in an ace. He has the command, the weapons, the blah, blah, blah. Well, when do we call a spade a spade here? I mean Buchholz is no spring chicken. He's been around for quite some time now. He's put up some quality seasons but either he's an ace right this second or he'll never be one. It's as simple as that. Is anyone debating who the ace of the Los Angeles Dodgers is right now? Of course not. Clayton Kershaw has held that title for three years now and he's four years younger than Buchholz. Either you believe in him or you do not. I do not. I believe he is an above average number two. But, I believe that about Lester too. And James Shields for that matter. I don't think any of the three are aces. But, that's for a different conversation. What would Wil Myers do for the Red Sox? If Myers turns out to be the every day player he is projected to be, it would be an upgrade for the Sox in center field. That's right. Upgrade. Spare me Jacoby Ellsbury's 2011 season. Let's talk about his injury plagued career, instead. The Sox cannot keep holding on to the injury excuse forever. Every team battles through injuries. The St. Louis Cardinals have made it to AT LEAST the NLCS in consecutive years dealing with far more pressing matters than the Sox have had over the same time span. Ellsbury's contract is up at the end of the year and I've long been ready to move on from him. Myers would be able to step in immediately and make the transition as smooth as possible. OR. He becomes a massive trade chip for the Sox. He's the third ranked prospect in all of baseball behind Jurickson Profar and Dylan Bundy. Remember when the Sox traded Edgar Renteria for Andy Marte (who was once considered the top prospect in all of baseball) and immediately swung him in a deal to Cleveland? That may be the case here with Myers, assuming the Sox were to acquire him. Myers, along with many other Sox prospects, would be an incredibly tough package for the likes of the Seattle Mariners to turn down in exchange for Felix Hernandez. It would be incredibly hard for Seattle to turn down a Myers-centric package as opposed to the packages Boston is offering sans-Myers. Regardless of what the next step is, Myers makes sense for both Boston and Tampa Bay as a player and as an asset. Relivers Inking Deals The Cincinnati Reds thought they were all set last winter when they signed Ryan Madson to a long term deal. Then Madson injured himself signing the contract and both he and the Reds appeared to be screwed. That is, until the Reds utilized Aroldis Chapman and had one of the most electrifying closers in all of baseball for the better half of 2012. Now, both Madson, the Reds, and Chapman are all making headlines again in the Hot Stove. Ryan Madson recently agreed to a one year deal (pending physical) with the Los Angeles Angels. The Angels had one of the least reliable bullpens in all of baseball last season and with Madson coming off of Tommy John surgery, LA is hoping they got their man for cheap (a low base salary laden with incentives is expected). The Reds, meanwhile, re-signed Jonathan Broxton to a muti-year contract to become their full time closer. But, don't the Reds already have a closer? Yes and no. Aroldis Chapman is a beast. His 100+ mph fastball paired with a devastating slider are perfect tools for a dominant closer. But, the Reds need starting pitching. Chapman has always been pegged as a starter. There is no reason he couldn't succeed as a starter. Most importantly, there is no reason for the Reds NOT to give him a shot in the rotation. If Chapman could learn how to harness his speed (so he does not blow out his arm) a la Justin Verlander, he could emerge as one of the best starters in the league as soon as next season. This move makes all the sense in the world for the Reds. Pairing Chapman with Johnny Cueto and Mat Latos atop their rotation is more than a great idea. The NL Central is more than winnable for the Reds. Why go out and spend big money on a starter when you likely have one of the better starters in the league already on your roster? Just doesn't make much sense. If Broxton falters as your closer, the Reds either acquire another reliever via trade or move Sean Marshall to the ninth inning which, afterall, was the plan in 2012 before Chapman decided to become unhittable.
Original Story:
http://feedproxy.google.com/~r/TheSpo...
THE BACKYARD
BEST OF MAXIM
RELATED ARTICLES
The Royals appear serious about making a run at contention in 2013, and they're willing to trade away some of their better prospects to prove it. With a report swirling that Kansas City was discussing a swap of top prospect Wil Myers with the Red Sox in exchange for Jon Lester, many Boston fans are likely wondering who exactly this youngster is and whether he might be worth trading...
If I am trying to study for an exam, the last thing you should do is send me a text message informing me that the Boston Red Sox are in talks to acquire one of the best prospects in Major League Baseball. Of course, this is exactly what my friend Ryan Courville did with a simple text message that read the following: "Will Myers for Jon Lester?" I spit out my coffee and immediately...
According to reports out of Kansas City and Boston, the Royals have discussed trading outfield prospect Wil Myers to the Red Sox and Rays in deals that would net them Jon Lester or James Shields respectively. These discussions are the fruit of the Royals desire to upgrade a rotation that posted an ERA- of 122 as a group last year, the fourth worst mark of any club in baseball. ...
There are few slam dunks when projecting the major league careers of prospects. Although MLB teams horde prospects because of the necessity of having cost-controlled players producing while they're in their prime years, really it's a numbers game. Teams understand that projecting prospects is, essentially, a war of attrition, and even player's labeled as "can't miss"...
The Royals need another front of the rotation starter, even after acquiring Ervin Santana and Jeremy Guthrie. With a $70MM "soft" salary cap (which many argue is too low), the Royals say they're willing to trade top outfield prospect Wil Myers for starting pitching. Names such as Tampa Bay's James Shields and Boston's Jon Lester have come up, but so far they're nothing...
The Red Sox and Royals have discussed a trade that would send Jon Lester to Kansas City for Wil Myers. Does it make sense to consider trading Lester when the rotation is so thin? Rob Bradford is reporting that the Red Sox and Royals d...
Kansas City prospect Wil Myers is in the news with rumors floating around that A) he's available, and B) the Royals have spoken to the Red Sox about him in conjunction with Jon Lester. Yikes. That's quite the rumor du jour, eh? Can't ...
Every morning, we compile the links of the day and dump them here... highlighting the big storyline. Because there's nothing quite as satisfying as a good morning dump. Even so, it's a heck of a chip — if the Royals choose to use it. Wil Myers was the consensus minor-league player of the year and is already drawing heavy interest from numerous clubs. While the Royals are...
It came out on Monday night that the Red Sox and Royals have been discussing a trade of starting pitcher Jon Lester for super prospect outfielder Wil Myers. Myers is no standard-issue prospect, though, as he ranked #28 in Baseball Ame...
You might remember five days ago I gave you an exclusive listen to the voices inside my head, while talking about a trade scenario that was totally fabricated by me, between two teams that weren't linked to that point: "In private conversations I've overheard (albeit between the voices in my head), R.A. Dickey would have to bring back another Zack Wheeler. Wil Myers...
MLB News

Delivered to your inbox

You'll also receive Yardbarker's daily Top 10, featuring the best sports stories from around the web. Customize your newsletter to get articles on your favorite sports and teams. And the best part? It's free!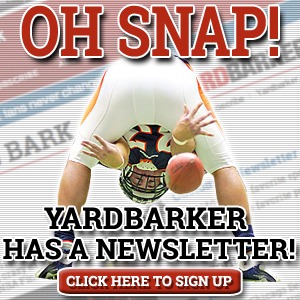 Latest Rumors
Best of Yardbarker

Today's Best Stuff

For Bloggers

Join the Yardbarker Network for more promotion, traffic, and money.

Company Info

Help

What is Yardbarker?

Yardbarker is the largest network of sports blogs and pro athlete blogs on the web. This site is the hub of the Yardbarker Network, where our editors and algorithms curate the best sports content from our network and beyond.