Found January 15, 2013 on BlackSportsOnline:
I had to jump on this story as soon as I saw it.  I can only imagine the looks on people's faces when they read this.  Via a tweet from Crossing Broad, and doing some research of my own on the company's website, former Chicago Cubs slugger, and ambassador of baseball's steroid error, Sammy Sosa is the CEO and investor of a company that distributes needle-free injection systems. The irony of a guy who may have shot steroids with a needle having the business acumen to invest in a company that can make using needles pain-free.   Sosa and the company released this press release.  FOR IMMEDIATE RELEASE SAMMY SOSA ANNOUNCES INJEX21 NORTH AMERICAN & LATIN AMERICAN RIGHTS Needle-free injection company a breakthrough for diabetics, children and others getting shots FT. LAUDERDALE, Jan. 15, 2013 – Retired former Chicago Cubs sports legend and entrepreneur Sammy Sosa has purchased the distribution rights for North America and Latin America, excluding Brazil, for the needle-free injection system known as Injex21.   Mr. Sosa was introduced to the Injex system in mid-2012, when he immediately saw the potential to help millions of people around the world who are forced to take painful injections, who are afraid of injections or who subject themselves to daily self-injections. Medical workers, as well, can reduce the risk of puncture wounds.   The Injex21 needle-free injection system was immediately interesting to Mr. Sosa. As a young boy in the Dominican Republic Sammy Sosa held many odd jobs to help provide for his family after the death of his father. "I shined shoes. I sold oranges and I took out the trash at a local hospital. I remember throwing the big garbage bag over my shoulder and getting stuck in the back by needles," said Sosa.   These memories of the unsafe needles, plus his thoughts about his newborn daughter Kelexy, who would soon need immunizations, also served as motivators. Sammy Sosa believes he has an opportunity to revolutionize the medical industry, improving many lives due to needle-free Injex21 injectors.   "I can see many uses for dentists, pediatricians, diabetics – people all over the world," added Mr. Sosa.     Sammy Sosa spends his time these days working diligently on his two companies:  Riverhead Homes,www.riverhead-homes.com, a provider of disaster-proof buildings and housing communities for countries in need, and Injex 21, www.injex21.com, the needle-free, pain-free medicine delivery system.   Sammy Sosa can be followed via his Facebook page, www.facebook.com/TheOfficialSammySosa and on Twitter @TheRealMr609.   For more information, contact Carlos Mejia, Injex21 Director of Public Relations at (954) 278-3452 or e-mail c.mejia@injex21.com Hey a man has to make a living somehow right.  
Original Story:
http://feedproxy.google.com/~r/blacks...
THE BACKYARD
BEST OF MAXIM
RELATED ARTICLES
It's not news to anyone, but, last week, Sammy Sosa did not make it into the Hall of Fame.  And, for some reason, the 1998 National League MVP felt it his place to comment."Even if we weren't inducted on our first time," Sosa said via a statement, "we are still winners and there is always a next time."Now, unless Sosa has a mouse in his pocket...I'm...
Sammy Sosa, a guy who hit 609 home runs, retired and then disappeared to the obscurity of Latin America (Miami), has stepped back into society via a suddenly serious social media presence. For a guy who made $124,000,000 during his baseball career, you'd think that Slammin' would just sail off into the sunset and whiten his face with cream of pearls. Not Sammy. He started using...
The Chicago Cubs should be getting some offers for their 37-year-old outfielder Alfonso Soriano. The Philadelphia Phillies would be a perfect destination for Soriano considering that they are looking for some outfield help bad. KenRosenthal of Fox Sports reports that the Phillies GM Ruben Amaro is seeking some outfield help to make his team into more of a contender...
Photo By Michael BaronFor the second time in less then a month were hearing that a Scott Hairston decision is imminent. Supposedly Hairston was choosing between the Mets and Yanks with a decision any day but when the Yanks lost interest he decided to wait the market out. Now reports are that Hairston is once again close, is this a ploy to see if he can get that two year 8M contract...
During a recent Cricket match, Brad Haddin blasted a six into the crowd and a spectator came down with one of the best grabs we have seen, especially considering he was carrying an iced coffee and two hamburgers. The spectator is a 16-year old named Peter Spurling who according to the Herald Sun is already being recruited heavily while he plays for his AIS AFL Academy. The catch...
Cubs News

Delivered to your inbox

You'll also receive Yardbarker's daily Top 10, featuring the best sports stories from around the web. Customize your newsletter to get articles on your favorite sports and teams. And the best part? It's free!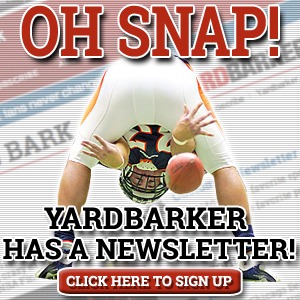 Latest Rumors
Best of Yardbarker

Today's Best Stuff

For Bloggers

Join the Yardbarker Network for more promotion, traffic, and money.

Company Info

Help

What is Yardbarker?

Yardbarker is the largest network of sports blogs and pro athlete blogs on the web. This site is the hub of the Yardbarker Network, where our editors and algorithms curate the best sports content from our network and beyond.