Found July 31, 2012 on MetsZilla:
New York Mets outfielder Scott Hairston stayed hot last night with two homers to help propel the Mets to an extra inning win over the San Francisco Giants.  The 32-year-old drove in 3 runs as the Mets beat S.F. by a score of 8-7 and it appears as though he is  likely to stay with the team through the trade deadline.  Hairston is batting a cool .500 (7-14) with 2 HR and 5 RBI over his last 4 games.
Wile on the outside it appears as though teams in need of a quick offensive upgrade, especially those looking for someone to eat up left-handed pitching (which Hairston has done to the tune of a .307 avg and 9 homers in just 127 at-bats), the Mets seem poised to keep their prized signing from this past offseason.  According to Ken Davidoff of theNew YorkPost:
Photo by Michael G. Baron

Hairston is likely to remain a Met by tonight because he's unlikely to bring back a return significant enough for the team to jettison him. That's because most clubs deem it unlikely that Hairston, who has a career of solid but unremarkable production and is 32, can ride this hot streak through the rest of the campaign."
So even though teams would only need to commit minimal salary to a productive player who is making just $1.1 million this season and might be able to help make a Cody Ross like difference to a contender, the offers don't appear enough to tempt the Mets front office to move him.
https://twitter.com/jcrasnick/status/230308307439591424
Hairston's a fan favorite and if the Metsecutives are only getting offers involving low-level prospects then I'm all for keeping him and seeing if they can't get him to return on a 1-2 year contract.  Even if they lose him this offseason I'd rather watch him swing out of his shoes for another 60+ games than see the team move him for a guy who is unlikely to ever see a big league field.
Original Story:
http://www.metszilla.com/2012/07/31/s...
THE BACKYARD
BEST OF MAXIM
RELATED ARTICLES
As we approach noon here on the east coast the Mets are I am sure enjoying the cool early morning in San Francisco after a 4 hour 10 inning win last night 8-7. Powered by Scott Hairston.  The Mets clutch killer against lefties is about the only thing I am sure the Mets are getting calls on.  The Mets don't need to unload him since the return will be nominal.  Catcher Kelly...
SAN FRANCISCO -- Scott Hairston's name was floating in rumors as the days melted away before the trading deadline. But as the days turned to hours, the New York Mets were certainly thrilled to still have the veteran outfielder. Hairston hit two homers, a game-tying shot in the eighth and a go-ahead blast in the 10th, to lift the Mets to a knock-down, drag-out 8-7, 10-inning...
Scott Hairston hit his second homer of the game, connecting in the 10th inning to send the New York Mets past the reeling San Francisco Giants 8-7 Monday night. The Giants have lost five in a row, all at home. They lead the NL West by one percentage point over the Dodgers. Hairston hit two-run homer in the eighth as the Mets scored four times for a 6-4 lead. Buster Posey and Nate...
At 4:00 PM today the trade deadline came to and end with nary a move from the New York Mets. As the song says not a creature was stirring not even a mouse…. We weren't buyers, nor were we sellers…. We were what you'd call not-so-innocent bystanders. Life goes on. In a conference call at 4:30 PM, Sandy Alderson faced the music and was as well prepared as a high-priced lawyer...
Mets finally win their second straight game in July. Scott Hairston launches two, and Jason Bay touches the plate three times in a late night offensive battle against the Giants. Mets end up on top, 8-7 in ten innings. Despite what the scoreboard says, Jeremy Hefner did well tonight. He just got pulled a couple batters too late. The game was tied at two entering the sixth inning...
Brandon Belt thought he might have hit a game-winning homer when it left his bat. Instead it landed in Jordany Valdespin's glove a step or two in front of the center field fence. ''The heavy air comes in out there and just knocks the ball down,'' Belt said. ''Can't really do anything about it.'' Scott Hairston hit his second homer of the...
Well, Scott Hairston did his part. He not only hit two home runs (off righties!) against the Giants on Monday, including the go-ahead home run in the tenth to give the Mets an 8-7 victory, but he has set himself up to bring back as much haul as he possibly can if a desperate team were to call Sandy Alderson before four o'clock today. And if that desperate team does call, Sandy...
Well ladies and trolls, it's that time again! It's July 30th and that means all those last minute wheelings and dealings will get done, maybe with the exception of our New York Mets. Anyway, here's the latest on your Amazin's as the deadline approaches: Quite A Bit Of Last-Minute Interest In Scott Hairston: Team such as the Tigers, Giants, Braves and Rangers have been linked...
The New York Mets showed up as an utter failure in the MLB Trade Deadline of this season. It's funny how well your sports team can act as a perfect mirror image of your life at some points. The relationship of your favorite sports team and your role as a fan is entirely abstracted in that you essentially make of it what you wish. While we like to think (and...
MLB News

Delivered to your inbox

You'll also receive Yardbarker's daily Top 10, featuring the best sports stories from around the web. Customize your newsletter to get articles on your favorite sports and teams. And the best part? It's free!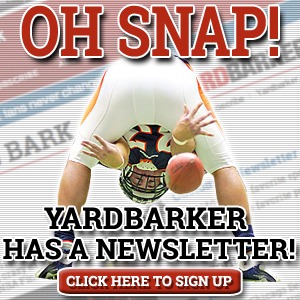 Latest Rumors
Best of Yardbarker

Today's Best Stuff

For Bloggers

Join the Yardbarker Network for more promotion, traffic, and money.

Company Info

Help

What is Yardbarker?

Yardbarker is the largest network of sports blogs and pro athlete blogs on the web. This site is the hub of the Yardbarker Network, where our editors and algorithms curate the best sports content from our network and beyond.