Found March 18, 2013 on Grab Some Bench:
This Spring, one of the main storylines has been the overall well-being of John Danks. The Sox training staff, Don Cooper, and Danks himself insist that he hasn't felt anything more than just the "usual soreness" for a pitcher, which is an encouraging sign for Sox fans. However, Danks hasn't had much success in game action. While a pitcher's numbers don't usually mean much in spring, Danks' velocity has been down as well. The combination of the two factors has prompted Cooper to say some interesting comments on Danks recently, reiterating the fact that the team will not rush Danks onto the Opening Day roster if he's not physically and mentally ready. The possibility of John Danks starting the season on the 15-day disabled list appears to becoming more and more real, and in the grand scheme of things, that certainly is not a bad idea. Having John Danks stay for some extended spring training would give him an opportunity to face additional hitters to raise his confidence (while he may not show it in interviews, coming back from an injury and getting shelled, Spring Training or not, has to damage the mind a little bit) and give him the opportunity to work back to his old velocity, all without doing it at the jeopardy of the big league club. It sounds like a smart, win-win idea to me, but where would the Sox go from there? Who takes his place in the rotation, and would that impact the bullpen at all? While there could always be a surprise or two when the team breaks camp in a few weeks (Nate Jones making the team and Hector Santiago closing last season), there appears to be two clear-cut candidates for the spot: Hector Santiago and Dylan Axelrod. "SCREWGIE" Our very own Zach Gropper gave Hector Santiago the nickname last year (which Hector himself has approved of), and the screwball pitcher played a huge role for the White Sox down the stretch in 2012. He filled pretty much every role on the team last season, and really started to open some eyes late in the year with his start in Cleveland: seven innings of one hit ball with 10 strikeouts. With a mid-90s fastball and a screwball to go with it, Santiago can be pretty "filthy" if he's able to command his stuff. There are probably some Sox fans out there that are wondering why this could even be a debate between Hector and Axelrod. Heck, there's probably a camp out there that would rather see Santiago in the rotation over Jose Quintana just based on how they both finished the season and the stuff each man possesses. However, there's a reason why the Sox have Hector in the current situation: they know he can adjust. In filling every role on the team last season, Santiago proved that no matter what the situation was, he would be just fine. In proving that, the White Sox figure Santiago can handle either the fifth starter or the long-relief role, allowing guys like Axelrod and Quintana to settle into the idea of being starters. Simply put: they know Hector can handle both, and he doesn't need too much time to adjust. "AXE" Dylan Axelrod doesn't seem to be a name that excites Sox fans. He doesn't have overwhelming stuff, isn't an overwhelming personality, and has never been regarded as a highly-touted prospect. However, Axelrod is a guy who pitched some big innings for this team last season, including a spot-start victory against the playoff-bound Orioles in late August. Overall, Axelrod's numbers with the big league club last season weren't anything to rave about: 2-2, 5.47 ERA in fourteen appearances. He started seven of those fourteen games, and his results were a mixed bag in those as well: three quality starts, two where he couldn't get out of the sixth inning, and two where he was pulled early. However, he's gone 24-12 with a sub-three ERA in his last minor league seasons, suggesting that he's past the point where AAA will do him any good. But, since he wasn't very good as a reliever last season and since he's been strictly a starter in the minors since 2010, it's a safe bet that he either starts for Danks or starts in Charlotte. WHO WINS, AND WHAT WOULD IT MEAN? While Hector Santiago is probably the better pitcher, that doesn't exactly make him the better option here. That's what makes this situation a bit tricky to figure out: as there is more ramifications to this than just replacing Danks. Regardless, Hector Santiago looks like a near lock to break camp with Robin's squad, as he's likely slated for long-relief if Danks is ready. So, if Axelrod ends up getting the rotation spot, Santiago would presumably stay in the role he was expected to fill, and nothing looks different aside from Axelrod pitching instead of Danks. It gets trickier if Santiago ends up getting the nod, because as mentioned above, it appears that the club views Axelrod as strictly a starter. While he could end up being long-relief, having him start in AAA to keep him stretched out may be the more likely option. Then, the question becomes who fills the last bullpen spot? It could be Brian Omogrosso who pitched will in September of last season, or Jhan Marinez who has been pretty good so far in camp. However, both of those guys are right-handed, meaning the Sox would have one less lefty if Hector is in the rotation. If the Sox want that third left-hander, guys like Leyson Spetimo, Daniel Moskos, and David Purcey become options. And while it's just a hunch, I think Moskos would actually be the guy out of that group. To sum it up, putting Hector in the rotation complicates things ... a lot. It's why I believe unless Axelrod does horrendous the next few weeks, he will get the nod if Danks is not healthy. While both men can probably handle the role until Danks returns, it's the last bullpen spot that's a bit more troubling if Hector's pitching every fifth day.
Original Story:
http://www.grabsomebench.com/2013/mar...
THE BACKYARD
BEST OF MAXIM
RELATED ARTICLES
The Chicago White Sox announced on Saturday that SP Chris Sale will be the team's pitcher for Opening Day. Sale pitched on Saturday but was roughed up for five earned runs on seven hits in just over five innings. Sale posted a 17-8 record last season with a 3.08 ERA. The lanky left hander recently signed a contract extension with the White Sox worth $32.5 million with Chicago holding...
Robin Ventura has chosen Chris Sale to take the mound when the Chicago White Sox start the regular season. Sale was a 17 game winner during the 2012 season. Signed to a extension worth $32.5 million the soon to be 24-year-old left hander will be counted on to reproduce his 3.05 ERA and 192 strike outs from last season. After being named the White Sox opening day starter Sale allowed...
John Danks continued his rough spring on Tuesday. In just over three innings against the Reds the left-hander allowed 10 runs on 11 hits. The White Sox have been patient as Danks works his way back from shoulder surgery but the numbers CLICK TO READ MORE!~
We've spent a lot of times discussing the guys on the fence, or those who might make the White Sox major league roster out of spring training. So I figured why not take some time to update you on those who don't really have that chance. I want to be clear, this isn't meant to be a list of everyone with potential who there isn't room for on the 25-man roster...
Looking for a big finish, not just a fast start, the Chicago White Sox hope they can out-pitch their competition in the AL Central. That's a tall...
In case you missed it, John Danks took the bump for another spring start Tuesday afternoon against the Cincinnati Reds. He yielded 11 hits and 10 earned runs in just 3.1 IP. As our own @MattHoeppner pointed out on Twitter, he's really been shelled since making his first start a few weeks back. In that span of 3 starts, he's let up 20 earned runs in 9 IP, highlighted by...
Chris Sale had his worst start of spring training, giving up five runs and seven hits in five-plus innings, but a Chicago White Sox split squad roughed up Jarrod Parker and the Oakland Athletics in an 11-5 win Saturday. A day after amassing 15 hits, the White Sox banged out 17 more in the romp. A's cleanup hitter Josh Donaldson hit his first homer of spring training that counted...
Once upon a time, the Chicago White Sox, mired in a championship drought of their own, tried to pressure the Chicago and Illinois governments to give them money to build a new ballpark.  In response to this developing situation, the folks in the Tampa Bay area built Tropicana Field, a wretched hive of scum and villainy (actually just a domed ballpark), to entice the White Sox to...
Chris Heisey and Jay Bruce hit consecutive home runs and the Cincinnati Reds tagged John Danks and the Chicago White Sox 10-6 Tuesday. Brandon Phillips singled twice in his first game since returning to the Reds from the World Baseball Classic. Cincinnati roughed up Danks for 10 runs on 11 hits and two walks in 3 1-3 innings. Heisey hit a three-run homer in the third inning and...
White Sox News

Delivered to your inbox

You'll also receive Yardbarker's daily Top 10, featuring the best sports stories from around the web. Customize your newsletter to get articles on your favorite sports and teams. And the best part? It's free!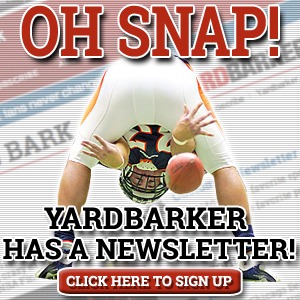 Latest Rumors
Best of Yardbarker

Today's Best Stuff

For Bloggers

Join the Yardbarker Network for more promotion, traffic, and money.

Company Info

Help

What is Yardbarker?

Yardbarker is the largest network of sports blogs and pro athlete blogs on the web. This site is the hub of the Yardbarker Network, where our editors and algorithms curate the best sports content from our network and beyond.