Found November 14, 2012 on NorthWest Sports Beat:
PLAYERS:
Felix Hernandez
,
Ichiro Suzuki
,
Chone Figgins
,
Dustin Ackley
,
Jesus Montero
,
Justin Smoak
,
Ken Griffey
,
Jack Zduriencik
,
Josh Hamilton
,
Mike Trout
TEAMS:
Seattle Mariners
,
New York Yankees
,
Texas Rangers
,
Los Angeles Angels
How do M's make an impact in 2013? At the beginning of the 2012 season, a group of reporters were gathered trying to figure out what the best slogan for the Mariners franchise would be to capture the direction the club was going. There were a lot of pretentious and sarcastic remarks fueled from a decade long dry spell of offensive production. However, as the conversation progressed they settled on the phrase "the future is wow". As we reflect back on 2012 there were certainly some wow moments: Felix Hernandez's perfect game, Ichiro Suzuki's trade to New York, as well as Chone Figgins keeping a roster spot all season. But the players we were excepting from wow from never seemed to deliver in on that hope. Dustin Ackley, Jesus Montero and Justin Smoak struggled through the majority of the year. I want the wow now. Where is the wow? It is time for the future to be the present. Here are some tips I have for the M's to try and capture some of that much needed "wow," and use it to deliver Seattle to a respectable finish. Time for Jack Z to pull all the punches and get this team motivated in 2013. 1. Bring in the fans. Lets move past the "on-field" offensive issues the M's have at the moment, and lets direct our attention to the front office that has been in a bit more offensive in the past year than they should have been. In two separate incidents the M's front office made some very bad public relations moves that weakened their feeble legged reputation in the community. First was the very public stance they made against a proposed NBA / NHL arena neighboring Safeco Field. Secondly, the fiasco of raising prices for season ticket holders without notice. In both of theses cases, I believe that the M's had legitimate and logical business reasoning; but, it was presented in such a way that it alienated their most loyal and dedicated fan base. Not a smart move. This team will never make the playoffs without a fan base to back them up. I was in San Fransisco for a Giants game in the past season, and even though I am not a Giants fan I couldn't help but want them to succeed in that game. It was fun. It was interactive and the team connected people together. If the fans have more fun, the players have more fun and performance will rise. If the M's don't know how to do that, they can hire me—I know how to throw a party. 2. Get a fresh look. For many years the Mariners have had a laid back, quirky attitude that was reflective of the Northwest culture of "just shrug it off". When the Mariners had superstars like Ken Griffey Jr., A-Rod, Randy Johnson and Jay Buhner, it was easier to take some of the losses because, "Hey M's baseball is fun any way" and Seattle loved their team. I think of some of the early 90′s commercial where Jay Buhner is shown in an alternate career as a stand up comedian and how bad he was at it. A good image got fans through the rough years. After a decade of disappointment with the team and the ownership, I don't think that the the "just shrug it off" attitude is appropriate any more. I think it is time for the M's to recast their image as a much more aggressive and passionate team that is fighting for respect for the entire region of Seattle. Much in the same way that the Seahawks have changed their image to reflect the goals they have for being considered a bigger, faster and stronger team than ever before. So new uniforms and logo's yes, but more than that. A new attitude. 3. Make a deal. I believe Jack Zduriencik is doing the best he can with what he has got. But lets be honest, he doesn't have much. Surely Mike Zunino would be the Scott Summers of these "Z-Men." (Photo: AP) Unless the ownership is willing to give him the payroll he needs to make a team, then the future may always be just out of grasp.Free agent signings are never a guarantee, but the M's need a few more stars on the team that can help fill the seats. An outfielder like Josh Hamilton may or not be the answer, but it would at least be nice to know that a signing like that could be an option. Of course, we as fans have an opportunity to help with that. Go to the games, buy the merchandise. Build up the bottom end. Support the team. Care. 4. The Z men. The M's need a Mike Trout. A player that comes up through the system and exceeds expectation. I think Jack Z is an excellent scout and that there are players in the farm system that are capable of delivering a punch like that. Lets call them the Z-Men. A squad of home brewed talent of difference makers, that actually want to be a part of Seattle and make it great. Not only that, but players that the fans can connect to and love as their own. They don't have to be superstars, but they have to be our stars. See when the M's lost Ichiro they didn't just lose an elite level athlete, they lost their identity. I also don't think that the M's lost Ichiro when he was traded, I think his spirit was sucked away a long time before that. It is time to fuel the flame of new identity. Bring in Professor Z and the Z-Men. Too far? He certainly has the hairstyle for it and I think he would look pretty hard core in a wheelchair. 5. Hit the Damn Ball Do I really need to say any more? Want to be successful and make it to the playoffs? Hit the ball. CLICK HERE TO CHECK OUT THE SEATTLE MARINERS CLUBHOUSE AT NWSB!
Original Story:
http://www.nwsportsbeat.com/mariners/...
THE BACKYARD
BEST OF MAXIM
RELATED ARTICLES
The Seattle Mariners, looking to bolster their hitting in 2013, are interested in slugging outfielder Josh Hamilton. Mariners president Chuck Armstrong told CBSSports.com that the team, led by general manager Jack Zduriencik, is still setting its course for free agency. "We are going to have more money to spend," Armstrong said. "And we do need offense." ...
Seattle Mariners prospect James Paxton joins Field Reporter Inna Lazarev to discuss the details of his experience at the Arizona Fall League.
The Mariners desperately need an infusion of offense this Winter, and they reportedly have payroll room to spare. But with an unprotected 1st round draft pick in 2013, does signing one of the top available Free Agents make sense for the club?
MLB News

Delivered to your inbox

You'll also receive Yardbarker's daily Top 10, featuring the best sports stories from around the web. Customize your newsletter to get articles on your favorite sports and teams. And the best part? It's free!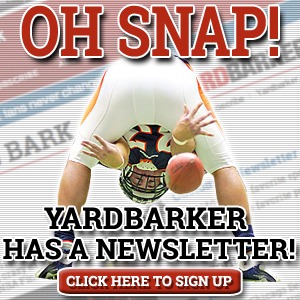 Latest Rumors
Best of Yardbarker

Today's Best Stuff

For Bloggers

Join the Yardbarker Network for more promotion, traffic, and money.

Company Info

Help

What is Yardbarker?

Yardbarker is the largest network of sports blogs and pro athlete blogs on the web. This site is the hub of the Yardbarker Network, where our editors and algorithms curate the best sports content from our network and beyond.