Found June 29, 2012 on isportsweb.com:
The roller coaster 2012 season for the Seattle Mariners continues. Things were looking up after taking two of three from a very good Giants team and being offensively productive in a three game set vs. Arizona. The Mariners, though, followed that high with another down spot. You might accuse me of hyperbole since the Mariners have gone a respectable 3-4 over the last seven games. A look at the last seven games points the Mariners once again eyeballing another last place finish in the A.L. West.

Games 1-3 vs. Padres. The San Diego Padres came into this series with the worst record in baseball. And, a 3-0 mark vs. Seattle. They were able to improve upon that taking two of three from the Mariners. The Padres opened up the series by putting up nine runs in a 9-5 win. In the previous three game series vs. Texas, the Padres managed six runs. Total. In the series before that vs. Oakland, they put up eight runs. Total. Yet, out of the gate, they bashed a normally solid Seattle staff for nine in the series opener. Felix Hernandez even the series in the second game by dominating the Padres 5-1. The Mariners were shut out by the Padres in the rubber game wasting an excellent performance by Hector Noesi. Noesi gave up 2 ER on seven hits in 6.0 IP. But, Seattle's offense failed to advance a runner past second base in the 2-0 loss.
Felix Hernandez has been dazzling in his last two starts for the Seattle Mariners. And, he's needed to be, as the offense has faltered again putting up five runs in the last five days.
Game 4-6 vs. A's. The Mariners came into a home series vs. Oakland having taken 5 of 7 from the A's on the season. Despite previous success, Oakland took two of three from Seattle. The Mariners in the series scored four runs. Seattle opened the series by being shut out for the ninth time this season, and for the second straight night, 1-0. The lack of offense ruined a superior outing from Erasmo Ramirez. Ramirez, called up from Tacoma to take Blake Beavan's spot in the rotation, gave up three hits and one ER while striking out 10 in 8.0 IP. But, on three hit's the A's beat the Mariners. After a 3-2 win on Tuesday, Seattle sputtered again losing the rubber game 2-1. It was another great outing from Seattle pitching. The Mariners allowed two hits all game, but the offense mustered only four hits in the 2-1 loss. The A's put up five runs on ten hits for the series, and they left Seattle with two wins.

Game 7 vs. Red Sox. No much to complain about here, right? Felix Hernandez was brilliant again matching a career-high in strike outs with 13 in throwing a complete game shut out. Felix was perfect; but he had to be. Seattle won 1-0 scoring in the bottom of the ninth when catcher Jarrod Saltalamacchia couldn't hold onto the tag to get Casper Wells at the plate on John Jaso's RBI single. However, Seattle was a dropped tag away from extra innings, at 0-0 nonetheless, and ruining an excellent start from their ace.
This is why Seattle is in last. As fans, we've waited all year for offensive improvement. This week has shown us that we are still waiting. In the last five games, Seattle has five runs and has been shut out twice. On Thursday, Colorado edged Washington 11-10. Both teams put up twice what Seattle has put up all week – in one game. The lack of offense forces pitchers to be perfect. Erasmo Ramirez gave up three hits, 1 ER, and struck out 10 in 8.0 IP. And, lost. Felix Hernandez went nine shut out innings striking out 13, and he almost lost. The pitchers are in a bad spot if they feel they have no room for error. And, five runs in five games? How can they feel otherwise?
Original Story:
http://feedproxy.google.com/~r/isport...
THE BACKYARD
BEST OF MAXIM
RELATED ARTICLES
Coming into the 2012 season, the Seattle Mariners expectations were to define rolls roles and to continue the development of its young core players like Dustin Ackley, Kyle Seager, Jesus Montero, Michael Saunders, and Justin Smoak. Seager, Montero, and Saunders have exceeded expectations while Ackley and Smoak have been disappointments so far. Ackley is hitting .245 and is far from...
  I recently took a two-day trip up the I-5 North to the Emerald City to catch a Mariners' game or two with my dad and older brother. Since Portland no longer has any type of baseball thanks to our losing soccer team, a three-hour drive was needed to cure my baseball withdrawals. Funny how America's pastime took a backseat to almost every other country in the world'...
Mariners center fielder Franklin Gutierrez left Thursday night's game against Boston after an errant pick-off attempt hit him on the right side of his face. Gutierrez led off the fourth inning with Seattle's first hit off Boston starter Franklin Morales. Gutierrez took his lead at first and Morales attempted a pickoff. His throw over to first was slightly into the runner...
Mariners starter Erasmo Ramirez left Saturday night's game against Boston in the third inning with an undisclosed injury after retiring the first eight batters. With two outs in the inning, Ramirez threw a first-pitch strike to Boston's No. 9 hitter Mike Aviles. After throwing the pitch, Ramirez signaled for Seattle catcher Miguel Olivo. When Olivo got to the mound, he signaled...
Seattle Mariners' Brandon League is going to merit a lot of attention from numerous teams as the July 31st trade deadline comes closer.  Is he the best reliever who may be available? T- Money and Joey Mac Daddy discuss the top potential relief canidates on the market, and how the Phillies are in desperate need of some relief in many ways.  This topic is based on two listener...
SEATTLE -- Pinch hitter John Jaso's ninth-inning single scored Casper Wells and gave the Seattle Mariners and Felix Hernandez a 1-0 win over the Boston Red Sox on Thursday. The throw from Boston right fielder Cody Ross was in time to get Wells, but he was ruled safe by umpire Adrian Johnson when the ball popped out of Jarrod Saltalamacchia's glove. Wells started the rally...
All it took was one pitch for pinch hitter John Jaso and he drove in the game's only run to help Seattle beat the Red Sox. 1-0.  Scott Atichson had a quick breakdown in the ninth, giving up a leadoff double to Casper Wells and then intentionally walking Justin Smoak to pitch to John Jaso who took the first pitch to right field and Cody Ross made a good throw but Jarrod Saltalamacchia...
Every morning, we compile the links of the day and dump them here... highlighting the big storyline. Because there's nothing quite as satisfying as a good morning dump. (AP Photo/Ted S. Warren)   The Seattle Mariners are a team begging to get beat. They came into Saturday's game at Safeco Field hitting .197 at home and averaging 2.8 runs a game. True to form, they...
Time: 10:10 PM ET TV/Radio: NESN / WEEI Red Sox (40-36) Nava LF Pedroia 2B Ortiz DH Saltalamacchia C Gonzalez 1B Middlebrooks 3B Ross RF Kalish CF Aviles SS Pitching: RHP Aaron Cook (1-1, 9.39) Mariners (33-45) Ichiro RF Wells CF Seager 3B Montero DH Jaso C Smoak 1B Ackley 2B Figgins LF Ryan SS Pitching: RHP Hector Noesi (2-9, 5.50)
So much for that high-powered Red Sox offense. Felix Hernandez silenced the Red Sox bats on Thursday night, going the distance to pick up his sixth win of the year while tying a career high with 13 strikeouts. He needed every one of them, too, considering Franklin Morales matched him blow for blow in the early innings before giving way to the Red Sox bullpen. NESN Nation's Dan...
SEATTLE -- The Boston Red Sox broke free from the shackles imposed by the Seattle pitching staff midgame Friday, coming up with four home runs in the space of eight batters to prop up the two-hit pitching of starter Aaron Cook in a 5-0 win over the Mariners. While Cook allowed Seattle just two singles in nine innings, the Red Sox let loose with three homers in the fifth inning...
The Red Sox have finally climbed into third place in the AL East, and now take their 40-35 record on the road to start a West coast road trip against the Seattle Mariners. The Sox held their ground at home going 7-2 for their last 9 game homestand, but in the meantime lost more player [...]
Mariners News

Delivered to your inbox

You'll also receive Yardbarker's daily Top 10, featuring the best sports stories from around the web. Customize your newsletter to get articles on your favorite sports and teams. And the best part? It's free!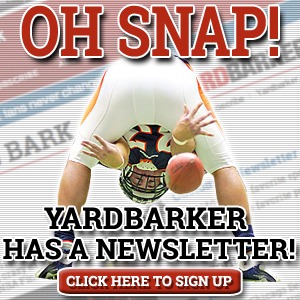 Latest Rumors
Best of Yardbarker

Today's Best Stuff

For Bloggers

Join the Yardbarker Network for more promotion, traffic, and money.

Company Info

Help

What is Yardbarker?

Yardbarker is the largest network of sports blogs and pro athlete blogs on the web. This site is the hub of the Yardbarker Network, where our editors and algorithms curate the best sports content from our network and beyond.