Found February 12, 2013 on NorthWest Sports Beat:
Who needs the Olympics? When the International Olympic Committee decided to vote baseball and softball out of the 2012 London games, the world baseball community was left in shock. Behind the scenes, though, the major world baseball powers were trying to organize a tournament to showcase all their talent. This began the World Baseball Classic. The WBC is a 16 team tournament where each country represented sends a team full of talent to compete against the world. It's like the World Cup of baseball. It takes place in March, pulling players from their Spring Training for about a week or so. The Seattle Mariners are well represented, too. While we won't recognize some of the names representing the Mariners this year, we could very well see them in the near future. Let's take a look at which Mariners will be representing their country in this year's WBC. The Pros Michael Saunders playing for team Canada (THE CANADIAN PRESS/Adrian Wyld) Michael Saunders – OF – Canada Michael Saunders is playing in his first WBC this season for his native Canada. The Canadians were eliminated in the first round of the past 2 classics and are looking to qualify this year and make a run at perrennial champion, Japan. 2012 Stats: .247 AVG / 19 HR / 57 RBI Oliver Perez – P – Mexico Olive Perez has played in all 3 WBC tournaments. His journey has been a long one, this being his third MLB team he has played for come tournament time – Perez represented the Pirates and Mets in the previous two tournaments. Mexico has been eliminated in the 2nd round of both tournments so far and are looking to improve this season against some tough competititon. 2012 Stats: 2.12 ERA / 24 K's / 29 2/3 Innings Pitched Alex Liddi – Italy Like Perez, Alex Liddi is playing in his thrid WBC as well. He has played for the Mariners in each tournament where he represented his home country of Italy. Italy has been eliminated in the first round of both WBC tournaments so far. 2012 Stats: .224 AVG / 3 HR / 10 RBI The Minors Pedro Okuda – SS – Brazil We have not heard the name Pedro Okuda yet. When you're playing in the Venezuelan Rookie League, you're not going to get much exposure in the US. If he plays well for his home country of Brazil, we could be learning his name sooner than later. This is the first year that Brazil has fielded a qualifying team for the WBC, shocking Panama in November to earn their tournament birth. 2012 Stats: .274 AVG / 0 HR / 19 RBI Kalian Sams is working his way through the Mariners minor league system Luiz Gohara – LHP – Brazil The Mariners have a lot of Latin players under contract, but many have not even seen the light of US soil. Luiz Gohara is one of those players. He is representing the Mariners while playing for his native Brazil. Goahra does not have any professional experience as of yet, as the Mariners signed the highly touted youngster last year at the age of 16. He was ranked the #7 overall international prospect by Baseball America at the time of his signing. Thyago Vieira – RHP – Brazil Also a member of the Seattle Mariners Venezuelan Rookie Team, Thyago Vieira is going to be playing for Brazil in the WBC. He has not played in a Classic yet, but his play could determine his immediate future with the Mariners. 2012 Stats: 3-5 / 6.05 ERA / 35 K's Kalian Sams – OF – Netherlands The Netherlands will host another Mariner player this year, with Kalian Sams coming from AA Jackson to represent his country. Sams has made his way through the Mariners farm system, helping teams like the Pulanski Mariners reach the tops of their leagues. Netherlands has been knocked out of both the first and second rounds in the previous two Classics. 2012 Stats: .242 AVG / 11 HR / 35 RBI Brian Sweeney – RHP – Italy – AAA Tacoma Brian Sweeney is no stranger to Mariners fans. He's lingered in Tacoma for a bit now and has tried to get his foot back in the door in Seattle in the twilight of his career. Playing for Italy in the WBC, Sweeney will hope a strong spring training paired with a hopefully good run for team Italy will bolster his chances to make the big league club next season. 2012 Stats: 6-4 / 4.63 ERA / 55 K's CLICK HERE TO CHECK OUT THE MARINERS BLOG IN OUR CLUBHOUSE TODAY AT NWSB!
Original Story:
http://www.nwsportsbeat.com/mariners/...
THE BACKYARD
BEST OF MAXIM
RELATED ARTICLES
NOT SO FAST
Felix Hernandez and the Mariners $175 million dollar deal has reportedly been placed on hold due to concerns over the structural soundness of his elbow.
It was the same old story in 2012 for the Mariners. Another season of major disappointment including an embarrassing 17-game losing streak and pathetic offense sparked something of a sea change in Seattle who come into 2013 with a re-configured ballpark and a re-stocked, hopefully, lineup. They are still stuck in the ultra-competitive AL West, but the M's think they might finally...
What else can baseball fans do in January but dream of October? In You May Say I'm a Dreamer, the Outside Corner staff will imagine the route to a World Series in 2013 title for all 30 teams. While a World Championship for the Mariners seemed like a tall order coming into the 2013 season, Jack Zdurencik's squad managed to achieve the impossible and not only win the franchise...
After hemming and hawing for a few days, the Seattle Mariners and ace right-hander Felix Hernandez have reportedly finalized the seven-year, $175 million contract the two sides essentially agreed to last week. Over the weekend it was reported that the deal was being held up because of concerns about the soundness of Hernandez's pitching elbow. The alleviate concerns about his arm...
In Seattle, all eyes are (justfiably) always on Felix Hernandez. He's one of the best pitchers in baseball, he's close to agreeing to a huge contract extension with the team, and he's the face of the franchise. There's also a lot of attention being placed on new acquisition Michael Morse, former top prospects Justin Smoak, Dustin Ackley, and Jesus Montero, and on...
  We alerted you to the framework of the $175 million deal that Felix Hernandez and the Seattle Mariners had agreed on a few days ago. The deal wasn't officially official though because of a pending physical that King Felix had to take. Reportedly, that physical has revealed elbow issues that have put a stop [...]
The words "pending a physical" give pause to any baseball player on the verge of signing a contract. The latest, reportedly, is Mariners ace right-hander Felix Hernandez.
It appeared as if Felix Hernandez was set to become the highest paid pitcher in all of baseball just a few days ago, but that has been put on hold due to an "elbow issue." The Seattle Mariners had reportedly agreed to a seven-year, $175 million contract extension with King Felix on Thursday, giving him a huge bump in pay from the 5-year, $78 million extension the two sides agreed...
• The 2013 Kate Upton SI swimsuit photos • 2013 SI Rookies: Get to know the girls • Gulp: Kate Upton nearly naked SI GIF • Buy 'Tebow for Pope' shirts • Otis Nixon running ATL jail scam? • 1-year, $175 million baseball contract • Chicks in lingerie battle Nemo blizzard • Canadian Model of the Day: Danielle   Blake Griffin Switches Hands Dunk of the Day Filed under: Daily Dump
The Seattle Mariners reached an agreement on what amounts to a seven-year, $175 million contract extension with right-hander Felix Hernandez last week. However, the deal was delayed when an elbow issue was discovered during an MRI taken on Friday. While the Mariners are seeking protective language in the agreement, a deal is "still on track" and may come in the next day or...
Finalizing his record extension with the Mariners hit a bit of a snag, but Seattle and Felix Hernandez have made their new pact official, guaranteeing King Felix $175 million over the next seven seasons in the Pacific Northwest. It seems risky to lock up so much money to a starting pitcher, but it's clear that Mariners GM Jack Zduriencik wants to make his ace the centerpiece of...
Mariners News

Delivered to your inbox

You'll also receive Yardbarker's daily Top 10, featuring the best sports stories from around the web. Customize your newsletter to get articles on your favorite sports and teams. And the best part? It's free!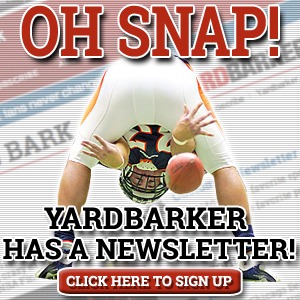 Latest Rumors
Best of Yardbarker

Today's Best Stuff

For Bloggers

Join the Yardbarker Network for more promotion, traffic, and money.

Company Info

Help

What is Yardbarker?

Yardbarker is the largest network of sports blogs and pro athlete blogs on the web. This site is the hub of the Yardbarker Network, where our editors and algorithms curate the best sports content from our network and beyond.