Found April 08, 2013 on Obstructed View OLD:
PLAYERS:
Corey Hart
,
Mat Gamel
,
Aramis Ramirez
,
Ryan Braun
,
Jean Segura
,
Alex Gonzalez
,
Yuniesky Betancourt
,
Zack Greinke
,
Shaun Marcum
,
Randy Wolf
,
Norichika Aoki
,
Carlos Gomez
,
Michael Bourn
,
Jeff Bianchi
,
Tyler Greene
,
Ian Stewart
,
Matt Garza
,
John Axford
,
David DeJesus
,
Starlin Castro
,
Marco Estrada
,
Edwin Jackson
,
Wily Peralta
,
Travis Wood
,
Kyle Lohse
,
Scott Feldman
,
Wandy Rodriguez
,
Dave Duncan
TEAMS:
Chicago Cubs
,
Milwaukee Brewers
,
Los Angeles Dodgers
,
New York Mets
,
Baltimore Orioles
,
Cleveland Indians
,
Chicago White Sox
,
Pittsburgh Pirates
The Cubs open their first homestand against a team that is in even worse shape than they are. The Brewers are already missing first basemen Corey Hart and Mat Gamel due to injuries suffered before the season, and in the past week 3B Aramis Ramirez, LF Ryan Braun, and SS Jean Segura have all been banged up. None of the injuries are necessarily *that* bad, but the Brewers didn't want a short bench so Ramirez hit the DL. I wouldn't be surprised to see Segura follow him there too. The Brewers already had SS Alex Gonzalez playing first, now he'll probably move to SS if Segura can't go and (dying laughing) Yuniesky Betancourt (dying laughing) is probably their starting first or third baseman.  Team Overviews 2012 NL ranks listed in parentheses   Brewers Cubs wRC+ 105 (2nd) 80 (16th) BSR 7.4 (2nd) -8.1 (14th) UZR -4.4 (9th) 30.5 (2nd) DRS 14 (3rd) -7 (7th) SP FIP- 96 (4th) 108 (13th) RP FIP- 101 (11th) 116 (16th) The Brewers had a better year than I remembered, finishing with a 83-70 record but well out of the last playoff spot. They lost half of their rotation from last year, with Zack Greinke going to LA, Shaun Marcum going to the Mets, and Randy Wolf going upstate to live on a farm with a nice family (and millions of dollars). Offensively their best player is obviously Braun, but don't sleep on the rest of the outfield. Norichika Aoki quietly had a solid year and settled into the leadoff role, and while Carlos Gomez is still a terrible OBP guy (.305), he has plus power and speed and could be the best defensive center fielder in the NL now that Michael Bourn is in Cleveland. Injuries I covered most of the Brewers ones above, but one of the other reasons why they had to break the glass on Yuni was because their usual backup infielders, Jeff Bianchi and Tyler Greene, are both on the DL as well. Sveum thinks Barney could be back in a week. He gets his stitches removed soon, and has already taken some BP and fielded some grounders. Ian Stewart is DHing in extended spring training, but it will probably be a few days until he starts playing on defense. Matt Garza threw another bullpen session yesterday without incident. Storylines and Players to watch There's going to be epic amounts of booing whenever Ryan Braun steps to the plate. We might have a chance to see dueling bullpen implosions, as Brewers closer John Axford has been extremely hittable in the small sample of the season we've had thus far. He had plenty of struggles with walking batters last year (5.06 K/9), so he can get in trouble in a hurry. The Cubs are still waiting for a few of their starters to heat up. Soriano has four singles and nine strikeouts, and leadoff man David DeJesus has two hits (both doubles) and a single walk. Starlin Castro has yet to record an extra base hit as well.  Pitching Matchups 2012 ERA, FIP-, xFIP, and 2013 ZiPS projected FIP are listed for each pitcher. Monday: Marco Estrada, RHP (3.64, 86, 3.48, 3.80) vs Edwin Jackson, RHP (4.03, 99, 3.79, 3.62) 1:20 PM CT Estrada was knocked around in his first start, facing the Rockies. He struck out eight batters with no walks, but was burned by the long ball. Estrada has been a fairly extreme flyball pitcher in his career, so pitching in Wrigley in April is likely to suit him. He throws mostly fastballs, curves, and changeups. His fastball is definitely his best pitch, which is a little strange considering it averages around 91. He must get a lot of movement. Edwin Jackson's last start looks okay from the statline, but I thought the start was pretty rocky. Jackson struck out five and walked one, but seemed to be struggling with his control of his fastball throughout the start. He'll get another chance against this decimated Brewers lineup.  Tuesday: Wily Peralta, RHP (2.48, 68, 3.56, 4.47) vs Travis Wood, LHP (4.27, 120, 4.62 ,4.39) 7:05 PM CT I'll admit I don't know much about Peralta. He went up the ladder from high-A in 2010 to the starting rotation this year. It looks like much of his (pretty good) minor league numbers are related to a very low home run rate. He can be pretty wild but gets his share of strikeouts. He's a 95 mph fastball-sinker pitcher, which probably explains the home run rate somewhat. He gave up four runs, including a homer, in 5.1 innings against the Rockies in his first start. Wood was solid in his last start, throwing six innings of shutout ball. I'm struggling to say much more about Travis Wood. He's okay, I guess #thisisayear Wednesday: Kyle Lohse, RHP (2.86, 92, 3.96, 3.60) vs Scott Feldman, RHP (5.09, 92, 3.87, 3.83), 7:05 PM CT Lohse was only signed a few weeks ago, thanks to the CBA's latest free agent compensation boondoggle, as well as some pretty high salary demands for a pitcher in his mid thirties. Lohse is another member of the Wandy Rodriguez Hall of Fame. He was mostly terrible during his 5 seasons with the Twins, but reinvented himself as a sinkerballer with Dave Duncan after joining the Cards. He's been solid ever since, aside from 2010 in which he was suffering from a rare elbow malady.  Feldman was awful in his first start. He gave up four runs in four innings and change, and was lucky that he didn't give up even more. His control was all over the place. I'm really hoping that he's the one who gets squeezed out of the rotation when Garza gets back. Villaneuva seems like the obvious choice for that though, and I wouldn't put Travis Wood out of the question either since the Cubs are likely planning to try and trade Feldman and Villanueva. Prediction I think the Cubs win today, but lose the next two. Two pitchers with heavy sinkers against this lineup? At least the Cubs have the prospect of Yuni trying to field those grounders. The post Series Preview: Brewers (1-5) at Cubs (2-4) appeared first on Obstructed View.
Original Story:
http://www.obstructedview.net/preview...
THE BACKYARD
BEST OF MAXIM
RELATED ARTICLES
The Milwaukee Brewers have selected the contract of catcher and first baseman Blake Lalli from Triple-A Nashville, filling the void on the roster created by placing left-hander Chris Narveson on the 15-day disabled list earlier in the day. To clear a spot on the 40-man roster for Lalli, the Brewers moved first baseman Corey Hart to the 60-day disabled list. The Brewers need a...
The Chicago Cubs are spending less money and winning fewer games, but it could be a good thing. Between 2008-2011, the Cubs spent no less than $120m on payroll, excluding special bonuses and players that were called up or acquired mid-season. In the same time period, Cubs losses increased every year (64, 78, 87, and 91, respectively). After ballooning in 2010, the Cubs payroll...
Your browser does not support iframes. Chicago Cubs pitcher Kyuji Fujikawa had a bit of bad luck during Monday's game against the Milwaukee Brewers when a foul ball deflected off his foot and hit him in the chin. It happened in the bottom of the fourth inning as Cubs batter Alfonso Soriano hit a ground ball foul into the Cubs bullpen. Fujikawa tried to make a kick save...
MILWAUKEE Brewers left fielder Ryan Braun's neck was feeling better Sunday, but he wasn't in the lineup against Arizona. The five-time All-Star was scratched from Friday's lineup after suffering a neck strain during batting practice and hasn't played since. "As soon as I'm able to get to a point to where I have any chance to contribute and play, I'...
Injuries have hit the Milwaukee Brewers so hard even their manager is battling an ailment. Ron Roenicke was taken to a Chicago emergency room Tuesday morning when his back froze up at about 5:30 a.m. in his hotel room. According to the team, by late morning Roenicke was back at the hotel and doing fine. He is expected to manage Tuesday night against the Cubs.The news of Roenicke...
Milwaukee Brewers manager Ron Roenicke was taken to an emergency room in Chicago on Tuesday morning, according to WTMJ Radio in Milwaukee.Roenicke's wife told the station that that his back "froze up" around 5:30 a.m. in his hotel room and that he was unable to make his usual radio appearance. It has not been disclosed whether Roenicke has a history of back problems...
Jeffrey Baez smacked a three-run home run onto 8th Street, Danny Lockhart singled twice and drove-in three runs, and Ryan McNeil threw three innings of shutout ball with four strikeouts, leading the Cubs to a 12-7 victory over the Angels in Cactus League Extended Spring Training action this morning at Fitch Park Field #3 in Mesa, AZ. Ian Stewart continued his Extended Spring Training...
Chicago Cubs manager Dale Sveum says Carlos Marmol is out as closer and rookie Kyuji Fujikawa will take over the role. Marmol blew a save opportunity in Saturday's 6-5 loss to the Atlanta Braves when brothers B.J. and Justin Upton hit solo homers in the ninth inning. Sveum made the decision before Sunday's game. Fujikawa didn't fare much better in a three-run eighth...
Iowa Cubs 3 @ Albuquerque Isotopes 7 Nick Struck walked none, but only struck out 1 and scattered 8 hits across 4 innings en route to a 4 ER performance. Casey Coleman picked up where Struck left off, surrendering 2 ER in 2 IP on a 2-R HR by Scott Van Slyke. Jensen Lewis gave up a home run in the 8th to complete the damages. Offensively, Logan Watkins was held hitless but drew a...
Well in the ladies defense they have to do something to entertain themselves at a Cubs game. So many subliminal hilariou… [[ Read More ]]
Today, while the Cubs were about to lose their final game in Atlanta and get swept before their home opener, I was driving the family over to my son's friend's birthday party and listening to the last of the Cubs' ninth on the radio. The Cubs recorded the final out and I switched off the radio.  I told my son that the game was over.  Let's check in on the conversation that...
Marco Estrada pitched seven effective innings and doubled home a run Monday, helping the Milwaukee Brewers stop a five-game slide with a 7-4 victory over the Chicago Cubs in the first game of the season at Wrigley Field. With a strong wind blowing out at the start of the game - a rare sight for an April date at the iconic neighborhood ballpark - Estrada allowed two runs and five...
MLB News

Delivered to your inbox

You'll also receive Yardbarker's daily Top 10, featuring the best sports stories from around the web. Customize your newsletter to get articles on your favorite sports and teams. And the best part? It's free!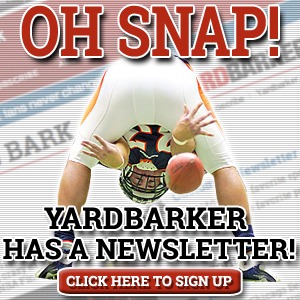 Latest Rumors
The Backyard

Today's Best Stuff

For Bloggers

Join the Yardbarker Network for more promotion, traffic, and money.

Company Info

Help

What is Yardbarker?

Yardbarker is the largest network of sports blogs and pro athlete blogs on the web. This site is the hub of the Yardbarker Network, where our editors and algorithms curate the best sports content from our network and beyond.