Found April 05, 2013 on Obstructed View OLD:
PLAYERS:
Michael Bourn
,
BJ Upton
,
Justin Upton
,
Dan Uggla
,
Chipper Jones
,
Chris Johnson
,
Brian McCann
,
Craig Kimbrel
,
Brandon Beachy
,
Matt Garza
,
Darwin Barney
,
Ryan Dempster
,
Ian Stewart
,
Scott Feldman
,
Mike Minor
,
Carlos Villanueva
,
Julio Teheran
,
Jeff Samardzija
,
Tim Hudson
TEAMS:
Chicago Cubs
,
Cleveland Indians
,
Atlanta Braves
,
Boston Red Sox
The Cubs somehow managed to scratch together enough runs to take a series from the Pirates. Now they head to relatively warm Atlanta for another three game set. Atlanta beat up on their aging divisional rivals, the Phillies in their opening series.  Team Overviews Here's how the teams looked in 2012. NL Ranks in parentheses.   Cubs Braves wRC+ 80 (16th) 92 (11th) BSR -8.1 (14th) 7.4 (3rd) UZR 30.5 (2nd) 62.5 (1st) DRS -7 (7th) 70 (1st) SP FIP- 108 (13th) 103 (11th) RP FIP- 116 (16th) 83 (2nd) I think it's safe to say that the Braves had the best defense last year. Those numbers could take a blow with the loss of Michael Bourn, who was rated as a plus-plus fielder by both UZR and DRS. The Braves replaced him with BJ Upton, who has been more adventurous in CF. They'll still have a solid defensive outfield with Justin Upton and Heyward beside him, but they're probably going to drop down a peg from elite to simply very good. The only noted weak link defensively is 2b Dan Uggla. The Braves offense, on the other hand, was not nearly as good as I remembered. They should see an improvement replacing their LF mishmash with Justin Upton, and Bourn to BJ Upton is probably a lateral move. However, Chipper Jones's .360 wOBA (at age 40!) is being replaced by Chris Johnson, who barely kept his starting job on the Astros last year. Catcher Brian McCann is out for a month finishing is recovery from offseason shoulder surgery. The Braves bullpen is aces. They're out Johnny Venters, who probably needs TJS, but they've got Craig Kimbrel to anchor everything. Kimbrel had a ridiculous 2012, blasting past Marmol's K/9 record while walking a third of the batters. Injuries As mentioned above, the Braves are out McCann and Venters. They're also missing starter Brandon Beachy, who is bouncing back from a TJS last year and should be back sometime this summer. For the Cubs, Matt Garza threw a bullpen session yesterday and apparently is feeling good. Most importantly, there doesn't seem to be any problems with his elbow. Darwin Barney is still out with his terribly unlucky knee injury. It's sounding like he might be out for more than the minimum fifteen days, so we're gifted with plenty of Lilypad and Gonzalez for the next few weeks. Emulating Ryan Dempster, I have been blindsided by the fact that I actually miss Darwin Barney at the plate. Ian Stewart is still out "a few weeks", according to his twitter account. Storylines and Players to watch GBTS speculated in yesterday's thread that the Braves could set a record for least number of doubles allowed. While I think last year's group was a little better, these outfielders cover a ton of ground. Given the number of batters that can't hit the ball out of the infield in the Cubs lineup, we probably won't get a great look (laughing). On the Cubs side, the main storyline is off the field, as apparently the club and the city/neighborhood are close to finishing a deal that they can announce at the home opener. Brett at Bleacher Nation wrote a good recap yesterday of what's probably going to be included. Pitching Matchups For each pitcher I list his 2012 ERA, FIP-, and xFIP, and the ZiPS projected FIP for 2013 Friday: Scott Feldman, RHP (5.09, 86, 3.87, 3.83) vs Mike Minor, LHP (4.12, 112, 4.32, 4.01), 6:30 PM CT Feldman was a crafty pickup by the Cubs FO, who likely noticed that his peripheral stats were much better than his ERA last year. Oh the other hand, during his time as a starter previously to 2012 he posted ERA and FIP numbers in the 4-5 range, so I don't really get why most of the projection systems like him. It's not like he's particularly young either – he turned 30 two months ago. He should be the odd man out when Garza returns, but I think it ends up being Villaneuva. Minor had huge BABIP problems in his first two seasons as a starter (.379, .350). This is especially strange considering he is a fairly strong fly ball pitcher, which tells me that he's some combination of unlucky and hit pretty hard. He's got a fastball that averages around 90, and his secondary pitches are kind of meh. Oddly enough, he has a reverse platoon split over the course of his career, but the Cubs will probably still (rightly) pack the lineup with lefties. Saturday: Carlos Villanueva, RHP (4.16, 113, 4.09, 4.06) vs Julio Teheran, RHP (5.68, , 3.84, 4.48), 6:10 PM CT Teheran only made two appearances last year, so his 2012 numbers don't mean much. He was the BA number five overall prospect going into 2011, and seemed like a shoo-in for the rotation in 2012. However, he had a ****** spring and followed it up with a ****** year in AAA (5+ ERA). He had a great spring this year and won a spot in the rotation, but last year has to give the front office some pause. Villaneueva is the quintessential swing man, having started 5-16 games in all but one season in his career. He has a 4.88 FIP in his career as a starter, but managed to snag a new deal based on….I'm not sure what. I thought he had a good run last year with the Jays after joining their rotation, but he posted a 4.50 ERA with a 4.62 FIP. He's been merely decent as a reliever over the course of his career. Sunday: Jeff Samardzija, RHP (3.81, 89, 3.55, 3.49) vs Tim Hudson, RHP (3.62, 97, 4.10, 3.91), 12:35 PM CT Samardzija was great on opening day, aside from a few first inning jitters that weren't helped by a Lilypad fielding error. He said that his stuff wasn't even that great on Monday, but it sure seemed great to me. Check out this filthy splitter: Samardzija threw 110 pitches in the game, but I'm not bothered. Bosio has said that they're taking the reins off Samardzija this year, and he was cruising in that outing.  Hudson had TJS in 2008 and bounced back surprisingly quickly. After pitching about 55 innings in his rehab year, he threw 228 in 2010. His stuff isn't quite as good as it was pre-TJS, but he still generates a ton of ground balls. In 2011, he accomplished the rare feat of a .249 BABIP with a 64.1% GB rate, and that was with Dan Uggla behind him. He turns 38 this year, and I wouldn't be surprised if he pitches into his 40s. Prediction Braves take first two games, Samardzija wins the getaway day game. The post Series Preview: Cubs (2-1) at Braves (2-1) appeared first on Obstructed View.
Original Story:
http://www.obstructedview.net/preview...
THE BACKYARD
BEST OF MAXIM
RELATED ARTICLES
If I had asked you to give me a current or former athlete to defend the actions of Rutgers head coach Mike Rice, who would it be? Would Chipper Jones come to mind? Probably not. Which is why it was quite surprising to read the former Atlanta Braves great's musings on Twitter on Wednesday evening, where he seemingly called out the Rutgers basketball players: I got cursed at and...
If stakeholders agree on the proposed Chicago Cubs Wrigley Field renovation deal, some owners of nearby rooftops may take to legal means to protect their rights.  The new plans call for a Jumbotron in the iconic left field that will admittedly obscure the view of rooftops in that direction"minimally" sources close to the deal stated according to the Chicago Sun Times.  Additional...
Did the Cubs win yesterday? Minor League In Cubs signed Donnie Murphy to a minor-league deal. He's a better option than Edwin Maysonet or Alberto Gonzalez in my opinion. Hopefully he never sniffs our major league roster, but if Barney is out for an extended period, you could do worse than Murphy (of course, you could do better).  Minor League Out Cubs lost Robert Whitenack...
Apparently licking your fingers is the appropriate response to giving up runs in the bottom of the 9th. Since it's going to happen pretty much every night, we'll continue to highlight the ****** relief performance of the night.  (I think we need a name for it).  Tonight's winner was Carlos Marmol.  Yes, yes.  He did actually record a save.  But check out the stat line...
ATLANTA Taking three cuts after the Braves 4-1 win over the Cubs at Turner Field on Friday night. 1. Yes, He Is A Leadoff Hitter The knock on Andrelton Simmons entering his first season atop the order was that he wasn't a prototypical leadoff man. Last season the shortstop drew just 12 walks in 49 games, possessing a 6.6 rate that ranked 13th on the Braves. He had one stolen...
B.J. Upton led off the ninth inning with a homer and his brother Justin followed one out later with another long ball that helped the Atlanta Braves rally past embattled Chicago Cubs closer Carlos Marmol for a 6-5 victory Saturday night. Justin Upton went 3 for 5 with two RBIs. He also homered in the first and now has five homers in Atlanta's first five games. The Braves rallied...
Hi Cubs fans! It's so nice to (officially) be back, now that the season has started. I missed baseball SO much, as I'm sure you all did too. Well, let's get into the recap of the Cubs' first series of the 2013 Season. 4/01: W Cubs 3, Pirates 1 W: Samardzija (1-0) L: Burnett (0-1) SV: Fujikawa (1) In his first Opening Day start, Jeff Samardzija dominated the Pirates.  After...
MLB News

Delivered to your inbox

You'll also receive Yardbarker's daily Top 10, featuring the best sports stories from around the web. Customize your newsletter to get articles on your favorite sports and teams. And the best part? It's free!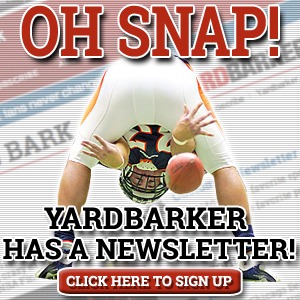 Latest Rumors
The Backyard

Today's Best Stuff

For Bloggers

Join the Yardbarker Network for more promotion, traffic, and money.

Company Info

Help

What is Yardbarker?

Yardbarker is the largest network of sports blogs and pro athlete blogs on the web. This site is the hub of the Yardbarker Network, where our editors and algorithms curate the best sports content from our network and beyond.