Found November 17, 2011 on San Francisco Giants Baseball (SF Giants...:
It's not a crazy offseason for the Giants front office so far. They haven't been actively pursuing top tier free agents, publicly anyways. As of now we know of two players that aren't coming back. Pat Burrell is likely headed to retirement because of his foot problems. Jonathan Sanchez has been traded for Melky Cabrera.According to Andrew Baggarly of the San Jose Mercury News, the Giants might be parting ways with catcher Eli Whiteside. Chris Stewart clearly brought more defensive skills to the table last year, and with a healthy Buster Posey coming back. All three catchers will not be needed on the roster.~King of Cali (Steven)———-——–—-——-——––———————-—————————————————-You can follow SF Giants Rumors Facebook page for more Giants updates! Want an email alert when the is a new post? Click the "Contact Us" tab and request to be added to the email list. You can also follow on Twitter @SFGiants_Rumors. // addthis_url =
Original Story:
http://www.sfgiantsbaseball.net/sf-gi...
THE BACKYARD
BEST OF MAXIM
RELATED ARTICLES
Jon Heyman of SI.com says (via twitter) Larry Baer has said the San Francisco Giants are also trying to lock up starting pitcher Matt Cain as well as Tim Lincecum. The team is looking to to try to get four year deals.   Cain will be a free agent after the 2012 season, and Lincecum will not be eligible to be a free agent until after the 2013 season.   Does anyone remember the days...
Henry Schulman of the San Francisco Chronicle says Tim Lincecum's representative, Rick Thurman, told him this morning he and the San Francisco Giants have not had one discussion about a multi-year contract and, in fact, have had "no substantive talks" on even a one-year deal that would prevent the sides from going to salary arbitration.   "My only expectation is that we'll...
Well, the Giants have finally made their fourty-man roster moves: Darren Ford has been designated for assignment, as has Waldis Joaquin. The Giants have purchased the contracts of Tyler Graham, Charlie Culberson, Hector Correa, Dan Otero, and Roger Kieschnick. More to come…
Timmy's agent doesn't expect a long-term contract discussion to happen this winter. (Photo by Stephen Dunn/Getty Images) The agent for Giants ace Tim Lincecum says he's not expecting discussions with Giants management about a long-term contract extension for his client, according to a new article by San Francisco Chronicle writer Henry Schulman. Rick Thurman told Schulman...
Larry Baer spoke recently about the Giants needs this off season. After watching the video it is pretty apparent that the Giants will not be players in any of the top (or even mid level) free agents this off season. "Around the field, certainly we want to add some bats. We are going to be careful that we do it the right way." Reading...
The Giants seem to think that all they need to do to improve the worst offense in the National League is to trade for Melky Cabrera and get Buster Posey and Freddy Sanchez back after suffering injuries. Well with the Bill James Projections being published it seems like a good time to see what these projections say about what we can expect for the Giants next season. So using...
According to Matt Eddy of Baseball America, the Giants have signed minor-league free agent Gregor Blanco: Octagon Baseball reports that its client CF Gregor Blanco signed with Giants. LH-hitting, 27-year-old CF coming off lost year in Triple-A. Blanco hit .201 in 255 plate appearances…with a .350 OBP. He doesn't have much power, but he's consistently had strong on-base numbers...
If you're in the San Francisco area and have been struggling to think of a way to keep pests, birds, hippies, and other unwanteds in your garden the Giants have the perfect solution for you: the Brian Wilson lawn gnome giveaway on May 20.The Hagerstown Suns, a minor league team that Wilson once toiled for, held a similar giveaway last season and seeking to capitalize on such...
Commissioner Selig announced today that the Major League owners have formally approved the designation of Larry Baer as the control person of the San Francisco Giants.  The Major League Clubs voted during today's quarterly ownership meetings. Baer's official title with the Giants is CEO. The approval of Baer comes after the Executive Committee of the San Francisco Giants...
A couple of the reasons I used to hit just about every Giants blog way back when are that 1) I like to find solutions to questions, and 2) it's a waste if I find something interesting, good or bad, and don't share it with other Giants fans (that's probably why I've made a career in research).  Back then, the idiot quotient was still relatively low and I didn'...
Giants News

Delivered to your inbox

You'll also receive Yardbarker's daily Top 10, featuring the best sports stories from around the web. Customize your newsletter to get articles on your favorite sports and teams. And the best part? It's free!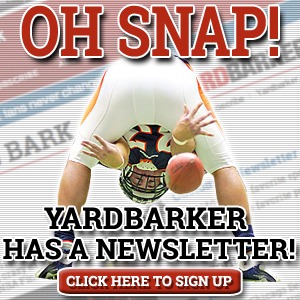 Latest Rumors
Best of Yardbarker

Today's Best Stuff

For Bloggers

Join the Yardbarker Network for more promotion, traffic, and money.

Company Info

Help

What is Yardbarker?

Yardbarker is the largest network of sports blogs and pro athlete blogs on the web. This site is the hub of the Yardbarker Network, where our editors and algorithms curate the best sports content from our network and beyond.