Found December 21, 2011 on San Francisco Giants Baseball (SF Giants...:
It's been reported that Cody Ross has lowered his contract demands. David O'Brien (tweets) of the Atlanta Journal Constitution said Ross wanted a 3-year deal to stay in San Francisco, and it's pitcher friendly ballpark. O'Brien is hearing a 2-year offer is now what Ross is looking for.   Nate Stuhlbarg of CSNBayArea.com speculates that it's possible Ross and the San Francisco Giants could resume talks. I hate to be the bearer of bad news, but Ross isn't coming back to San Francisco. The Giants now have Melky Cabrera and Angel Pagan as part of the outfield mix. Once they traded for those guys. That closed the door on a Ross return. Now if we were talking Carlos Beltran falling into the Giants lap. That would be a different story because he would easily be one of the Giants top hitters. Beltran would lock an outfield spot the day he signs. It sure would be nice if the Giants went over budget and signed Beltran, but as of now they're sticking to their guns. What's your thoughts on Ross...
Original Story:
http://www.sfgiantsbaseball.net/sf-gi...
THE BACKYARD
BEST OF MAXIM
RELATED ARTICLES
The big bat on just about every Giants fan Christmas list just signed with the Cardinals for a very reasonable 2 year $26 million deal. When the news of the years and money involved broke over twitter, a justified freak out session broke out among Giants fans, why couldn't the Giants swing this deal? It would have been understandable if the Giants didn'...
To all of you drafting 2012 Blue Jay projected lineups with Carlos Beltran hitting cleanup,  wrong color bird. So today's lesson is simple:World Series rings are a great recruiting tool.
Marc Topkin handicaps the chances of Carlos Beltran joining the Rays. According to Topkin, Carlos is looking for $36 to $39 million for three years. At that price, the Rays would likely get a good deal and a very good bat in the middle of their lineup.
Carlos Beltran agreed to a two year deal worth 26 million with the Cardinals last night, making him the third major OF to sign within the last two weeks (the others being Willingham and Cuddyer). For Carlos, he goes to a National League team, avoiding his fear about being regulated to the DH and he [...]
ST. LOUIS - Carlos Beltran and the World Series champion St. Louis Cardinals have agreed to a two-year contract...
Carlos Beltran may choose his next team by the weekend and he has many suitors to consider. The Cardinals, Blue Jays, Red Sox, Rays and Indians are all "seriously in the mix" for Beltran, according to Scott Miller of CBSSports.com. Here's the latest on Beltran, who's open to DHing part-time... The Cardinals intensified their talks with Beltran last night and into...
Carlos Beltran is one of the top free agents remaining (#4 among unsigned free agents on MLBTR's top 50 list). He hit .300/.385/.525 with 22 homers for the Mets and Giants this past season and won't cost a draft pick, so teams looking for a capable outfield bat have taken note. The 34-year-old switch-hitter won't come cheap, however. Here's the latest on Beltran...
Carlos Beltran has left the Giants, but he didn't leave them without options. With Beltran gone, returning Pablo Sandoval to the third position is the simplest batting-order move the Giants can make, though manager Bruce Bochy may opt to bat him fourth instead.
Carlos Beltran and the World Series champion St. Louis Cardinals agreed to a two-year contract pending results of a physical, a move that would fortify the team's lineup after the departure of Albert Pujols. The team disclosed the agreement Thursday night and said it expects to make a formal announcement shortly after the holidays.
They say a good way to help yourself get over a breakup is to date someone new. And the slugger St. Louis Cardinals fans will be seeing for the next two seasons is pretty hot. Rather than sulk over the loss of Albert Pujols, the Cardinals went out and bought outfielder Carlos Beltran, one of the best hitters on the free agent market. Derek Goold of the St. Louis Post-Dispatch broke...
Gio Gonzalez is going to the Nationals, for prospects (!).Andrew Bailey rumors are still flying.Carlos Beltran will meet you in St. Louis. No pressure there.ST. LOUIS (AP) – Carlos Beltran and the World Series champion St. Louis Cardinals agreed to a two-year contract pending results of a physical, a move that would fortify the team's lineup following the departure of Albert...
It was a short eight days ago, that I had an epiphany: the Indians should be waiting out the Carlos Beltran sweepstakes. At age 35 coming off his best year in a while, there could be a concern giving him big money and a long term commitment. With Josh Willingham taken off the board by the Minnesota Twins, my rationale then as to why the Tribe and Beltran could work: if the years...
MLB News

Delivered to your inbox

You'll also receive Yardbarker's daily Top 10, featuring the best sports stories from around the web. Customize your newsletter to get articles on your favorite sports and teams. And the best part? It's free!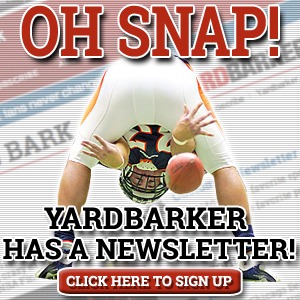 Latest Rumors
Best of Yardbarker

Today's Best Stuff

For Bloggers

Join the Yardbarker Network for more promotion, traffic, and money.

Company Info

Help

What is Yardbarker?

Yardbarker is the largest network of sports blogs and pro athlete blogs on the web. This site is the hub of the Yardbarker Network, where our editors and algorithms curate the best sports content from our network and beyond.