Found January 28, 2013 on Fox Sports South:
PLAYERS:
Andrelton Simmons
,
Michael Bourn
,
Martin Prado
,
Justin Upton
,
Fredi Gonzalez
,
Jason Heyward
,
Chipper Jones
,
Paul Janish
,
Jonny Venters
,
Jurickson Profar
TEAMS:
Atlanta Braves
,
Arizona Diamondbacks
,
Texas Rangers
ATLANTA With an injury-shortened season behind him and the World Baseball Classic looming, Andrelton Simmons caught up on his sleep this winter. He might need it. The 23-year-old shortstop is one of the few Atlanta Braves still participating in the international tournament, and his native Netherlands team is set to shoulder the full weight of a global schedule. After spending some time in Orlando for Spring Training, Simmons is scheduled to arrive in Taichung, Taiwan, for the team's opening round of games beginning on March 2. With a few wins, trips to Tokyo and San Francisco might also be in the cards. In total, Simmons, a rookie starter on last season's wild-card team, could travel more than 17,000 miles before returning to Disney's Wide World of Sports to re-join the club. "I'm used to sleeping on planes, so I should be good," he said with a laugh. That thanks-but-I'll-be-OK mentality transfused into the franchise's mode of approaching interest in Simmons this offseason, too, as he was more than once rumored to be a coveted prize for opposing clubs looking for offseason trades with Atlanta, as quality middle infielders are tough to find in today's game. The Braves chose to stick with their defensive wunderkind. Coming off a season in which he surprised most offensively posting an on-base percentage of .335, hitting three home runs and driving in 19 runs in 182 plate appearances Simmons is not only healthy and poised to re-establish himself in the field, but also to take over a coveted spot in the lineup. With center fielder Michael Bourn, last season's leadoff man, out of the equation and Martin Prado being sent over to the Diamondbacks in a trade for All-Star Justin Upton, Simmons will, in all likelihood, be the first guy to get a crack at the No. 1 slot versus the Phillies on Opening Day. "It's definitely a spot I'd like to have. I'm comfortable there," said Simmons, who primarily hit seventh and eighth in the lineup in 2012. "I haven't hit that much (there) last year, but I'm familiar with it." Braves general manager Frank Wren and manager Fredi Gonzalez are comfortable with Simmons, even with his youth and inexperience, being the set-up man for what now looks to be an explosive middle of the lineup and they've said as much throughout the offseason. "You know, Simmons was a leadoff hitter all through the minor leagues," Wren said last week before the Upton trade. "I mean, he won the batting title as a leadoff hitter in (Class High-A) Lynchburg, so he's done that." One pressing concern for Atlanta's lineup will remain in the strikeout column, where the team was fanned a franchise record 1,289 times last season and added two more high-strikeout relatives (B.J. and Justin Upton) to the lineup over the past couple of months. If Simmons is going to find a permanent home at the top of the order, he'll need to provide a stabilizing on-base presence for the Uptons, right fielder Jason Heyward and first baseman Freddie Freeman. He's shown he has that capability, too. Aside from capturing the batting title with the team's minor-league affiliate Hillcats where he batted .311 in 570 plate appearances Simmons ranked third among all rookies last season with a strikeout rate of just 11.5 percent. Only Chipper Jones and Prado struck out less frequently among Braves hitters. Of course, as with most young players, his command of the strike zone and his ability to draw walks will need to dramatically improve (6.6 percent) to become an elite leadoff guy, but the potential is there and the franchise will certainly give him an opportunity in 2013. Just think: Just eight months ago, any offense Simmons provided was considered icing on the cake. Now, he could play the catalyst for a franchise that strongly believes it's poised for a World Series run. But Simmons' defensive prowess is not likely to disappear and he's already elite in that regard. "I think the biggest thing as a shortstop is to have pitchers want you back there. That was always my goal on any team that I played with," teammate and defensive-minded shortstop Paul Janish said. "As far as Andrelton goes, man, for being such a young guy, he's not overwhelmed at all in these situations, which is huge especially in the games that we play in. Being in the race down the stretch, playing a lot of close games, having a lot of ground ball pitchers on this team, he's gonna play a huge role." Atlanta forced opposing batters into more ground balls than all but four other teams last season, pitching to its defense and putting an even greater emphasis on Simmons' glovework. He came through, too. His ultimate zone rating per 150 games (UZR150) a defensive metric measured in terms of runs saved was better than any other shortstop that played 200 or more innings. Simply put: He's one of the best defensive shortstops in the game and if anything he does with the bat is gravy, then there's expected to be plenty of gravy to go around in the coming years. "Him and Paul (Janish) are so good there defensively that it takes a little bit of worry out of your mind," reliever Jonny Venters said. "I try to make my pitches and get ground balls and I know that those two guys are going to make the plays, and they're going to make the plays that probably a lot of guys won't make." At the World Baseball Classic, Wren, Simmons and the rest of the Braves organization are not too concerned with where he bats in the lineup for the Netherlands, but have voiced their desire for him to play his native position, which is not a given with electric Rangers prospect Jurickson Profar also on the roster. Overall, the end product is expected to be beneficial, despite the potential 37-plus hours of flight time. He's 23, he can handle a little jet lag. Whether the team's de facto "untouchable" prospect can handle the weight of expectations over the course of 162 games is the main focus for all involved. Simmons himself knows what's at stake and how highly this franchise thinks of him; he was not sleeping through the persistent offseason rumor mill ... at least not through all of it. "I guess they've got confidence in me and what I can bring in the future. I like that they're expecting more out of me," he said. "So it's definitely not pressure, but it's that push, like, 'OK, we're excited to see what he can bring.' I'm happy they did that. I'm gonna try to meet the expectations that they have. "I always expect more out of myself. I think I'm the person who expects the most out of myself. I know what I'm capable of. Maybe it's not going to be every day, being at my top, but I know what I can do. I know I can do a lot."
Original Story:
http://www.foxsportssouth.com/01/28/1...
THE BACKYARD
BEST OF MAXIM
RELATED ARTICLES
Andrelton Simmons is thought by many experts to have all-star potential Nobody with any baseball sense would question how important leadoff hitters are.  The question for the Braves….. Who is going to hit leadoff?  Andrelton Simmons seems like the likely candidate as of right now, but could the Braves make another move? Let's focus on the idea that Simmons is the Braves lead...
Michael Bourn remains unsigned as the start of spring training gets closer and closer. He is the top position player that has not found a home. As the list of possible teams that will make a run for him gets smaller I will try and tell you who will finally give this speedy centerfielder the … Continue reading »
ATLANTA The belt hangs in Tim Hudsons locker in the Braves clubhouse, black leather with silver adornments, a WWE-style trophy proclaiming its owner the A.B.F.L. (Atlanta Braves Football League) Heavyweight Champion. Its a title Hudson has held onto the last two years as the winner of teams fantasy football league, but his streak and his season ended with a loss to closer Craig...
dancing in BP, generally being awesome It's comforting to know Prado's former teammates love him as much as the fans do. Sad to see everyone's fav teammate go, but all smiles as a pitcher looking over my shoulder! Can't wait. #Braves — Brandon Beachy (@Brandon_Beachy) January 24, 2013 .@jasonheyward on Martin Prado: "He's a great teammate, great person on-...
Evan Gattis, on the left, has been playing more LF and doing less catching   At the last caravan I went to, a few blog readers told me they missed the inbox entries, so I'll do my best to catch up. :) If you're unfamiliar, I answer Bowman's inbox Q&As as if anyone cares about my opinion. Here's a link to his most recent inbox, with the questions and my answers...
The debate rages on whether or not the Mets should forfeit their first-round pick, the #11 selection overall, in order to sign free agent Michael Bourn. Those in favor of the move point out that Bourn would address a major need for the Mets while those opposed think the club is unlikely to contend while Bourn would be good and that the club would be better off continuing its youth...
There were tears. But that was to be expected. A mother's pride can only manifest itself in so many ways, so when Yvonne Upton sat down beside her older son B.J. while her younger son, Justin, was announced as an Atlanta Brave, she could be forgiven a dab or two around the eyes. "This is the greatest day for us," Yvonne said after the press conference. "It&...
By CHARLES ODUM AP Sports Writer ATLANTA -- Fredi Gonzalez sat down and started writing out projected lineups last week as soon as he heard the Braves had traded for Justin Upton. It didn't take long. The manager says making out lineups just got easier. Gonzalez used 107 lineups last year, sometimes adjusting due to the opposing pitcher. He said his juggling days are over...
It's that time of the year when we take stock of the Atlanta Braves organization and analyze the top prospects. For the next few weeks, we will profile our top-30 prospect list in groups of five. Here are those who cracked the bottom five.
Tweet   The Arizona Diamondbacks had seemingly pondered the idea of trading young, talented outfielder Justin Upton forever. Last week it finally happened. Arizona shipped Upton to the Atlanta Braves in a trade that included the super versatile Martin Prado heading the opposite direction. The Braves now boast one of MLB's best outfields with Jason [...]
Chad Durbin to return Pending a physical Chad Durbin will return to the Phillies bullpen for the 2013 season. Durbin who was a huge part of the Phillies in 2008 had a solid season last year with the Atlanta Braves. With the Braves Durbin posted a career high in appearances posting an ERA in the 3′s. Durbin is getting a one-year deal with the Phillies. Great move for a bullpen that...
Image of Zimbio As reported yesterday, the Phillies have announced this morning that they have signed reliever Chad Durbin. The former "Bridge to Lidge" has signed a one year deal, with an option for 2014.  The 35 year old is coming off an impressive year with Atlanta Braves. He held a 4-1 record, with a 3.10 ERA.  Chad pitched for the Phillies from 2008-2010. 
MLB News

Delivered to your inbox

You'll also receive Yardbarker's daily Top 10, featuring the best sports stories from around the web. Customize your newsletter to get articles on your favorite sports and teams. And the best part? It's free!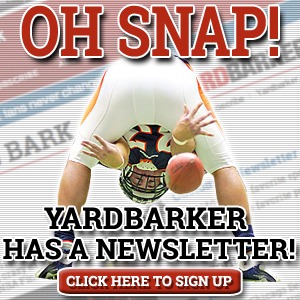 Latest Rumors
The Backyard

Today's Best Stuff

For Bloggers

Join the Yardbarker Network for more promotion, traffic, and money.

Company Info

Help

What is Yardbarker?

Yardbarker is the largest network of sports blogs and pro athlete blogs on the web. This site is the hub of the Yardbarker Network, where our editors and algorithms curate the best sports content from our network and beyond.