Found May 04, 2012 on hardballchat.com:
PLAYERS:
Heath Bell
,
Jose Reyes
,
Hanley Ramirez
,
Carlos Zambrano
,
Ozzie Guillen
,
Logan Morrison
,
Stephen Strasburg
,
Josh Johnson
TEAMS:
Miami Marlins
,
Chicago White Sox
,
Washington Nationals
,
San Francisco Giants
After twenty or so games into the MLB season and a month in the books, there are a few observations that have taken effect during the early days of the new look Miami Marlins. Here are six randomized thoughts in regards to this enigmatic and colorful team.
VI: Pin the record on CP Heath Bell.
I hate scapegoating anyone. Never in any sort of professional, athletic, or academic pursuit have I been the "goat," but I cannot think of a worse responsibility. The entire team has their crosses to bear. SS Jose Reyes has started slow, 3B Hanley Ramirez has not been on base, and RF Giancarlo Stanton just found his groove. However, the closing pitcher should bleed frost and have a heart of darkness. Nothing should be sweeter to Heath Bell than the whoosh of air coming from the fans as their rally caps are scorned and their sighs collected after a save. Bell has blown multiple saves, including P Carlos Zambrano's first start as a Marlin. More on Zambrano later.
V: RF Giancarlo Stanton will have a huge May
I swear! I told my fiance on April 30th that RF Giancarlo Stanton will begin to find his stroke. The man is one of the few who can simply will a ball out of the park. To me, a "power surge" is hitting five or six home runs in a two week span. In a tough park against an even tougher pitching staff, Stanton hit some laser beams out to left. I could rave about this guy for ages! I always told my Grandparents as we watched Stanton come up that if anyone were to die from a baseball it would come off of Stanton's bat. In an early '90s game I attended, a foul ball flew over my then evasive mom and struck a lady square in the head. From that point on both the little leaguer and fan in me decided to never take my eyes off the diamond. Stanton's laser beams are as stupefying as his moon shots. His extra bases are going to pile up in May.
IV: RHP Carlos Zambrano may be the best starter the Miami Marlins have right now.
The man reeks of intensity. While RHP Carlos Zambrano may be a man of a monstrous disposition, his commonplace with Coach Ozzie Guillen has garnered a collected state as Zambrano takes the mound. This acquisition offsets what seems like an at least sensationalist poor signing in Heath Bell. Zambrano cannot buy a win, but he has pitched marvelously. The 'pen persists in their quest to deny Carlos Zambrano any sort of pleasure in pitching. His most recent crusade, blanking the San Francisco Giants through seven before yet another extra inning affair courtesy of Heath Bell.
III: The team is more clutch than they have been in years
The Marlins always (at least since 2005 or so) either tie the game late and lose or bow down in the 9th inning. This year, the big hits have come at the best times. LF Logan Morrison crushed a ball to tie the Washington Nationals during a Stephen Strasburg start, and most recently had a beam from Giancarlo Stanton save the day for Heath Bell.
II: Ozzie Guillen is finally using team speed!
The top three hitters on the Fish Reyes, Bonifacio, and Ramirez are likely the fastest players at their position. Having aggression on the bases is one of the easiest ways to give the big guys behind them a pitch to work with. Having relentless pace on the bags keeps pitchers and catchers on edge and presents many more RBI opportunities.
I: It will take time, but RHP Josh Johnson will find his groove.
Right now staff ace Josh Johnson is languishing in a shroud of rust. He shows no signs of residual injury concerns, but is clearly giving up too much. His fastball is still down in velocity, but his slider is of the most worry. Josh Johnson will figure things out, but he will need time to shake off the rust. If the drop in speed is permanent, then Johnson will need to work to compensate with deception, as every great pitcher does in their career turning points.
Original Story:
http://www.hardballchat.com/2012/05/s...
THE BACKYARD
BEST OF MAXIM
RELATED ARTICLES
The Marlins took a 2-0 lead into the 9th inning on Wednesday night before closer Heath Bell allowed the Giants to tie the game up and send it into extra innings. That is unfortunate for the Marlins starter, who was in line for the win after throwing seven dominant innings. That starter was Carlos Zambrano. Uh oh. No uh oh? Apparently Zambrano truly has changed. The Marlins held on...
Two of the biggest stories this season for the Miami Marlins had new chapters added to them as Heath Bell blew another save before Steve Cishek won his fourth game.   The Marlins were 9-8 winners in twelve innings over the San Diego Padres on Friday in a game that ended at nearly 3 AM on the East Coast.    The win was the fourth in a row for the fish who are now 12-14 on the...
The Miami Marlins won their fifth straight game on Saturday with a 4-1 victory over the San Diego Padres.   Mark Buehrle tossed the first complete game of the season for Miami and his first since 2010.   The win streak which has seen all the wins come on the road improved the Marlins' record to 13-14 on the season and moved them out of last place in the National League East...
Ozzie Guillen has been giving Heath Bell every opportunity to remain the Miami Marlins' closer. He's running out of chances. The big, burly right-hander blew his fourth save of the season before Giancarlo Stanton homered in the 10th inning, lifting the Marlins to a 3-2 victory over the San Francisco Giants 3-2 on Wednesday night. Bell never recorded an out as San Francisco...
Hanley Ramirez drove in a pair of runs without a hit to back Anibal Sanchez's first win in four starts, and the Miami Marlins rebounded from a rough stretch for a 3-2 victory over the San Francisco Giants on Thursday and a three-game sweep. Giancarlo Stanton doubled in the seventh after he homered in three of his previous four games. Stanton has nine doubles and four home runs...
SAN DIEGO (AP) -- For one night, Miami Marlins manager Ozzie Guillen found someone to close out a win for his team. Mark Buehrle threw a complete-game five-hitter to lead Miami to a 4-1 win over the San Diego Padres on Saturday and its season-high five consecutive win. Earlier in the day, Guillen demoted struggling closer Heath Bell, who has four blown saves this season. Bell is...
SAN DIEGO (AP) -- Ozzie Guillen hardly had the look of a manager whose team had just won its season-best fourth straight game. From winless ace Josh Johnson to struggling closer Heath Bell, the Miami Marlins have major issues. "There's a lot going on," Guillen said. "We have a lot of concerns." Still, after blowing an early five-run lead, Miami managed...
SAN FRANCISCO (AP) -- Hanley Ramirez drove in a pair of runs without a hit to back Anibal Sanchez's first win in four starts, and the Miami Marlins rebounded from a rough stretch for a 3-2 victory over the San Francisco Giants on Thursday and a three-game sweep. Giancarlo Stanton doubled in the seventh after he homered in three of his previous four games. Stanton has nine doubles...
Tune into FOX Sports Florida at 9:30 p.m. to watch the Miami Marlins take on the San Diego Padres. The Miami Marlins got a lift from their pitching staff to get back on track in their most recent series. They may be hoping their ace took some notes. Josh Johnson seeks his first victory of the season as visiting Miami looks to end an eight-game losing streak to the San Diego Padres...
The Miami Marlins, who signed closer Heath Bell to a three year, $27 million deal this offseason, have removed Bell from the closer's role due to repeated struggles. Bell has already blown four saves this season. Marlins manager Ozzie Guillen is thinking that he'll replace Bell at the back of the game with Steve Cishek. The struggles from the 34 year-old Bell this year...
With their bullpen in flux, the Miami Marlins could use some more help from their starting rotation. The San Diego Padres can relate. The Marlins look to complete a three-game sweep of the San Diego Padres and extend their longest winning streak of the season to six Sunday in a matchup of teams currently without clearly-defined closers. Miami relievers threw a combined 28 2-3...
The Padres had an off day yesterday, but that didn't meant they stayed quiet. The trade market was all a buzz yesterday as the Padres made a move with the Angels. I won't spoil anything here if you haven't read about it yet, but the article is below on who was moved. Most of the team was busy yesterday as well getting out in the community, which is always a great thing...
MLB News

Delivered to your inbox

You'll also receive Yardbarker's daily Top 10, featuring the best sports stories from around the web. Customize your newsletter to get articles on your favorite sports and teams. And the best part? It's free!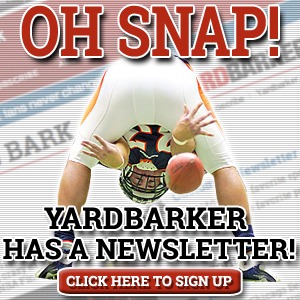 Latest Rumors
Best of Yardbarker

Today's Best Stuff

For Bloggers

Join the Yardbarker Network for more promotion, traffic, and money.

Company Info

Help

What is Yardbarker?

Yardbarker is the largest network of sports blogs and pro athlete blogs on the web. This site is the hub of the Yardbarker Network, where our editors and algorithms curate the best sports content from our network and beyond.