Found March 13, 2013 on Philly Sports World:
Photo Courtesy of Renee Cendrowski. "So as Jimmy Rollins goes, so do the Phillies." This statement said by many over the years, is as relevent this season as every other. Rollins some have said is on the decline and his best years are behind him. Rollins made a strong case to the contrary last season, finishing with 23 home runs after playing in 156 games. His batting average dropped 18 points over the previous season to .250, which is where many are hanging their hat on "the decline". Last season was like no other in recent Phillies memory. To keep in mind that Rollins was "the guy" for half  the season certainly had a lot to do with the lower batting average. This season will be different for Rollins simply because the Phillies are different. Rollins will return to the top of the order where he belongs. He will also be pitched much different from last season with a healthy Howard and Utley. The top of the Phillies lineup upgraded by the trade for Revere and also with a healthy #3 and #4 in the batting order. Can Rollins take the Phillies where they need to be? So as Rollins goes, he doesn't need to hit 23 home runs does he? Getting on base and back to making contact, is how the Phillies need Rollins to go.  Similar Posts: Phillies role player review: Freddy Galvis, Kevin Frandsen Phillies to sign Durbin in a move that strengthens bullpen Phillies signing of Delmon Young, who's the odd man out? 2013 Phillies bullpen, best in the majors? Phillies Odds and Ends: Revere, Brown, starting pitching
Original Story:
http://phillysportsworld.com/so-as-ji...
THE BACKYARD
BEST OF MAXIM
RELATED ARTICLES
Doc was crushed on Tuesday. He could be part of the "blow up" eventually. (AP) From an injury standpoint, this spring has gone about as well as the Phillies could have hoped (except for Roy Halladay getting crushed on Tuesday by the Tigers).  After a disastrous 2012, optimism has begun to regenerate throughout the Delaware Valley and beyond, with a handful of national baseball...
Cliff Lee did not make it out of the third, giving up five runs, two earned, on six hits and two walks, as the defense committed five errors and the Phillies fell 6-2. The Good With a lot of the regular Phillies resting, John Mayberry tallied two hits from the clean-up spot and Darin Ruf hit his first home run of the Spring. Michael Stutes, Justin De Fratus, and Chad Durbin combined...
Laynce Nix has the best season of his career in 2011 and parlayed that into a two-year deal with the Philadelphia Phillies. Unfortunately, the first year of that deal didn't quite workout so well, as he played in almost half as many games as the previous season and dealt with a ton of injuries, specifically to his calves. Obviously, not only is he hoping to help the Phils win this...
Last week we told you that Roy Halladay's velocity was down during a spring outing against the Washington Nationals. Though he had success in that start (facing only one Nats starter), his velocity was down again Tuesday and this time he struggled. Halladay gave up seven runs, six hits, four walks, and two home runs in 2.2 innings against a Detroit Tigers lineup that did not include...
If one of the Philadelphia Phillies' starters goes down, Aaron Cook and Rodrigo Lopez are ready to fill in. Cook and Lopez combined for five scoreless innings, Pete Orr hit a tiebreaking homer in the eighth inning and the Phillies beat the Pittsburgh Pirates 2-1 on Thursday. ''I'll take the ball whenever they give it to me,'' Cook said after allowing one...
Roy Halladay used two meaningful words to alleviate concern over a terrible outing. ''Nothing hurts,'' Halladay said. Considering he's coming off an injury-plagued year, that's important news for the Philadelphia Phillies. Ramon Santiago hit a grand slam and Don Kelly also homered off Halladay, leading the Detroit Tigers to a 10-6 win over the Phillies...
The Phillies made five roster cuts this morning. Tyler Cloyd, B.J. Rosenberg, Tyson Gilles, Sebastain Valle, and Mauricio Robles were all optioned to minor-league camp. One player, who was not cut and is still in Phillies' big-league camp is pitcher Phillippe Aumont. In the emergence of the World Baseball Classic...
The Phillies made five more roster moves Tuesday to drop their spring training roster down to 42 players. Tyler Cloyd, Tyson Gillies and Sebastian Valle were the biggest of the names optioned down to minor league camp.
Roy Halladay got rocked today. Like, rocked, rocked. He's only being clocked in the 84-85 range today too. Ok, enough awful-ness, let's run through some other topics in the blogosphere today: The Phillies cut five guys: Tyler Cloyd, Tyson Gillies, Sebastian Valle, Mauricio Robles, and B.J. Rosenberg. High Cheese had...
    Last year at this time, the Phillies were hurting. Chase Utley was nowhere to be found, and Ryan Howard was taking ground balls on a stool. Second and third base were huge question marks, not to mention the power outage at first base with Howard's absence. The pitching staff, anchored by the trio
CLEARWATER, Fla. (AP) -- Ramon Santiago hit a grand slam and Don Kelly also homered off Roy Halladay, leading the Detroit Tigers to a 10-6 win over the Philadelphia Phillies on Tuesday. Detroit starter Drew Smyly allowed three runs -- two earned -- and five hits in 3 1-3 innings, and Brayan Pena also went deep. Chase Utley hit his first homer of the spring for the Phillies. The...
  Ruben Amaro Jr. went into this winter with many holes to fill in the Phils' lineup. Specifically, the eighth inning setup man, third base, right, left and center field. Amaro filled a few holes by signing veterans such as Michael Young, Mike Adams and Delmon Young. Amaro's boldest move, however, was using two trade
Phillies News

Delivered to your inbox

You'll also receive Yardbarker's daily Top 10, featuring the best sports stories from around the web. Customize your newsletter to get articles on your favorite sports and teams. And the best part? It's free!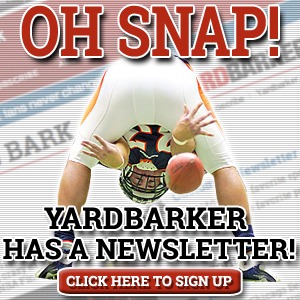 Latest Rumors
Best of Yardbarker

Today's Best Stuff

For Bloggers

Join the Yardbarker Network for more promotion, traffic, and money.

Company Info

Help

What is Yardbarker?

Yardbarker is the largest network of sports blogs and pro athlete blogs on the web. This site is the hub of the Yardbarker Network, where our editors and algorithms curate the best sports content from our network and beyond.