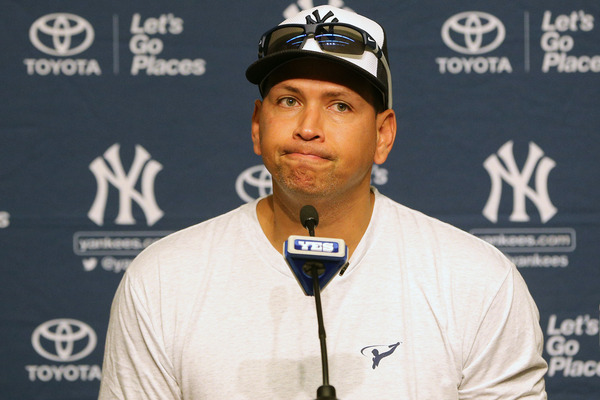 All indications point to Alex Rodriguez being done with playing baseball.
Christopher Pasatieri/Getty Images
Alex Rodriguez has not yet officially retired but comments from his spokesman this week indicate the slugger has no intention of playing baseball in 2017. Instead, it appears A-Rod will remain in his agreed-upon special advisory role with the New York Yankees organization.
"Nothing new, status quo," Rodriguez's spokesman, Ron Berkowitz, said, via NJ.com. "As of now, nothing has changed."
Berkowitz's comments should come as no surprise given every indication coming from Rodriguez's camp has suggested it ever since the slugger announced his final game would be on Aug. 12 at Yankee Stadium.
Rumors circulated later that month the Miami Marlins may have some interest in bringing in A-Rod. But Berkowitz disputed the speculation, writing in an email to the media, "I want to put all this talk to rest about Alex playing for any team this season. It's not happening."
Rodriguez reportedly also told friends in August, "I'm done," as it became clearer and clearer he wanted to spend more time with his daughters.
Rodriguez, 41, was expected to step into the "special advisor" role with the Yankees as early as last September, which makes sense given the organization still owes him $27 million. He's also expected to serve as a special instructor in spring training, a role he's already taking on while working with some of the Yankees' top prospects at the team's training complex in Tampa, Fla.
Away from the Yankees, A-Rod has expressed interest in embarking upon a career in motivational speaking. He also seemed to enjoy serving as an MLB postseason analyst for FOX Sports, a role that earned him rave reviews.
In other words, it certainly appears Rodriguez has more than enough on his plate to occupy his time in the coming year. Playing baseball may well in fact be in the rear-view mirror for A-Rod for good.
MORE FROM YARDBARKER:
Best athlete by state all time
QUIZ: Name the MLB players to have hit 40 or more home runs in a season for two or more teams
23 MLB players have hit 40 or more home runs in a season for two different teams. Can you name them?
Clue: Teams with whom players hit 40 or more home runs (and number of times feat achieved with each team)
More text: Career Home Runs
MORE FROM YARDBARKER
Yankees News

Delivered to your inbox

You'll also receive Yardbarker's daily Top 10, featuring the best sports stories from around the web. Customize your newsletter to get articles on your favorite sports and teams. And the best part? It's free!