Found February 14, 2013 on Pirates Prospects:
PLAYERS:
Neal Huntington
,
Joel Hanrahan
,
Lastings Milledge
,
Jason Grilli
,
Tony Watson
,
Jared Hughes
,
Mark Melancon
,
Francisco Liriano
,
Bryan Morris
,
Jeanmar Gomez
,
Jason Bay
,
Andy Oliver
,
Justin Wilson
,
Duke Welker
,
Vic Black
,
Kris Johnson
,
Vin Mazzaro
,
Jonathan Sanchez
,
Clint Hurdle
,
Jeff Locke
,
Kyle McPherson
,
Gerrit Cole
,
Phil Irwin
TEAMS:
Pittsburgh Pirates
,
Boston Red Sox
,
Chicago White Sox
,
Seattle Mariners
With pitchers and catchers reporting today, and Spring Training starting up this week, we will be previewing the position battles to follow throughout the Spring. To keep track of the players who are in camp, and the updated status of each position battle, check out the 2013 Pittsburgh Pirates Spring Training Tracker. If there's one area where Neal Huntington has been successful, it's building a bullpen. Huntington has found a lot of quality, low-cost relievers over the last few years. Joel Hanrahan was a throw-in from the 2009 Lastings Milledge trade, and ended up closing for the team for two and a half years. Jason Grilli was available to any team that wanted him in July 2011, and the Pirates got him on a minor league deal. Tony Watson and Jared Hughes were struggling starters in Double-A who both saw their stocks soar when they moved to the bullpen. This year the bullpen building will be put to the test. Hanrahan was traded, making Grilli the closer, and testing the "Proven Closer" theory. Mark Melancon was acquired in the Hanrahan deal. He looks very much like Hanrahan looked when he was acquired in 2009 — coming off a horrible season that looks to be the result of some unlucky secondary ratios. From there the Pirates have some hard throwers, 5th/6th starters who might be better as relievers, and several other low-key moves. Those types of moves have worked out well in the past, but this year the majority of the bullpen is made up of those unknown relievers. That doesn't mean the bullpen will struggle. It just means it won't come with the comfort factor of having established relievers. The Locks Jason Grilli – Grilli will take over as the closer now that Joel Hanrahan has been traded. Mark Melancon – Melancon is not only out of options, but he was also one of the key pieces in the Hanrahan deal. The Pirates will be hoping that he bounces back from his 2012 struggles, and pitches more like he did in 2011 with the Astros. Tony Watson – Watson made more appearances than any other Pirates reliever last year, and he's the top left-handed option on the team. Jared Hughes – Right behind Watson in appearances was Hughes. The right-hander also led the bullpen in innings. That's even more impressive for Hughes, since he spent some time in Triple-A. Rotation Fallout The bullpen could be affected, depending on how the rotation shakes out. Right now it looks like Francisco Liriano won't be healthy on Opening Day. That would move Jeff Karstens to the starting rotation. If for some reason Karstens isn't in the rotation, he would move to the bullpen, taking the long reliever spot. For now, I'm projecting Karstens to make the rotation with Liriano not expected to be ready by Opening Day. Out of Options Bryan Morris looks like a lock for the bullpen. Contenders: Chris Leroux, Bryan Morris, Jeanmar Gomez Based on the above locks, the Pirates have three open spots in the bullpen. They also have three players who are out of options, meaning they would have to be designated for assignment if they don't make the team. Out of this group, I think Bryan Morris has the best chance of making the team. I'd almost put him as a lock. He's got the most upside here, and I don't think the Pirates are going to let the final piece of the horrible Jason Bay trade walk without giving him a fair chance in the majors — especially when there's no reason to let him walk. Leroux and Gomez both fit the profile of a long reliever and potential rotation depth. Gomez is better for the latter role, since Leroux struggles with his changeup. Leroux has more potential as a relief option. In his three years with the Pirates he has combined for a 3.95 ERA in 41 innings, with an impressive 8.8 K/9, 2.6 BB/9, and 0.2 HR/9. The ratios are really what makes him look appealing. One downside is that Leroux has lost some velocity. In 2010 his fastball averaged 93.8, ranging from 91.1 to 97.2. In 2011 his fastball was averaging 93.7, ranging from 91.8 to 96.5. Last year his fastball averaged 91.0, ranging from 88.9 to 94.3. He also leaned on his slider more, throwing it 57.2% of the time, and throwing his fastball 41.8% of the time. The previous two years he threw his fastball around 63% of the time. Leroux did miss a lot of time last year with a strained right pectoral muscle, which could be the reason for the velocity loss. It doesn't explain why he leaned more on the slider, unless it was because his fastball wasn't as effective at lower speeds. That will be something to watch this year throughout the Spring. 40-Man Candidates Contenders: Andrew Oliver, Justin Wilson, Duke Welker, Vic Black The four remaining pitchers who have options are probably better off going to Triple-A. Vic Black needs time in Triple-A, as he's only pitched as high as Double-A. He also needs to continue working on his command. Duke Welker has some impressive stuff, but saw his control issues return last year. That's something for him to work on in Indianapolis. Andrew Oliver and Justin Wilson are similar pitchers. They're both hard throwing left-handers with serious control problems. They both have those control problems whether they're starting or relieving. Both pitchers would be better off going to Triple-A and pitching out of the rotation while trying to fix their control problems. NRI Candidates Contenders: Kris Johnson, Vin Mazzaro, Jonathan Sanchez The Pirates have a lot of NRI pitchers, but the three with the best shot of making the team are Johnson, Mazzaro, and Sanchez. Johnson is coming off a very impressive performance in the Dominican Winter Leagues. He's been upper level depth in previous years, spending the 2012 season filling in between Altoona and Indianapolis. The question to ask this Spring is whether he can carry his winter league performance over to Spring Training and break through to the majors. Mazzaro was recently outrighted to Triple-A to make room for Francisco Liriano. He's a hard throwing sinkerball pitcher, which doesn't separate him from Jared Hughes. He also doesn't have much of an advantage over Jeanmar Gomez or Chris Leroux, so I'd have a hard time seeing him making the team. Right now the Pirates can keep most of those other guys, and keep Mazzaro in Triple-A as depth. The role for Sanchez is a question mark. I've got him as a contender for the rotation, and his upside is probably greater in the rotation. He is coming off a bad year in 2012, which was full of injuries. The reports when he was signed said he was healthy and working on his mechanics. The Pirates would have two ways to show he is healthy. One way is to send him to Triple-A and let him work out of the rotation. They could call him up as immediate depth in that scenario. Another approach would be to keep him in the bullpen in order to show that he can handle things at the major league level. The problem with this is that they'd need to stretch him out in order to use him in the rotation, and he doesn't have any options remaining. If the Pirates do add an NRI, they won't have to worry about a roster spot. Adding an NRI would mean one of Gomez or Leroux would be designated for assignment, opening up a roster spot. A Second Lefty? I project Bryan Morris and Chris Leroux to take the fifth and sixth bullpen spots, which means the final spot could come down to a question of whether the team wants a second left-hander. Clint Hurdle has been big on having two lefties in the bullpen, and the Pirates have plenty of options available. Sanchez, Wilson, and Oliver all fit the same profile. They're starters with control problems and all three post dominating strikeout ratios. The fact that the Pirates have three of these types of pitchers means they wouldn't necessarily need to keep all three in the Triple-A rotation. Plus, that rotation looks like it could be crowded. The loser of the Jeff Locke/Kyle McPherson battle will go to Triple-A. Gerrit Cole and Phil Irwin should also both return to the Triple-A rotation. That leaves two spots for Sanchez, Wilson, and Oliver. One of those three would have to go to the bullpen, so why not do that in the majors? Sanchez would make sense, as Wilson and Oliver are younger, need more work, and still have a remote chance of increasing their value. I think you could also make an argument for Wilson, since Sanchez has shown from 2009-2011 that he can be a successful starter in the majors. At this point Wilson doesn't seem like a strong bet to improve his control, which means he's going to need to learn to be successful with that control in the majors. That's not impossible (just look at Sanchez), and it would be easier if he was working out of the bullpen as the second left-hander. You'd also have to add Kris Johnson to the mix here after his winter league performance. I don't fully trust winter league results, so I wouldn't project Johnson to make the majors solely off his performance in the DWL. The final spot could go in any direction. If the Pirates don't care about two lefties, then it could be anyone, including Gomez or Mazzaro. If they want to go with two left-handers — which is the approach I expect they would take — then I'd say it would be a battle between Wilson and Sanchez. If I had to make a prediction, I'd go with Wilson. Projected Bullpen: Jason Grilli (Closer), Mark Melancon, Tony Watson, Jared Hughes, Bryan Morris, Chris Leroux, Justin Wilson
Original Story:
http://feedproxy.google.com/~r/Pirate...
THE BACKYARD
BEST OF MAXIM
RELATED ARTICLES
Baseball Prospectus released a list of nine breakout candidates, with each writer picking one player to have a breakout season in the majors in 2013 (h/t Rumbunter). One of the breakout candidates was Travis Snider, who looks to be the favorite to win the starting right field job. Hudson Belinsky picked Snider as his breakout player, noting that the outfielder "could have a very...
With pitchers and catchers reporting today, and Spring Training starting up this week, we will be previewing the position battles to follow throughout the Spring. To keep track of the players who are in camp, and the updated status of each position battle, check out the 2013 Pittsburgh Pirates Spring Training Tracker. I've already reviewed two of the position battles heading into...
Last night we heard that the Pittsburgh Pirates were close to a deal with Brandon Inge. This morning the team made the move official via press release. Inge is coming in on a minor league deal with an invite to Spring Training. There are now 61 players in camp. The Spring Training tracker has been updated.
Around this time of year we see a lot of prospect lists come out, and almost all of them focus on a player's potential impact in the future, rather than the upcoming season. Keith Law takes a different approach each year, providing a list of the top 20 impact prospects for the 2013 season. The list is a ranking of players based only on their expected impact in the majors in 2013...
Top pitching prospect Jameson Taillon is making his debut in Major League Spring Training this year, although realistically it is only for the experience, with Taillon having no chance of making the major league team on Opening Day. The right-hander will go to Double-A to start the 2013 season, and if he pitches the way he did at the end of the 2012 season, he should find his way...
Baseball Prospectus has released their pre-season playoff odds and predictions, and have the Pittsburgh Pirates projected for a 79-83 record. The odds give the Pirates a 17% chance of making the playoffs, which is made up of a 6.8% chance of winning the division, and a 10.2% chance of winning a Wild Card spot. Pat Lackey wrote about this earlier today, pointing out that this shouldn't...
The college baseball season begins tomorrow, which marks the beginning of draft prospect season. Ever since this site started, one of the goals has been to keep track of the players who could potentially be taken by the Pirates each year in June's draft. We keep individual player trackers updated with stats throughout the year, and have at least two weekly updates on the progress...
While reading Baseball Prospectus's list of nine potential breakout candidates yesterday, I was legitimately surprised to find Travis Snider at number six on the list. Then, I thought about it some and decided that I was surprised to find myself surprised to find Travis Snider at number six on the list. I was excited when the Pirates traded for him in July and he actually played...
 Brandon Inge is 35 years old and still reinventing himself.  The diminutive catcher turned third baseman looks to extend his career again, this time as a member of the Pittsburgh Pirates.  Inge agreed to a minor league deal yesterday that includes an invitation to the Pirates major league camp. Only 5'11" 190 lbs., the Lynchburg, Virginia native spent his...
Spring training is hurtling towards us at a rapid pace, but the Pirates are apparently still filling out the fringes of their spring roster. While everyone was watching burning cabins and presidential speeches last night, the Pirates were signing Brandon Inge to a minor league deal. Inge, of course, spent most of his career in Detroit before being released by the Tigers in April...
KRIS BRYANT 3B, San Diego Born: January 4, 1992 Height: 6′ 5″ Weight: 215 Bats: Right Throws: Right Class: Junior Level: NCAA Advisor: N/A Links: All Kris Bryant Posts SCOUTING REPORT The Pirates will eventually have to replace Pedro Alvarez at third base, whether that's when he leaves via free agency, or if he eventually needs to move to first base. Bryant...
MLB News

Delivered to your inbox

You'll also receive Yardbarker's daily Top 10, featuring the best sports stories from around the web. Customize your newsletter to get articles on your favorite sports and teams. And the best part? It's free!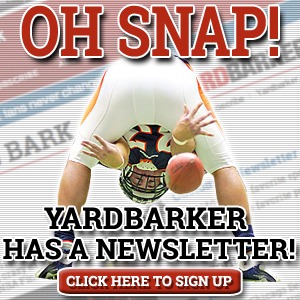 Latest Rumors
Best of Yardbarker

Today's Best Stuff

For Bloggers

Join the Yardbarker Network for more promotion, traffic, and money.

Company Info

Help

What is Yardbarker?

Yardbarker is the largest network of sports blogs and pro athlete blogs on the web. This site is the hub of the Yardbarker Network, where our editors and algorithms curate the best sports content from our network and beyond.