Found March 14, 2013 on Taking Bad Schotz:
PLAYERS:
Jackie Robinson
,
Derek Jeter
,
Mariano Rivera
,
Andy Pettitte
,
Corban Joseph
,
Robinson Cano
,
Gil Velazquez
,
Cliff Lee
,
George Steinbrenner
,
Dan Uggla
,
Jayson Stark
TEAMS:
New York Yankees
,
Tampa Bay Rays
,
Los Angeles Dodgers
,
Miami Marlins
,
Philadelphia Phillies
,
Atlanta Braves
Sun, warm weather, and baseball. Every year in Florida and Arizona, MLB teams open up Spring Training camps in minor league stadiums and practice facilities. It brings the big leagues to communities that would otherwise never really see MLB action. The players are separated from the fans by a simple chain link fence, like a set of neighbors in the backyard. I have been lucky enough to go to a few spring training camps, and each one has its own distinctive taste. The Yankees are business as usually. They try to limit fan-player interaction much like they do up north at Yankee Stadium. The Rays on the other hand want fans to get as close as they can and have fun while they watch the game. The Dodgers old facility in Florida was a whole community built in the 1950s because Jackie Robinson wasn't welcomed in other areas of the state. The Marlins players walk amongst the fans as they go from field to field. For most fans, Spring Training is all about the prime autograph opportunities. I went to spring training this year with baseballs with hopes of getting autographs like in years past. I even brought cards of some of my most hopeful autographs like Derek Jeter, Mariano Rivera, and Andy Pettitte (I know, I am crazy for thinking that they would even entertain signing autographs). But I still got some awesome signatures, like Reggie Jackson (Mr. October). Photo Credit: Charlie Neibergall/Associated Press One of the amazing things about ST is the opportunity for the minor leaguers. The Yankees had a player named Corban Joseph, he was playing for no reason other than that Robinson Cano is with the Dominican Republic at the World Baseball Classic. Another minor league player, Gil Velazquez got to warm up by having a catch with Derek Jeter before the game. When is Gil Velazquez ever going to be able to have a catch with Jeter again? He could have grown up idolizing Jeter (like myself) and yesterday he turned a double play with him. It also brings hope for teams, as well as fans. The Yankees almost always finish last in Grapefruit League play. This year, the Royals are in 1st place in the Cactus League and had a 10 game winning streak at one point! At the same time, the Angels who made big splashes the past two years, are in last place in the Cactus League. Now ST is obviously not a direct representation of the season but who knows, maybe the Royals can contend (actually possible) and maybe the Angels will miss out on the playoffs (doubtful). Spring Training is not about wins and losses it is about practice. It is about pitchers getting innings in. Which explains Mariano Rivera pitching in the 4th inning last night. It is about hitters getting their at bats so they are ready for opening day. It is about managers beginning to over-manage. Joe Girardi didn't play his left-handed hitters last night because lefty Cliff Lee started against them. Really, I can't make that up. It is about fans interacting with the player and the coaches and they "special assistants" and team management. George Steinbrenner understood that interaction. On a trip to Tampa 10 years ago, I waited on a line up to Steinbrenner's box after a game. To George's credit, he sat up in his box until there was nobody left on that line and signed anything and took a picture with every fan that asked for one. That is what spring training is all about. Spring Training is about the fans being able to see the players in another element. Outside of their the billion dollar stadiums. Away from the big concrete walls that separate them from the fans. Spring Training is all about this interaction between fans and teams. It is about a younger version of myself walking with Dan Uggla between fields and getting an autograph. Or the current version of myself running over to ESPN's Jayson Stark as he got into his car so that I could say "hi, I really like your work" and talk Syracuse Basketball with him. Spring Training is not about the games, because the games don't matter. The games are played by guys with number 98 and 77 and 85 on their backs because they won't make the team this year. Spring Training is about connections, whether it is number 85 Gil Velazquez having a catch with Derek Jeter or a younger version of me waiting on line tired after a long day to get a picture with George Steinbrenner. Spring Training is about players having fun with fans, not home runs and batting averages. It is all about getting back in action and having fun, not about wins and losses. -Goldberg
Original Story:
http://www.takingbadschotz.com/?p=12883
THE BACKYARD
BEST OF MAXIM
RELATED ARTICLES
Michael Pineda threw a bullpen session yesterday (Photo credit: CBSsports.com Righty Michael Pineda threw a successful bullpen yesterday, the longest since beginning rehab on his surgically repaired right shoulder, according to the YES Network. Pineda, 24, incorporated sliders into the mound session for the first time and called it his best pitch of the day. This represents a big...
Philadelphia Phillies 2 — New York Yankees 6   Andy Pettitte and Ben Francisco made their Spring debut for the Yankees in tonight's 6-2 win over the Philadelphia Phillies.   Ben Francisco was recently acquired by the Yankees and made his first start in the outfield tonight, competing for a job on Opening Day. The first pitch Francisco saw in the 1st inning was driven to center...
CC makes his first start of the spring today.   CC Sabathia will be making his spring training debut this afternoon against the Marlins. Over the offseason he had elbow surgery and has been limited to two simulated games this spring. Brett Gardner and Ichiro have had impressive springs thus far. Gardner is batting .364 this spring and Ichiro is batting a whopping .462. It may only...
Miami Marlins 3 — New York Yankees 7   CC Sabathia made his Spring debut in today's 7-3 win over the Miami Marlins.   Travis Hafner was brought in this offseason to provide offense that would benefit from the short porch in right field at Yankee Stadium and today was his first true showing of power. In the 3rd inning, Hafner hit a no doubt two-run home run into right field...
A balding Derek Jeter as sexually desirable as Mickey Mantle? Even after he became a Born Again Christian the notion is preposterous, ok? **Follow us on Twitter or Facebook. Subscribe, or... Full story at Bob's Blitz ~ http://www.bobsblitz.com
The New York Yankees have been reaching out to several corner infielders in their effort to find a fill in for injured first baseman Mark Teixeira and third baseman Alex Rodriguez. While this search has led them to several veteran options – one that's already announced his retirement – the Yankees have not contacted free agent first baseman Aubrey Huff, according to...
After losing Nick Swisher as a free agent and Mark Teixeira and Curtis Granderson to preseason injuries, the New York Yankees have started adding again. The Yankees have reached agreement with outfielder Brennan Boesch on a one-year contract, two sources confirmed to FOXSports.com. The team later confirmed the deal Friday night, which is worth $1.5 million according to Jon Heyman...
AL BEast Notebook – March 13 Derek Jeter made his Spring debut in the field Wednesday, leading off and playing his usual shortstop position after DHing a couple games. He had just one fielding opportunity, picking up a ground ball and tossing to second for the out in the fourth inning. He went 0-2 with a walk. Jeter is 1-6 batting in his three preseason starts. Jeter broke his...
This year, I plan on witnessing my own little slice of history during the season. I don't know exactly when it will occur and to be honest, I can't guarantee it will occur, but I'm going to try my hardest to see it. This season, I plan on going to Yankee Stadium and watching Mariano Rivera nail down a save for the New York Yankees. Sure, I've seen it before. Most of us probably...
The Texas Rangers are scouting New York Yankees right-handed reliever Joba Chamberlain, according to George A. King III of The New York Post. The Rangers sent Don Welke, a special assistant to general manager Jon Daniels, to a Yankees' spring training contest Monday specifically to watch Chamberlain throw. King notes that the Rangers get the sense that the Yankees ...
Where are the Yankees I used to hate?
The Yankees scouted him in winter ball and decided no.He's 39.Remember our poem about him?
MLB News

Delivered to your inbox

You'll also receive Yardbarker's daily Top 10, featuring the best sports stories from around the web. Customize your newsletter to get articles on your favorite sports and teams. And the best part? It's free!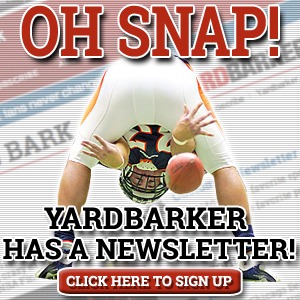 Latest Rumors
The Backyard

Today's Best Stuff

For Bloggers

Join the Yardbarker Network for more promotion, traffic, and money.

Company Info

Help

What is Yardbarker?

Yardbarker is the largest network of sports blogs and pro athlete blogs on the web. This site is the hub of the Yardbarker Network, where our editors and algorithms curate the best sports content from our network and beyond.