Stadium chefs changing the game for hungry sports fans
It happens every year on opening day. Baseball stadiums around the country throw their doors open to the world, inviting fans back to their April-through-October second home. As they move through the turnstiles, they are immediately ensconced in a melange of smells — fried dough, grilled meats, pastries, garlic sizzling in oil, salted peanuts — as if the stadium itself is welcoming the fans back.

Of course, this doesn't happen without a lot of hard, underappreciated and unglamorous work behind the scenes. The idyllic, imagined world of the baseball stadium is just that — an imagined world. No, time doesn't stop when you enter Chicago's Guaranteed Rate Field. No, you're not transported back into a fictional 1930s-era America where racism, sexism and the Great Depression aren't things. It's a facade, one that is completed through the hard work of chefs who are constantly attempting to change what stadium food is viewed as.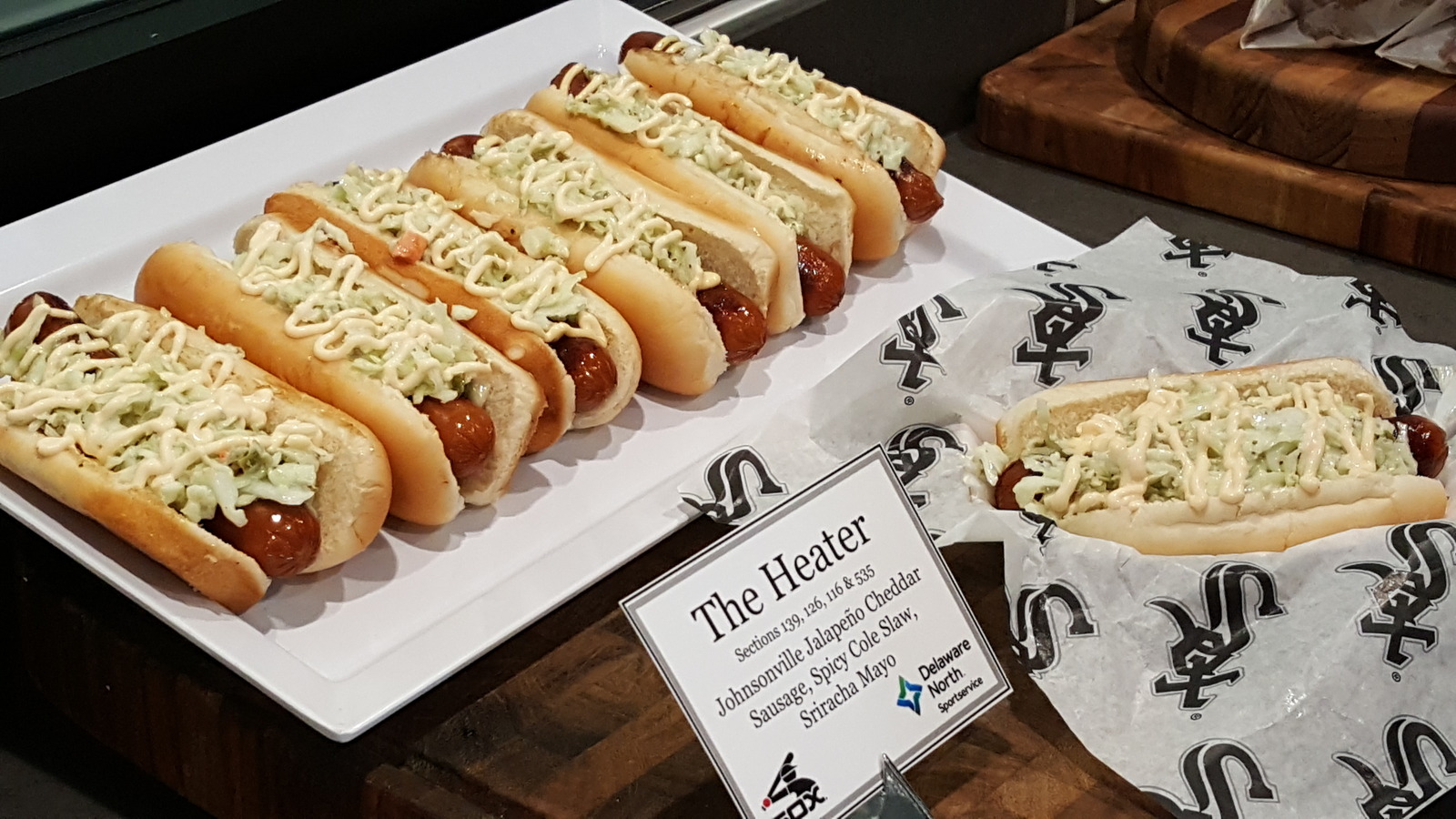 Though the hot dog is a stadium standard, ballparks have been attempting to innovate these staple foods to give fans a better game day experience.
Yardbarker
At Guaranteed Rate Field in particular, the inherent duality in this task is evident. Sure, it's not baseball without a crummy, overpriced domestic light beer and a hot dog with all of the fixings, but at the same time, especially with rising ticket prices, baseball fans are looking for something more to deepen the illusion.

Chef Sonia Respeta of Levy Restaurants is at the forefront here, attempting to please everyone from the bleacher bums to the luxury box elite, and it's a tough tightrope to walk. At Guaranteed Rate Field's media tasting, we were able to pick her brain about what exactly goes into crafting a menu of food in a stadium setting.

Yardbarker: What are the challenges you face in preparing a menu for a stadium setting? Specifically, how do you ensure quality when you're making items for thousands of people?

Sonia Respeta: One of the challenges we face is creating enough variety to appeal to our fans' diverse tastes and to create dishes that can be executed at the volume we serve. While we do cook for thousands of people, I am supported by a team of chefs and cooks who assist with production and service. [Ensuring quality at this volume is] huge for us, from the food we serve to the service fans experience. We spend a lot of time training our staff, sourcing the highest quality ingredients, and creating the best game day experience possible through excellent, creative menus and really great service.

YB: How do you create a unique menu for stadiums? Since you're working in bulk, what is the balance between creativity and feasibility?

SR: We typically start out with a list of 25 to 30 items to develop and test, but that list get whittled down to around five to six dishes that make the final cut and are added to menus. We always focus on creating dishes that are trendsetting and, of course, delicious! Types of recipes range from creative craft burgers to elegant, sophisticated dishes like a veggie-packed Latin salad bursting with a bright citrus vinaigrette to something totally out of the box like the Choco Kebab. We are always working on innovative new menu items, but we also know that sometimes we're a little ahead of the curve and may have to wait a season or two for some of our more adventurous menu items to really catch on with fans.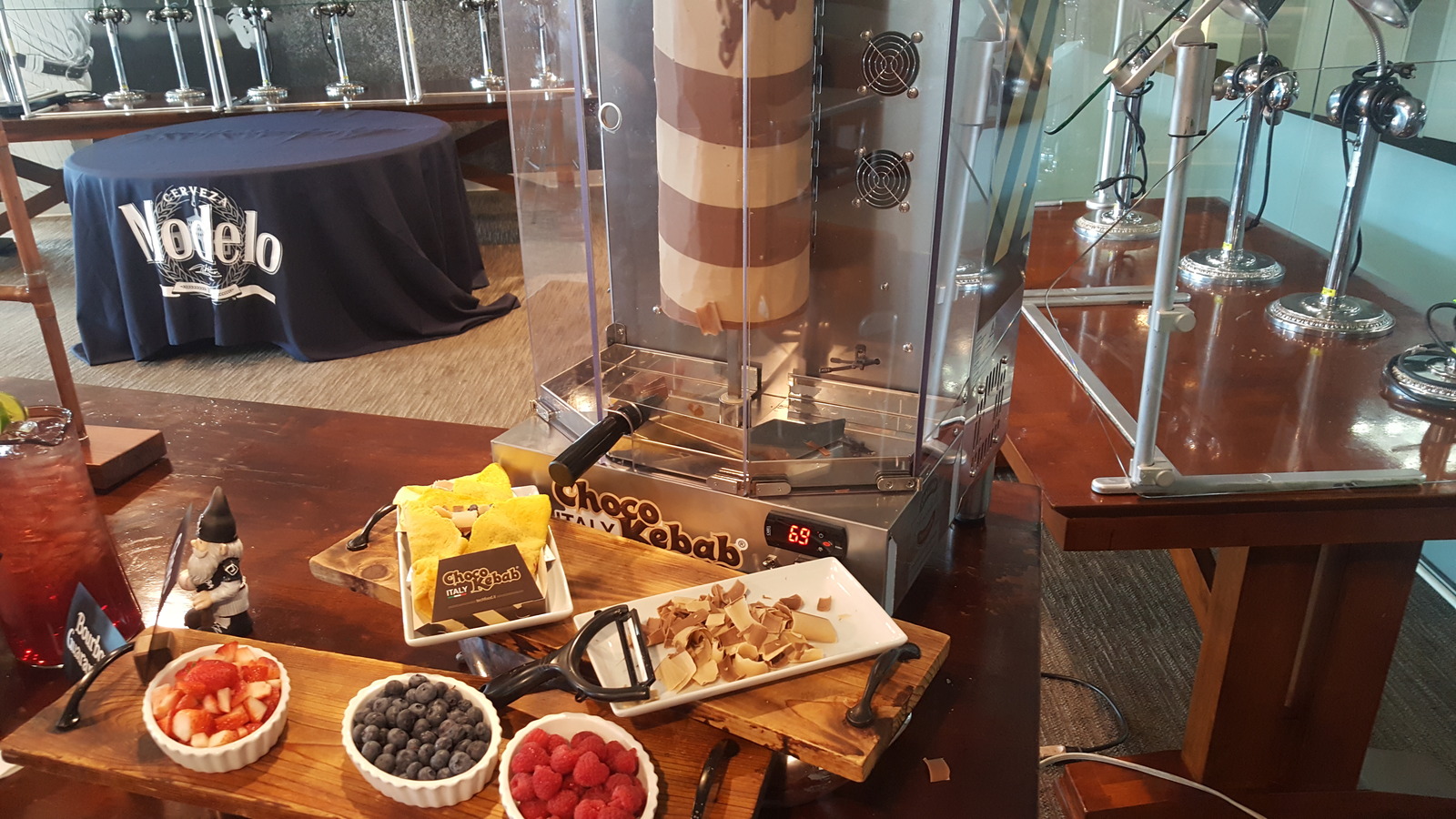 The Choco Kebab: Staff will carve thin leaves of chocolate off of this giant kebab and use them as the filling for fresh crepes.
Yardbarker
YB: What is the decision-making process for approving or nixing new dishes? What, in your opinion, goes into making a good stadium dish?
SR: We first judge on taste and whether the dishes are easy to eat and appropriate for the ballpark environment. Then we analyze ease of production and execution. We're preparing and serving food at a high volume here, so we want to make sure recipes result in consistently delicious dishes that are fun and easy to eat at the ballgame.
While Respeta is on the front lines at the stadium creating menus and cooking the food, stadium food is, at its heart, a corporate affair. Major national companies like Levy and Aramark are in charge of the lion's share of food that is cooked, sold and eaten at stadiums across the country, so there's always a danger that menus become strikingly similar and uninspired. That said, if you have been paying attention to our slideshows on 2017's craziest stadium food, you know that's not the case.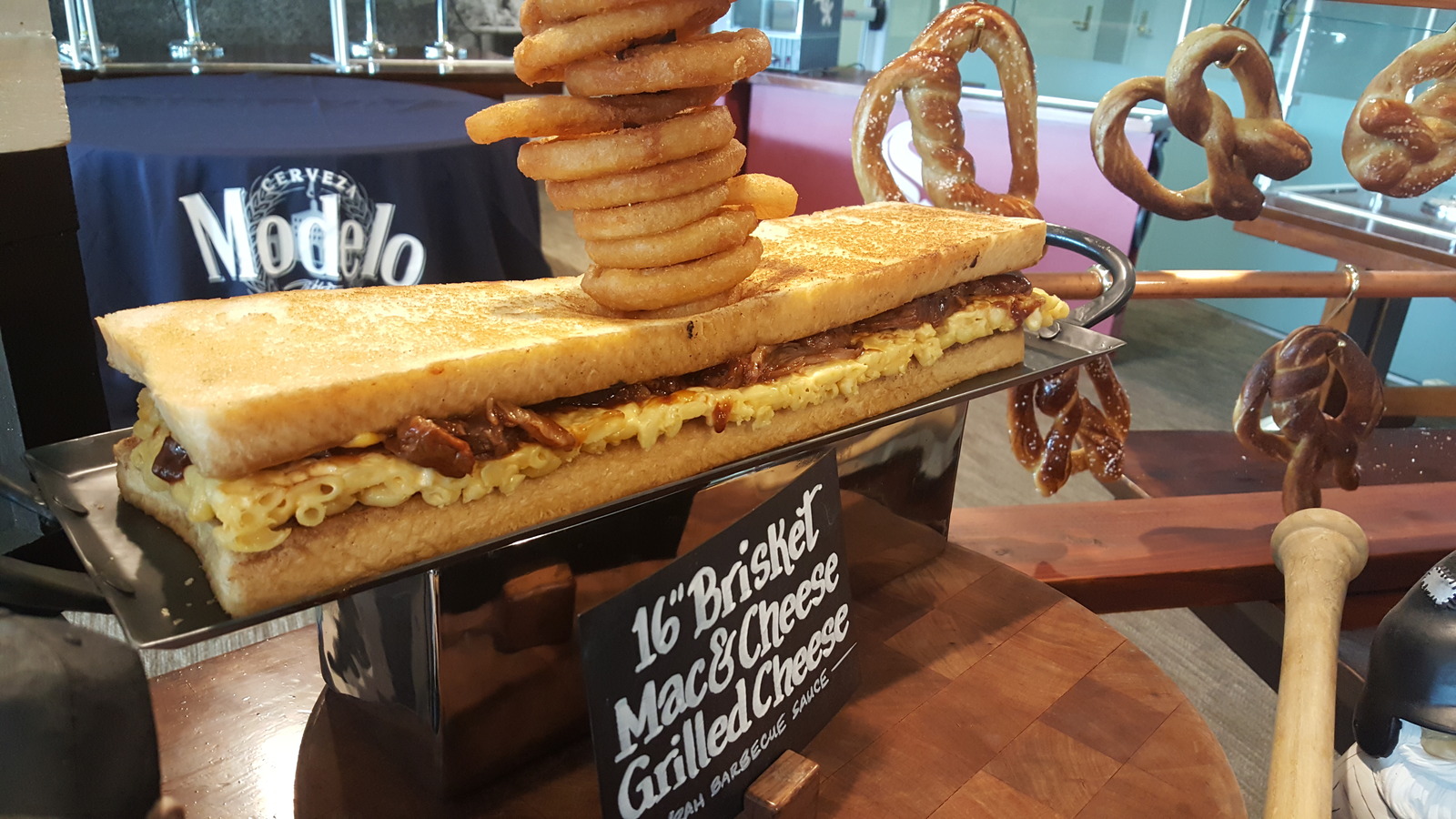 This gigantic mac-and-cheese-and-brisket sandwich is the White Sox's addition to the crazy stadium food pantheon.
Yardbarker
At Guaranteed Rate Field, a stadium that Levy partners with, communication manager Justine Boney was up-front about this danger and eager to share how Levy overcomes it. Put simply, despite the fact that it's a large company, Levy drills down and attempts to let the city inform what goes into the stadium. Whether it's partnering with local restaurants to open up pop-ups at Wrigley Field, partnering with hundreds of local breweries — both huge and tiny — at Guaranteed Rate Field, or simply letting the location inform the dishes as the Dodgers did with their Tuna Poke Bowl, baseball fans are demanding more from their stadiums, and it's the job of companies like Levy and Aramark to keep up.
Yes, at the end of the day, the sepia-tinged, platonic-ideal world of the baseball stadium doesn't live or die on whether or not a fan can buy a tuna poke bowl. Most of us will be happy with our bright-red hot dogs, our $9 light beers and our baseball gloves. But now, thanks to chefs like Respeta, this illusion — this baseball experience we all turn to for a break from the outside world — is a more bespoke one that can truly feel like home, right down to the thoughtfully prepared food. This ideal baseball world may be an illusion, but the food isn't, and that's why it's so important that people like Respeta continue to innovate.
MORE FROM YARDBARKER
MLB News

Delivered to your inbox

You'll also receive Yardbarker's daily Top 10, featuring the best sports stories from around the web. Customize your newsletter to get articles on your favorite sports and teams. And the best part? It's free!