Found January 27, 2012 on NorthWest Sports Beat:
PLAYERS:
Prince Fielder
,
Eric Wedge
,
Ichiro Suzuki
,
Dustin Ackley
,
Chone Figgins
,
Casper Wells
,
Justin Smoak
,
Adam Moore
,
Franklin Gutierrez
,
Jesus Montero
,
Jack Zduriencik
TEAMS:
Seattle Mariners
,
Detroit Tigers
M's All Access!
So many questions! Were the Mariners ever really in on the Prince Fielder talk?  Is there a possibility the fences will be moved in at Safeco?  What is the plan with Figgins?  Who will be the starting catcher?
Will Ichiro be leading off?
All of these questions and more were addressed during the Media day hosted by the Mariners.
It has been an interesting week for fans with the major prospect swap between the Yankees and the Mariners and the wave of disappointment as Prince Fielder announced a nine year deal with Detroit.
However, interviews with everyone from farm directors and trainers to the upper management gave an air of contagious excitement.
The Non-Prince
As far as the Prince pursuit is concerned Jack Z confirmed that the Mariners indeed were a part of the conversation and negotiations with the big slugger, but as reiterated that despite whatever offers were on the table the ultimate decision lies with the player and their agent behind closed doors.
Fans were speculating that Prince was turned off by the M's due to their record and their pitcher friendly field, but Jack Z indicated her really thought that the real factors were "Years and Money."
What Jack didn't say was that the reward vs risk  was not worth the price tag. But there really is no point in dwelling on what Detroit has and Seattle doesn't.
It is over.
The good news is that the Seattle Mariners were (and still are) working for the long term success of the club.
Ichiro!
The M's GM along with Eric Wedge gave some pretty good indicators that Ichiro Suzuki will be moving to the number 3 spot in the lineup.  Anyone that has seen the pop Ichiro can generate during batting practice would wonder why Ichiro hasn't been moved before.
If Ichiro can change his approach in his game to accommodate that is the real question.
Wedge tossed around Dustin Ackley, Chone Figgins and Gutierrez has being possible candidates for the lead off spot.
Talk of Figgins lead to many questions about the slumping third basemen.  There was an immediate reaction exclaiming Figgins' physical conditioning that he has pursued during the off season, however he came into last season with a similar good report.
State Of The Mariners – Offseason Player Updates - January 26th Edition
The M's have said they haven't given up Figgins who had an amazing career with the Angels, but it could be the 17 Million dollar contract that they can't move.
Watch for Figgins to be used in a utility role moving around as a backup in the middle infield during spring training.
Injury Reports
Health reports were given on Casper Wells, Justin Smoak, Adam Moore and Franklin Gutierrez all of whom struggled with various health issues during the 2011 season.
Wells was diagnosed with a balance disorder but has been working hard. Moore is said to be at 100% following his MCL surgery.
Smoak dropped 14 pounds and Guti has gained the same.
Sounds like a good trade off.
With all the youngsters around there was a sense of realism.  Jack Z is expecting a difficult year while the team continues to mature admitting that it takes 5-7 years to see real progress in a pro level baseball team.
He has been here for 3 drafts.
There is a lot more in the depth in the farm that will make a major impact over the next few years.
M's fans may not see a big bat or the fences moved in but some excitement of this 35th anniversary season is seeing a young hard-working, energetic style of baseball.
Also flashes from the past as the M's bring in former M's greats over each weekend of the season. 
It should prove to be an interesting year, although the offseason isn't over yet and Jack Z always has his eyes open.
Which was proven by Jesus Montero revealing his new uniform. (#63 for you number people)
We may see more moves before the M's hit spring camp.
CLICK HERE NOW TO CHECK OUT THE SEATTLE MARINERS CLUBHOUSE AT NWSPORTSBEAT!
© Danny Ferguson for North West Sports Beat, 2012. | Permalink | No comment |
Follow NWSB on Twitter or join US on Facebook for real-time updates OR... | Share This on Twitter | Share NWSportsBeat.com on Facebook
Post tags:
Adam Moore
,
Baseball Blogs
,
Casper Wells
,
Chone Figgins
,
Dustin Ackley
,
Eric Wedge
,
Franklin Gutierrez
,
Ichiro
,
Ichiro Suzuki
,
Jack Z
,
Jack Zduriencik
,
Jesus Montero
,
Justin Smoak
,
M's
,
Mariners blog
,
Mariners headlines
,
Mariners Media
,
Mariners Notebook
,
Mariners Offseason News
,
Mariners Payroll
,
Mariners Roster
,
Media day
,
MLB Blogs
,
Prince Fielder
,
Seattle Mariners News
,
State Of The Mariners
Original Story:
http://www.nwsportsbeat.com/mariners/...
THE BACKYARD
BEST OF MAXIM
RELATED ARTICLES
With the signing of Prince Fielder on Tuesday afternoon, the Detroit Tigers have quickly become once again the favorites in the American League Central.  After losing top of the line player Victor Martinez  to injury, the Tigers solidified their lineup by bringing in their new masher. This sets up a problem for both Kansas City Royals of present and of future. The Royals will...
The Detroit Tigers, after losing C-DH Victor Martinez for the year, have decided that their pocket book was willing to be pried open for a small investment! They have signed Prince Fielder to a 9 year 214 million dollar contract. That's the 4th largest baseball contract signed by a MLB player in history. Fielder will join a team that won the AL Central last year by a mere 15...
Tony Campana will never be confused with Prince Fielder. As a matter of fact, outside of being left-handed hitters, the two couldn't more different. For Cubs fans who dreamed of having Fielder in their lineup, that isn't exactly a good thing. Why compare a diminutive spare outfielder to a behemoth free agent who was a long shot to come to Chicago in the first place? Because —...
While "The Descendents" starring George Clooney is up for best picture this Oscar season, "The Descendants" starring Prince Fielder is up most shocking offseason acquisition. Heck, Tigers general manager Dave Dombrowski was quoted saying he would consider bringing Prince to Detroit, but was "probably not a good fit" days before news broke on Cecil&...
When the Detroit Tigers signed Prince Fielder to a hefty $214 million contract Tuesday and added him to a lineup that already featured Miguel Cabrera, they also drew attention to the girth of those two players. Multiple sources list Fielder at 275 pounds, and we'll take them at their word. Cabrera, who at 6-foot-4 stands about five inches taller than Fielder, estimated in spring...
Make no mistake, the Tigers' infield shift is a marriage of convenience, designed to fit two of the game's greatest hitters -- Prince Fielder and Miguel Cabrera -- into the same lineup on a daily basis.
Hey St. Louis, weren't you in the running for Prince Fielder?  Gosh. Just not your best week. It's relevant because Mr. I's a Wing, and he's a Tiger.  Mike Ilitch had himself a day like he used to have back before Gary Bettman ruined the NHL with his idiocy, his Cap that doesn't work, a lockout that accomplished nothing and the Streisand wardrobe he wears in private...
MLB News

Delivered to your inbox

You'll also receive Yardbarker's daily Top 10, featuring the best sports stories from around the web. Customize your newsletter to get articles on your favorite sports and teams. And the best part? It's free!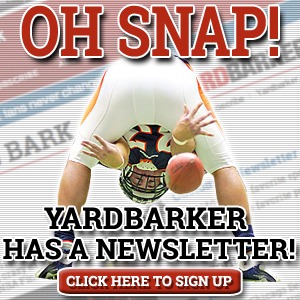 Latest Rumors
Best of Yardbarker

Today's Best Stuff

For Bloggers

Join the Yardbarker Network for more promotion, traffic, and money.

Company Info

Help

What is Yardbarker?

Yardbarker is the largest network of sports blogs and pro athlete blogs on the web. This site is the hub of the Yardbarker Network, where our editors and algorithms curate the best sports content from our network and beyond.