Posted July 25, 2012 on AP on Fox
PLAYERS:
Stephen Strasburg
,
Danny Espinosa
,
Adam LaRoche
,
Ike Davis
,
Johan Santana
,
Dillon Gee
,
Daniel Murphy
,
Josh Thole
,
Jordany Valdespin
,
David Wright
,
Sean Burnett
,
Tyler Clippard
,
Jeremy Hefner
,
Sandy Leon
,
Tim Byrdak
,
Bryce Harper
,
Frank Francisco
,
Terry Collins
,
Jayson Werth
TEAMS:
Washington Nationals
,
New York Mets
Stephen Strasburg struck out 11 in seven dominant innings, Michael Morse and Danny Espinosa hit consecutive homers and the Washington Nationals completed a sweep of the free-falling New York Mets on Wednesday with a 5-2 victory. Adam LaRoche hit a two-run homer for a second straight day, and Espinosa doubled and scored on one of the Mets' two errors in the Nationals' fifth win in a row. The team with the NL's best record (58-39) has won seven of 10. Strasburg (11-4) struck out five in a row and gave up four hits in matching his career best for innings, done seven times. Ike Davis homered for New York in the finale of an 0-6 homestand, played in front of many camp groups wearing brightly colored T-shirts in the upper decks of Citi Field. The Mets' 1-11 slide after the All-Star break is approaching their record for futility to start the second half. The only team worse in club history was its first. The 1962 Mets won just one of their first 15 games and set a record for losses with a 40-120 record. These Mets went into the All-Star break 46-40 and optimistic they would compete for one of two NL wild-card spots. But injuries to ace Johan Santana and Dillon Gee and an offense that has stalled has New York fading fast. The Mets have lost 12 games in a span of 13 for first time since 2004. Facing Strasburg didn't help the slump. Washington manager Davey Johnson said Strasburg "doesn't trust his stuff" after the 24-year-old gave up four runs in the sixth inning of his last start - the game in which the Braves rallied from a 9-0 deificit to beat the Nationals 11-10 in 11 innings. He was in command this time. Other than allowing Davis' blistering line drive into the right field stands on the first pitch of the second inning and Daniel Murphy's single in the next at-bat, Strasburg allowed only Josh Thole's ground-rule double in the fifth and Jordany Valdespin's single in the sixth. Strasburg reached double digits in strikeouts for the fourth time this season and seventh of his young career, striking out David Wright three times. On the last K, a frustrated Wright just tossed all his equipment. Wright grounded out with runners on second and third against reliever Sean Burnett to end the eighth. The Mets had scored a run on Valdespin's grounder after walking the bases loaded. Tyler Clippard, the Nationals' fifth reliever, pitched a perfect ninth for his 18 save in 20 chances since taking over the closer role in May. Strasaburg reached 97 on the scoreboard radar, and had at least one strikeout in each inning but the second. He fanned five in a row beginning with Valdespin to start the third. The big right-hander has 25 Ks in 18 innings pitched against the Mets in his career. Starting for Santana, Jeremy Hefner (1-4) labored through six innings, but gave the Mets a chance by working out of several jams. He gave up six hits and three runs - two earned - in his fourth big league start. Hefner struck out seven and walked two. Heffner put runners on in each inning but the fifth. Morse led off the second with an opposite field drive into the lower deck in right. Espinosa then pulled one halfway up the overhanging upper deck in right field to extend his hitting streak to 11 games. Davis quickly got a run back in the bottom half with his 16th homer. Espinosa doubled and scored in the fourth when he broke for home on Sandy Leon's soft grounder to Davis, who fielded the ball on the grass in front of first base. Davis' throw was on the mark but cacther Josh Thole could not hold onto the throw to tag the sliding Espinosa. Thole was given an error and the Nationals led 3-1. La Roche hit a long drive to right field in the seventh off Tim Byrdak an out after Bryce Harper walked for a 5-1 lead. NOTES: The last time the Mets had a winless homestand of six games or more was in 2002. ... Mets closer Frank Francisco (knee) allowed one run and three hits in two-thirds of an inning during a rehabilitation appearance with Double-A Binghamton on Wednesday. ... Mets manager Terry Collins hopes Santana (ankle) will be able to throw off a mound next week. Collins said Santana is on track to return to the Mets around Aug. 8 or 9. ... Nationals OF Jayson Werth (broken wrist) played five innings in a rehab start for Triple-A Syracuse. He went 0 for 3. ... Washington is 9-3 against New York this season.
Original Story:
http://msn.foxsports.com/mlb/story/wa...
THE BACKYARD
BEST OF MAXIM
RELATED ARTICLES
Stephen Strasburg is pretty tough on himself. He was visibly upset for allowing a ground-rule double to the Mets' Josh Thole in the fifth inning Wednesday. That kind of determination to be very good every game has defined the Washington Nationals' ace. His goal is not just to get outs. He demands more. Strasburg was brilliant in his 20th start, even if he thought he made...
Up above, video (via CSNWashington.com) from Monday's visit by Tyler Clippard, Craig Stammen, Ryan Mattheus, and Sean Burnett to the MLB Fan Cave in NY. Highlights include Clippard attempting to play the drums, rock-em-sock-em robots, skee ball, and laughing. Lots and lots of laughing. Hey, how come nobody invited H-Rod? Befriend Nats Enquirer...
During a road trip to New York to take on the Mets, members of the first-place Washington Nationals bullpen showed off their literary skills, reading passages from the popular E.L. James novel "Fifty Shades of Grey." The stunt came about after Nats first baseman Michael Morse admitted his girlfriend had recently been reading the book, correcting a report that he had been...
(Photo via SI.com/Vault) And so the Washington Nationals left New York yesterday with the best record in the National league (needing just one more win to match their 2008 and 2009 win totals). In their wake, they left a reeling Mets team and billions of pixels comparing Davey Johnson's 2012 squad with Davey Johnson's 1984 squad, and the dual-phenom phenomenon of Harper...
Even better than Tyler Clippard attempting to play drums at the MLB Fan Cave? Tyler Clippard, Craig Stammen, Sean Burnett, and Ryan Mattheus reading 50 Shades of Grey:   (Via DC Sports Bog and everyone else in the world with a Twitter account and/or blog.) Befriend Nats Enquirer on Facebook. Follow on Twitter.
On a night when rookies Starling Marte and Matt Harvey stole the show with amazing debut performances, Washington Nationals center fielder Roger Bernadina made the top web gem with a diving snag in the bottom of the ninth inning. With one out and one on, Nyjer Morgan laced the 2-2 pitch to left center field in what appeared to be an extra base hit. Bernadina ran full speed from his...
When the season began, Washington Nationals fans had a set of expectations. Those expectations varied as much as the people who had them, but it is safe to say that most fans were happy at the idea of a record above .500 for the 2012 campaign before the season began. On July 26, after 97 games, that's no longer the case. Nats fans expect more now. They expect to win something...
For their last full series of July, the Washington Nationals (58-39) will travel to Milwaukee, a city filled with the ghosts of their past failures, to face the Milwaukee Brewers (44-53). Success in this city has been elusive for the Nats, as the Brewers swept them the last two times they visited Miller Park, and the Nats haven't won a game there since July 28, 2009. The odds...
Nationals 5, Mets 2: Ho-hum, just another series win for the Nats. Gio Gonzalez makes up for last time out against R.A. Dickey, dominates Mets. Sorry, Mr. Met. Gio's line: 7.0 IP, 2 H, 1 R, 2 BB, 4 K, 87 pitches, 53 strikes. Oh deer! Adam LaRoche hits a bomb into the upper deck. Video here. Bryce Harper: 0-4, 3 K vs. Dickey... (Screencap of Mr. Met via @JWerthsBeard...
The NY Mets took a break from their ERA and OPIs and got some GTL. Nicole 'Snooki' Polizzi visited the team as the Mets took on the Washington Nationals. "I was obsessed in the early 2000s when we had [Bobby] Valentine," Snooki told MLB.com. "I loved [John] Franco, Robin Ventura, all of them. I was obsessed." The MTV reality star, who is pregnant, revealed she became...
NEW YORK-Adam LaRoche's two-run homer-the third of five straight two-out hits off R.A. Dickey-broke a tie and started a four-run sixth inning for the Washington Nationals, and Gio Gonzalez allowed an unearned run on two hits over seven strong innings as the Nationals beat the reeling New York Mets 5-2 on Tuesday. The Nationals' fourth straight win improved their National...
Starting Lineup Ruben Tejada – SS Jordany Valdespin – LF David Wright – 3B Ike Davis – 1B Daniel Murphy – 2B Kirk Nieuwenhuis – RF Josh Thole – C Andres Torres – CF Jeremy Hefner – RHP The Mets and Nationals play a day game tomorrow as the Mets try to pull themselves out of a tailspin. Yesterday the Mets had a 1-0 lead until the Nationals tied it, then exploded...
MLB News

Delivered to your inbox

You'll also receive Yardbarker's daily Top 10, featuring the best sports stories from around the web. Customize your newsletter to get articles on your favorite sports and teams. And the best part? It's free!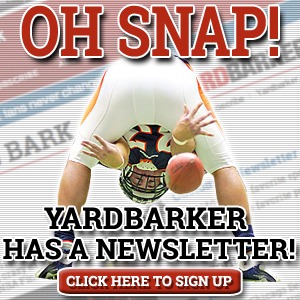 Latest Rumors
The Backyard

Today's Best Stuff

For Bloggers

Join the Yardbarker Network for more promotion, traffic, and money.

Company Info

Help

What is Yardbarker?

Yardbarker is the largest network of sports blogs and pro athlete blogs on the web. This site is the hub of the Yardbarker Network, where our editors and algorithms curate the best sports content from our network and beyond.