Found April 08, 2013 on The Detroit Sports Site:
Each Monday, good or bad, we'll look back at the biggest theme of the week that was for the Detroit Tigers. Stranded runners. Strikeouts. Clutch offensive performances followed by goose eggs on the scoreboard. Hello Detroit, and welcome to yet another season of Tigers baseball. Some of the offensive pitfalls of the latest week are nothing new. After all, we've been watching these scenarios play out for the past several years. Either the Tigers start the season hot and cool off, or they'll start the season ice cold and take some time to get into a warmer groove with the bats. Last week proved this year could be a little of both with regards to early offensive execution. After getting next to nothing three games into the 2013 season in Minnesota and looking bad in the process, Detroit came home and busted loose against the Yankees to the tune of 16 runs in two games. Then, predictably, the Tigers looked sleepy on Sunday, getting shut out without any offensive production in a 7-0 loss. It's frustrating, maddening, confounding and sometimes terrorizing. It's also a far cry from last year, which saw the Tigers blast off to a 4-0 start while scoring 31 runs in four games. Detroit, however, quickly went through a dismal stretch in late April which saw the team drop seven out of eight games. Clutch hits and runs were at a premium over that stretch as well, and the Tigers had fallen back to the pack. By the beginning of May, the team which had looked like world beaters before was only a sparse 12-12. If anything, you'd like to see the 2013 Tigers start the season exactly as they have, with breakout performances as well as struggles. As we've seen, you know the doldrums are coming at some point. You'd rather get them out of the way early and continue to figure things out along the way than look invincible out of the chute and go through a two month funk. We've seen the Tigers do that plenty of times as well. After the first week of baseball, Detroit is exactly where teams would like to be. They're 3-3, with plenty of good moments which lend hope for an exciting summer and a few early season head-scratching performances as well. At this point, neither should be cause for too much excitement or concern. Our first fan feedback segment of the season "celebrates" the return of erratic Tigers' closer Jose Valverde, who fans thought they had finally ditched in the offseason. Problem being, Detroit didn't take enough active steps to replace him, and, in need of a contingency plan following early bullpen struggles, signed him to a minor league contract. As you'd expect, the move elicited some interesting feedback on Facebook. David Cole: Send him to the Indians… Chuck Hawley: Let's hope he stays in the minors. My heart can't take any more of his antics. James Egan: I'd like to say it isn't so but this closer by committee does not look like it will work. Maybe Jose has something left, worth finding out. Sue Aaronson: Maybe Papa Grande will get his mojo back…he couldn't be any worse than the collection of "closers" who gave up five runs in the eighth inning. I'm with James and Sue, and to a certain extent, David. While I'd prefer Valverde not come back and someone else be the experiment (hello Brian Wilson), having an established closer to trot out for the ninth inning beats having nothing at all, especially after the performances we've seen in the last week. Counting on Darin Downs, Brayan Villarreal and Phil Coke to consistently motor through the late innings seems like a stretch. Perhaps Valverde has rediscovered something. If so, the Tigers could be in business. If not, they can simply cut him loose. Like Sue said, it can be no worse than what's been happening in the bullpen lately. Max DeMara is a senior editor at The Detroit Sports Site. You can find him on Twitter @SportsGuyTheMax
Original Story:
http://www.thedetroitsportssite.com/2...
THE BACKYARD
BEST OF MAXIM
RELATED ARTICLES
Baseball, at its core, is a very simple game. You throw a ball, you try to hit a ball and you try to catch a ball. Those three elements are the very basics of a game that is going on its second century in age. Within those elements, today's players have refined technique and power and everything else about the game to a staggering efficiency.... Read more
Tigers designated hitter Victor Martinez missed Tuesday's 7-3 win over Toronto after cutting his thumb on the bat rack at Comerica Park. Martinez needed eight stitches in his right thumb after the mishap Sunday. He was listed as day-to-day. Martinez hurt himself after an at-bat in Detroit's 7-0 loss to the New York Yankees. It was not clear how the accident occurred. The...
DETROIT Don Kelly probably wasn't even supposed to start Tuesday's game but he ended up making the play of the game. Hot-hitting Blue Jays catcher J.P. Arencibia led off the second inning and absolutely smoked one of Anibal Sanchez's pitches. It was headed out of the park -- until Kelly leaped and brought it back in. "I didn't know how far it was going to...
(Eds: APNewsNow. Will be updated. With AP Photos.) By LARRY LAGE AP Sports Writer Detroit Tigers outfielder Torii Hunter is trying to do everything he can to play every day. So far, so good. Hunter has played in each of the Tigers six games this season and has been the dependable player they were hoping for at the plate and in the field. The 37-year-old Hunter uses a rolling pin...
Alex Avila and Miguel Cabrera both hit home runs to right field as the Detroit Tigers buried the Toronto Blue Jays, 7-3 on a chilly Tuesday afternoon at Comerica Park. Avila, in his first game after his wife gave birth to the couple's first child, drilled a looping fly ball over the right-field wall in the second to give Detroit a 2-0 lead. Prince Fielder opened the scoring in...
DETROIT What do you give a pitcher who has tormented you for nearly two decades on his last scheduled visit to your stadium? An autographed bat with a hole the size of the ball drilled into the sweet spot? Perhaps a videotape of the only two postseason series he played against Detroit? No, that would be in poor taste, since the Tigers beat the New York Yankees convincingly in...
Miguel Cabrera had more hits Saturday than he did over the first four games of the season combined. His teammates were pretty good, too. Cabrera drove in one of four runs in the fifth inning on a 4-for-4 day and the Detroit Tigers beat the New York Yankees 8-4 Saturday. Prince Fielder, one of six Tigers to drive in a run, had two RBI one day after a two-homer, five-RBI performance...
Denard Robinson pulls a Carl Lewis, throwing the first pitch of the Detroit Tigers game straight into the ground.
DETROIT -- AL MVP Miguel Cabrera hit his first homer of the season and drove in four runs, left fielder Don Kelly made a home run-robbing catch and the Detroit Tigers beat the Toronto Blue Jays 7-3 Tuesday. The Blue Jays, who spent millions during the winter to upgrade their roster, fell to 2-5 for their worst start since 2004. Cabrera, coming off his Triple Crown season, had four...
The Detroit Tigers and Toronto Blue Jays didn't get Cy Young-caliber performances in their previous games, but they haven't given their aces much room for error. Perhaps they can provide their No. 2 starters better support. Tigers right-hander Anibal Sanchez will try to help the Tigers win a fifth in a row in this series on Tuesday when Brandon Morrow takes the hill for...
Tigers News

Delivered to your inbox

You'll also receive Yardbarker's daily Top 10, featuring the best sports stories from around the web. Customize your newsletter to get articles on your favorite sports and teams. And the best part? It's free!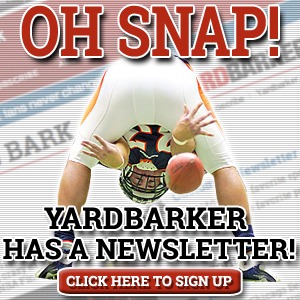 Latest Rumors
Best of Yardbarker

Today's Best Stuff

For Bloggers

Join the Yardbarker Network for more promotion, traffic, and money.

Company Info

Help

What is Yardbarker?

Yardbarker is the largest network of sports blogs and pro athlete blogs on the web. This site is the hub of the Yardbarker Network, where our editors and algorithms curate the best sports content from our network and beyond.