Found January 24, 2013 on Reading Between The Seams:
Dueling press conferences and statements today indicate that Major League Baseball and the Tampa Bay Rays ownership are either violently agreeing or subtly playing chess against one another with regard to the franchise's future on the gulf coast of Florida. Quotes via Adam Berry (mlb.com): Principal Rays owner Stuart Sternberg stated today that it is his full intent to keep Tampa in the metropolitan area (which includes St. Petersburg and Clearwater…good for Rays staying in Tampa).  He has stated in the past that "I intend to. I expect to" when asked about the keeping the franchise there (good for Rays staying in Tampa) "But as time goes along, the decision slowly and surely gets taken out of my hands." (bad for Rays staying in Tampa).  He then added today that MLB "doesn't believe anymore in the Tampa Bay area" (bad for Rays staying in Tampa). The commissioners office of Major League Baseball (that's code for Bud Selig) retorted that Selig "is disappointed with the current situation in the Tampa Bay market" and that "The status quo is simply not sustainable" (both bad for Rays staying in Tampa). So here are the observables: The good: 1) The Rays have been successful on the field in recent years. 2) The Rays have done extremely well at competing with bigger markets by developing internal talent (are well managed). 3) The Rays ownership is relatively strong and cares about the franchise. The bad: 1) The Rays stadium (Tropicana Field) is widely regarded as the worst in baseball. 2) The Rays attendance has been extraordinarily below expectation. 3) The local TV market is weak and funding from that market will not be significant. People that buy baseball teams were usually successful in business before and should be able to see that this venture is not in a good place. I'm not sure who is threatening whom in terms of relocating, etc.  I think the adjective "unsustainable" is appropriate here. To stay in Tampa (and the surrounding area), it is clear that a new stadium is a must.  That's what Miami realized, but now, with an extremely unsuccessful product on the field, there are  a lot of questions being raised about that franchise's future (pretty much locked in now with new stadium).  Tampa needs to be careful about making the same mistake.  Tampa is unique in that the New York Yankees have spring training there (right across from Raymond James Stadium).  The New York Yankees have a minor league team there.  A lot of people that live in Tampa are retirees from New York and many of the Yankees players own large property there for living off season. I personally don't see the Tampa area as viable beyond the near term.  So where might they move?  I think the answer is Round Rock, Texas, where you would find no shortage of fans and potential owners.  But Nolan Ryan might rally the owners against, and, other than that, I just don't see any other viable markets.  Contraction anyone? -Dave (@lhd_on_sports) Follow us on Twitter @rbts_sk The post Tampa Bay owner and MLB at odds over future of Rays appeared first on Reading Between The Seams.
Original Story:
http://sports-kings.com/readingbetwee...
THE BACKYARD
BEST OF MAXIM
RELATED ARTICLES
TAMPA, Fla. Could baseball be at risk in the Tampa Bay region? It's uncertain. But the message delivered by Tampa Bay Rays owner Stuart Sternberg on Thursday during a one-hour talk at a Hillsborough County Commission meeting was strong. Sternberg, who became the club's principal owner in 2005, told commissioners, "MLB, at this point, doesn't believe any more in...
Kyle Farnsworth and the Tampa Bay Rays have reached a one-year agreement for 2013. Farnsworth, 36, will have a base salary near $1.5 million and can earn more in performance incentives. Farnsworth missed the start of last season while dealing with an elbow injury. He was activated in late July. Last season Farnsworth had a 4.00 ERA and a 1.33 WHIP in 27 innings of work. He has pitched...
The Tampa Bay Rays reinforced their bullpen Thursday, reaching an agreement to re-sign free-agent right-hander Kyle Farnsworth, according to a major-league source. Farnsworth, 36, will receive a guarantee of between $1.25 million and $1.5 million plus incentives, the source said. The deal is pending a physical. The Rays know Farnsworth well - he pitched for them the past two seasons...
Kyle Farnsworth's free agent decision is expected to come soon, with the big right-hander having narrowed his decision down to the Tampa Bay Rays and the ever-present Mystery Team. Farnsworth lost his closer's spot in Tampa Bay to the phenomenon that was Fernando Rodney, and his injury-limited 2012 season was somewhat of a disappointment: in 27 innings, Farnsworth allowed a 4...
The Tampa Bay Rays and free agent Luke Scott have expressed mutual interest in a reunion, according to Marc Topkin of The Tampa Bay Times. Scott spent 2012 with the Rays, and both sides have continued to express mutual interest in a reunion. Tampa Bay is in need of a designated hitter, and their search may ultimately lead them to a reunion with Scott. The slugger...
DISCLAIMER: I'm fully aware that this site is solely dedicated to the Red Sox, Red Sox Nation and people smart enough to read and comprehend the literary nuggets of gold written by the Red Sox Life staff. With that said, enjoy.  I feel like I've got a pretty good bull-crap meter especially when it involves a video. There have been times when I've watch something on the...
Tampa Bay Rays principal owner Stuart Sternberg went into battle again on Thursday. The former Wall Street investor, who in 2005 purchased the majority interest in the club, has been looking for a way to get out of Tropicana Field, but to no avail. His audience was one with a keen interest in the Rays as he was invited by the Hillsborough County commissioners to speak about the health...
TAMPA, Fla. This dance has only begun. It will be more tango than waltz, more salsa than slow step. It will be a tease that tickles the imagination, seducing hearts and minds of seamheads on both sides of the bay. Lets be frank: Its not a matter of if. Its a question of the juicy when. When will Wil Myers, the jewel of the Tampa Bay Rays haul in a six-player December trade with...
The Tampa Bay Rays have signed free-agent reliever Kyle Farnsworth to a one-year contract, according to an ESPN.com reports. Farnsworth, 36, will earn between $1.25-1.5 million plus incentives, according to a FOX Sports report. The right spent the previous two seasons in Tampa Bay. He posted a 4.00 ERA in 27 innings in 2012. He saved 25 games the previous season.
From the first day he sat down behind his executive desk in Great American Ball Park in 2005, one of the many missions of Cincinnati Reds PresidentCEO Bob Castellini was to snag the All-Star Game for his team, his fans and his city.The All-Star game has not been in Cincinnati since 1988, at old Riverfront Stadium, and it never has been played at Great American Ball Park, which unlocked...
The Cincinnati Reds will play host to the 2015 All-Star Game, commissioner Bud Selig announced Wednesday. Cincinnati has not had an All-Star Game since 1988, long before Great American Ball Park was built in 2003. It will be the city's fifth time as the host. The game was previously played in old Crosley Field in 1938 nd 1953 and in Riverfront Stadium in 1970 and 1988. The...
MLB News

Delivered to your inbox

You'll also receive Yardbarker's daily Top 10, featuring the best sports stories from around the web. Customize your newsletter to get articles on your favorite sports and teams. And the best part? It's free!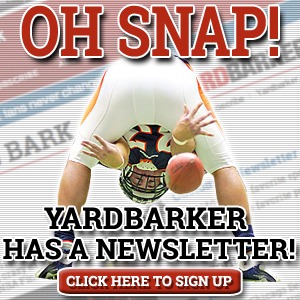 Latest Rumors
Best of Yardbarker

Today's Best Stuff

For Bloggers

Join the Yardbarker Network for more promotion, traffic, and money.

Company Info

Help

What is Yardbarker?

Yardbarker is the largest network of sports blogs and pro athlete blogs on the web. This site is the hub of the Yardbarker Network, where our editors and algorithms curate the best sports content from our network and beyond.