Found June 19, 2013 on Fox Sports Carolinas:
It felt inevitable, didnt it?Even after N.C. State (50-15) shellacked in-state rival North Carolina (58-11) on Sunday, it still seemed like the two would find a way to meet again. If one could call a fifth meeting in a season between two teams a rubber match, then thats what this is. Thursday night in the College World Series, its win-or-go-home.North Carolina set the school record for wins on Tuesday and stayed alive in the College World Series by eliminating LSU, 4-2. Meanwhile, in the winners bracket, N.C. State couldnt quite get by a tough UCLA team and fell 2-1.The key for North Carolina: Getting off to a good startWhen North Carolina began its elimination game against LSU with a two-run top of the first, the Tar Heels took a collective sigh of relief. In their last outing, they mustered just one run against N.C. State and faced a 5-0 deficit early, so working with a lead was a nice treat for the UNC pitching staff. It made everyone on the Tar Heel roster look more comfortable.In six NCAA Tournament wins, the Tar Heels have led by a combined score of 17-8 after the first three innings and have trailed just once after three (4-3 to South Carolina). They hit .358 through the first three innings and struck out four times in 81 at-bats. And their opponents have hit some, too (.297 through the first three), but UNC limited four of those six teams to one run or less.UNC has hit 6-of-32 (.188) in the first three innings of three NCAA Tournament losses, scoring a total of one run and striking out five times (trailing by a combined score of 10-1). In the remaining innings of their Tourney losses, the Tar Heels hit 15-of-65 (.231) and were outscored 9-2.Carolina batters also struck out 10 times in the first three innings (while drawing two walks) of those losses compared to striking out just five times in the remaining innings and taking five walks. In three losses, UNCs opponents started out hitting 12-of-35 (.343) in the first three innings and were 10-of-56 (.179) in the rest of each game combined.In the only game against N.C. State where UNC has not faced off against Rodon this year, the Tar Heels were able to get off to a 5-0 lead after three innings and chased starter Ryan Wilkins out after just one third of an inning. Its not like North Carolina hasnt given up leads this year (or even this postseason), and its not like N.C. State hasnt come back from deficits. But en early lead does wonders to ease the pressure on a starting pitcher in an elimination game.The biggest problem for North Carolina: PitchingThe only Tar Heel pitcher whos looked consistently good in the postseason has been freshman reliever Trent Thornton, who got the start on Tuesday against LSU and unfortunately will not be available on Thursday after 114 pitches. So can anyone else on the staff get it done?Hobbs Johnson (4-1, 2.62 ERA) is going to get the start. The junior lefty has had some pretty good starts recently. But in his last start against the hard-hitting South Carolina lineup, Johnson lasted just 1 23 innings (his shortest outing of his career) and gave up five hits and five earned runs in ten batters faced. Oh, and he walked three.It was a disastrous outing from a normally reliable starter, but it wasnt all that long ago (June 2) when Johnson was pulled in the Florida Atlantic game, having allowed no hits through six innings (he did walk five, but struck out four).And Johnson isnt alone in having issues with control. The Tar Heel pitchers have issued 47 walks to 70 strikeouts in the NCAA Tournament, a drastic departure from the regular season (220 walks to 488 strikeouts). In the College World Series in two games, its even worse (11 walks to ten strikeouts).UNC pitchers have hit six batters in two games after hitting 48 in their first 67 games this season. Oh, and UNCs pitchers have gotten out of some jams as well -- despite all the walks, the Tar Heels two opponents in Omaha have left 24 on base.Johnson, though, does have some positive history against N.C. State. In the 18-inning game in the ACC Tournament, he went 5 13 innings and allowed six hits and one earned run, striking out nine and walking two. Hell need to get back to that place, because even if the Tar Heels escape the Wolfpack, UNC is not going to advance much farther with just one reliable starter.The key for N.C. State: Executing its smallball attackThe Wolfpacks offense is beautiful when its working, and can be extremely frustrating to defend. The batters stay patient at the plate, content to bunt to sacrifice a teammate (but still capable of unleashing a big hit) or even take a walk. The batters are savvy enough to lean into a pitch or two as well; the Tar Heel pitching staff hit N.C. State batters five times on Sunday.Get on base, use their elite team speed and make good decisions on the base paths. Thats worked all year for N.C. State, but it didnt on Tuesday night against UCLA when a few base-running mistakes were enough for the Bruins to eke out the win.Still, its worked more often than not in this postseason. Coming into the UCLA game, N.C. State had scored 26 runs in its last four postseason games (all wins); Wolfpack hitters had taken 15 walks, struck out 35 times and were hit by a pitch 11 times.Against UCLA, N.C. State had a postseason-low five hits, scoring just one run and not even attempting to steal a base. For the first time since the NCAA Tournament started, no N.C. State hitter earned a walk. (They were hit by a pitch twice.) N.C. State went down in order five times.And whenever N.C. State could get anything going offensively, it made mistakes on the base paths. One was just a bad break (an errant throw to the catcher caromed off the backstop, allowing UCLA to tag out what would have been N.C. States second run).But in the eighth, N.C. State got its first two men on before the lead runner was tagged out on a fielders choice bunt. Then Trea Turner got a piece of a ball that looked like it was a home run, until the massive T.D. Ameritrade park held it. Still, the ball was deep enough that the man at second might have been able to tag up and try to score, but he didnt.N.C. State has scored 15 runs on 23 hits in two wins against UNC this year. Its batters have ten walks, ten strikeouts and were hit by six pitches. They have one error in the wins and are 5-for-5 on stolen base attempts. But in two losses, N.C. State has two runs on 18 hits and 32 strikeouts (11 walks) and one hit by pitch. Oh, and they have four errors and were 2-for-4 on steals.In other words? Get on base, get in scoring position, and be opportunistic.The biggest problem for N.C. State: No Carlos RodonN.C. State will start freshman Brad Stone (3-2, 5.28 ERA) on Thursday. The lefty has had some shaky outings this year for the Wolfpack, but hes been much better lately. Stones 13 starts are second-most on the team (behind only Rodon), and he his ERA is 0.68 over his last 13.1 innings, which includes his last two starts.Its an arm UNC hasnt seen, yes. And its a lefty. But Rodons been the dominant pitcher against the Tar Heels this year, so as long as its not him, the Tar Heels have to be encouraged on some level.Against UNC this year, Rodon has started three of the four games (two of which were N.C. State wins). Hes pitched 25.2 innings against the Tar Heels and allowed just three earned runs, holding them to .144 at the plate and striking out 32 (with eight walks).But in UNCs 19 13 innings against anyone not named Rodon, the Tar Heels have hit .308 and scored seven earned runs, striking out 14 times but drawing eight walks. When Rodon has been in the game against UNC, N.C. State has outscored the Tar Heels 16-4. But when Rodon isnt in the game, UNC has won, 9-1.Its certainly a possibility that Rodon could make a relief appearance against UNC. But more likely than not, the Wolfpack will try to get through it with their other arms. And those other arms have shown themselves to be plenty capable.N.C. State has the No. 2 team ERA in the College World Series field, allowing just two earned runs through two games. Relievers Josh Easley and Grant Sasser are the stars out of N.C. States bullpen, and were stellar again on Tuesday. Easley has held opponents to 2-of-21 at the plate against him in the postseason, while Sasser has held batters to 2-of-17.Stone is going to be on a short leash, and it could be up to the bullpen to pull N.C. State through. But N.C. State cant give the Tar Heels any confidence, especially early, so Stone will have to have good stuff at the outset.If Stone struggles, and the main bullpen arms struggle, N.C. State head coach Elliott Avent may indeed go to Rodon yet again. But that would put N.C. State at a bit of a disadvantage heading into the rest of the Tournament, and ideally hell want the other guys to finish this game.
Original Story:
http://www.foxsportscarolinas.com/sto...
THE BACKYARD
BEST OF MAXIM
RELATED ARTICLES
Since the format was changed to a Regional and Super Regional round in 1999, the No. 1 overall seed in the NCAA baseball tournament has won the College World Series just once. And this year's No. 1 overall seed, North Carolina (57-11), is already on the brink of elimination after its 8-1 loss to rival North Carolina State on Sunday. Now, the Tar Heels will have to advance past...
OMAHA, Neb. -- North Carolina's Hobbs Johnson combined with Chris McCue on a five-hitter, and the Tar Heels stayed alive in the College World Series with a 7-0 victory over North Carolina State on Thursday night. Michael Russell drove in three runs for the No. 1-seeded Tar Heels (59-11), the first on a sacrifice fly that resulted in a close play at the plate to open the scoring...
OMAHA, Neb. -- Brian Holberton homered, freshman Trent Thornton pitched a strong seven innings and No. 1 national seed North Carolina extended its stay at the College World Series with a 4-2 victory over LSU on Tuesday. The Tar Heels (58-11) play North Carolina State or UCLA in an elimination game Thursday. The No. 4-seeded Tigers (57-11) went 0-2 in their first CWS appearance since...
Hobbs Johnson didn't feel any pressure when he learned shortly before game time he'd be matched up against North Carolina State ace Carlos Rodon. The unassuming Johnson went out and did his thing, which was more than good enough to keep No. 1-seeded North Carolina alive in the College World Series on Thursday night. Johnson turned in the longest outing of his career while...
The North Carolina Tar Heels beat the North Carolina State Wolfpack in an elimination game to move on in the 2013 College World Series.After scoring single runs in the fourth and fifth inning, North Carolina added four runs in the eighth and another in the top of the ninth to beat the NC State 7-0.After Colin Moran that off the fourth inning with a base hit, Brian Holberton bunted...
During today's College World Series matchup between North Carolina and LSU, a foul ball to left field caused a little more trouble than usual for the Tar Heels' fielders. Three players wound up falling down during the play, two of which appear to get their cleats caught together – we think. Thankfully, the ball was caught. It was pretty wild – check it out:
North Carolina head coach Roy Williams finally chimed in on the P.J. Hairston arrest. From USA Today: "We are doing one thing: We are waiting until all the information comes out," Williams told USA TODAY Sports on Monday. "The good thing is, I don't have to make a decision right now because we're in summer school, fall semester has not started, basketball has not started...
OMAHA, Neb. (AP) — North Carolina's Hobbs Johnson combined with Chris McCue on a five-hitter, and the Tar Heels stayed alive in the College World Series with a 7-0 victory over North Carolina State on Thursday night.
OMAHA, Neb. - North Carolina's Hobbs Johnson combined with Chris McCue on a five-hitter, and the Tar Heels stayed alive in the College World Series with a 7-0 victory over North Carolina State on Thursday night.
OMAHA, Neb.-- The top-seeded Tar Heels and No. 4 LSU look to avoid early exits from the Men's College World Series, facing off in a 2 p.m. CST elimination game Tuesday. It will be the first meeting between the two since North Carolina sent the Tigers packing in 2008. What to expect this time around? TigerSportsDigest's Hunter Paniagua weighs in.
In probably the most predictable occurrence so far in Omaha, UNC and NC State end up playing each other in an elimination game. This is a nightmare for both fan bases because if UNC wins, it will stick in the craw of Wolfpack fans. If NC State wins, that would be two straight losses to the Pack on baseball's biggest stage. Losing rivalry games is bad enough, losing them with...
MLB News

Delivered to your inbox

You'll also receive Yardbarker's daily Top 10, featuring the best sports stories from around the web. Customize your newsletter to get articles on your favorite sports and teams. And the best part? It's free!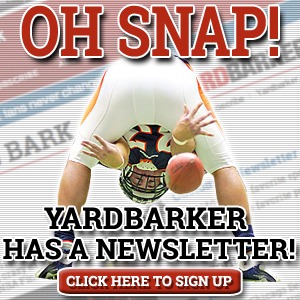 Latest Rumors
The Backyard

Today's Best Stuff

For Bloggers

Join the Yardbarker Network for more promotion, traffic, and money.

Company Info

Help

What is Yardbarker?

Yardbarker is the largest network of sports blogs and pro athlete blogs on the web. This site is the hub of the Yardbarker Network, where our editors and algorithms curate the best sports content from our network and beyond.