Found October 25, 2011 on hardballchat.com:
PLAYERS:
Denard Span
,
Joe Mauer
,
Justin Morneau
,
Jason Kubel
,
Ben Revere
,
Trevor Plouffe
,
Michael Cuddyer
,
Bill Smith
,
Alexi Casilla
TEAMS:
Minnesota Twins
,
Houston Astros
,
New York Mets
Outside of the Houston Astros, you could not find a story of ineptitude as complete as the Minnesota Twins this season. However, no one expected the Astros to be good. The Twins were coming off of an AL Central title. So, their collapse was more shocking. Their decline in fielding mirrored their decline in pitching this season. I've already taken it on the chin when it comes to dogging some teams for their fielders and the Twins are no different. So, forgive me for busting out more numbers this time, but people need to understand that I'm not pulling these things out of another orifice. Simply put, the Twins were pretty bad across the board. DER: .677 (30th) RA: 804 (29th) FLD%: .980 (28th) Baseball Reference: -35 runs (27th) Fangraphs: 0.0 runs (13th) Fielding Bible: -27 runs (26th) Baseball Prospectus: -18.2 runs (29th) The chant in the Twins front office is "Thank god for the Mets." The Mets brought up the rear in every fielding metric. The tough spot for the Twins is determining whether this was just one of those seasons where everything went to hell in a hand basket or whether this is a trend that needs to be addressed. One thing is for sure—no one can claim it was a good year defensively. Best Fielder In what is probably a hallmark of the 2011 season, Denard Span rated as the best fielder. Why is this a hallmark? Span missed nearly half the season due to injuries. In a season where they missed Joe Mauer, Justin Morneau, Span and Jason Kubel for extended time, it makes perfect sense that their best fielder would be in that group. His replacement (Ben Revere) did well, but Span is one of a kind with the glove. Worst Fielder For this season it was Trevor Plouffe, but in normal campaigns it is usually Michael Cuddyer. When I wrote an earlier piece about under the radar free agents, a legion of Twins fans came to Cuddyer's defense. So, let's look at the last several years of performance for Cuddyer under three of the four markers (The Fielding Bible III has yet to be released). . . . . . . . . . . . .BP/FG/BR 2007. . . . . . . ..-7.8/1.9/-9 2008. . . . . . . ..-1.3/-2.8/-1 2009. . . . . . ..-16.8/-11.4/-19 2010. . . . . . . ..-9.5/-15.4/-8 2011. . . . . . . ..-3.1/-0.7/-3 You can take a plum and swear up and down that it's a banana until you are blue in the face. At the end of the day it's still a plum. Cuddyer is a nice hitter, but a fielder he isn't no matter how many ways you say he is. This year, Plouffe made Cuddyer look like Roberto Clemente. There is reason to believe that some of these guys will improve, but as you see above, Cuddyer is who he has always been. Possible Changes When you finish in last there are always going to be changes. The fielding alignment next year will be pretty fluid. Joe Mauer is a solid catcher, but the club has so much money invested in him, they want to find a way to preserve his legs. First base might be the answer there since Justin Morneau hasn't been healthy in a year and a half. Chris Parmalee had a spectacular September and will fit in somewhere. That might be left field or first base. Both Cuddyer and Jason Kubel are free agents. Cuddyer can play multiple positions (although not well as you can see above) and Kubel can play in the corners. However, it says here that the middle infield is the biggest mess and the one that Bill Smith will spend most of his time on. 2012 Outlook The Twins have to be more healthy in 2012, so these numbers should improve through simple continuity. Yet, they have some problems they need to address. The fielding and hitting up the middle was atrocious. Tsuyoshi Nishioaka was pitiful and Plouffe was very shaky defensively. Alexi Casilla can man one of the spots, but they need more depth and better fielding overall.  
Original Story:
http://www.hardballchat.com/2011/10/t...
THE BACKYARD
BEST OF MAXIM
RELATED ARTICLES
Earlier today, we learned that the Minnesota Twins declined their $12 million option on Joe Nathan, and according to Jon Heyman of Sports Illustrated, the right hander is excited about free agency. Nathan's agent Dave Pepe said that his client is looking for a closer job, not setup, for 2012. The veteran closer was 2-1 with a 4.84 ERA and 14 saves in 44.2 innings throughout 48...
The Minnesota Twins likely will decline righthander Joe Nathan's 2012 option for $12.5 million sometime in the next week, the Minneapolis Star-Tribune reported Tuesday. Nathan averaged 41 saves from 2004-09 before missing the entire 2010 season due to Tommy John surgery. He returned last season and was 2-1 with 14 saves, eight holds and three blown saves in 48 appearances....
While we wait for the St. Louis Cardinals to finish their 2011 season, we will shift our focus to the American League Central. We start there with the last place Minnesota Twins. I cannot believe we are actually saying that put with a number on injuries the Twins really got kicked around this year. I think if they get healthy this season becomes a statistical abnormality, but for...
Joe Nathan's agent Dave Pepe says his client is excited about free agency and seeks a closer job in 2012, tweets SI's Jon Heyman.  Nathan is apparently not interested in an eighth inning gig after dominating as the Twins' closer from 2004-09. Yesterday the Twins made the obvious call of declining Nathan's $12.5MM club option, but they have interest in re-signing...
Right-hander Joe Nathan will get a $2 million buyout after the Minnesota Twins declined the club option on the closer for the 2012 season. Twins general manager Bill Smith says he spoke with Nathan and his agent Tuesday and said the team was interested in re-signing Nathan. The option for 2012 was $12.5 million. Smith says the Twins will stay in contact with Nathan and his agent...
MINNEAPOLIS The Minnesota Twins declined to pick upcloser Joe Nathan's club option for 2012, the team announced Tuesday.Nathan had a club option for next season worth 12.5million. Instead of picking up his option, the Twins will pay Nathan a 2million buyout. That doesn't necessarily mean Nathan won't be with Minnesotanext year, however, as the Twins have said they'...
After declining a $12.5 million option on Joe Nathan's contract Tuesday afternoon and handing him a $2 million buyout, the Minnesota Twins are in the market for a closer. Again. The right-handed closer was on the comeback trail from Tommy John surgery in 2011, but struggled to locate his fastball and slider, blowing a couple of saves to end last April with a 10.00 ERA. He...
Right-hander Joe Nathan will get a $2 million buyout after the Minnesota Twins declined the club option on the closer for the 2012 season.
The Twins would like to retain Nathan, but at a lower price.
MLB News

Delivered to your inbox

You'll also receive Yardbarker's daily Top 10, featuring the best sports stories from around the web. Customize your newsletter to get articles on your favorite sports and teams. And the best part? It's free!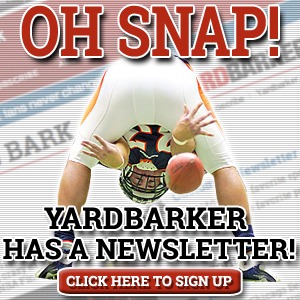 Latest Rumors
Best of Yardbarker

Today's Best Stuff

For Bloggers

Join the Yardbarker Network for more promotion, traffic, and money.

Company Info

Help

What is Yardbarker?

Yardbarker is the largest network of sports blogs and pro athlete blogs on the web. This site is the hub of the Yardbarker Network, where our editors and algorithms curate the best sports content from our network and beyond.