Found July 09, 2012 on The Other Paper:
Mark Teixeira did a lot of fielding yesterday but too bad most of it was directed at questions stemming from Boston Red Sox pitcher Vicente Padilla's accusations that the Yankees first baseman was prejudiced against Latinos and would "be better off playing a women's sport."

Offended and amused by the remarks Padilla made after Saturday's double-header— including accusations that Teixeira threatened to hit him with a bat while they were Texas Rangers teammates— Teixeira fired back.

"Hilarious," said Teixeira. "If that's the case, interview every one of my Latin teammates in the clubhouse right no and ask them. . . it's completely erroneous."




Teixeira has never tried to hide the fact that he dislikes Padilla- a feud that goes back in 2005 when they first faced each other as opponents and Tex hit home runs in his first two at-bats. Padilla plunked Teixeira on the very next pitch.

After that run-in, they became uncomfortable teammates with the Rangers, when, according to Teixeira, he and Michael Young took most of the retaliation for Padilla popping opposing batters.

The rivalry escalated after Teixeira knocked in the winning run off Padilla in Friday's game and said the pitcher "doesn't have a lot of friends in the game" and "In the NFL, he would probably be suspended by Roger Goodell for eight games or a whole season. But this is baseball."

Teixeira— of Portuguese-American descent— laughed at Padilla's claim that he was afraid of the pitcher.

"That's crazy," Teixeira said. "But I wouldn't expect anything else really."




Both Freddy Garcia and Cano Robinson had Teixeira's back when it came to the Latino bias claims.

"I don't know anything that happened over there [in Texas], but he is a nice guy, one of the nicest guys on the team," said Robinson.

Garcia called his Yankee teammate "a great guy, a family guy. he respects everybody... Anybody can say anything they want to say."

Yankees manager Joe Girardi actually contemplated pinch-hitting for Tex if he was up against Padilla— just to avoid a confrontation.

"You'd think that— with what was said— if [Padilla] hits him, it's not going to be 2-3 days," said Girardi. "He could hurt my guy."

Teixeira brushed off the Padilla's claim that he's "always thrown inside" and "it's not my problem if it hits someone."

"The fact is certain things happen in this game and hitters don't have the same powers... pitchers do," said Teixeira who has been on the receiving end of three Padilla inside pitches in 18 at-bats. "The only other thing I could do is charge the mound... I'm not gonna charge the mound and get my teammates hurt.

Regarding Padilla's comment that he should be playing women's sports, Tex was a little more lighthearted, "Women's boxing is pretty tough."


Original Story:
http://ihatelupica.blogspot.com/2012/...
THE BACKYARD
BEST OF MAXIM
RELATED ARTICLES
STILL GOING
The war of words between Mark Teixeira and Vicente Padilla is not slowing down. Padilla recently said Teixeira is always crying and should play women's sports.
TAKE YOUR SHOTS
Mark Teixeira had some words for Vicente Padilla, an ex-teammate who he claims throws at hitters and goes "headhunting."
BOSTON –– Mark Teixeira found the retaliation humorous. When informed of Vicente Padilla's comments to NESN.com –– in response to Teixeira's initial jab on Friday –– the Yankees first baseman refuted the notion that he experienced issues Latin players in Texas. "That's crazy," Teixeira said. "But I wouldn't expect anything else really. If...
Boston Red Sox reliever Vicente Padilla tossed a verbal salvo in his feud with Yankees first baseman Mark Teixeira by suggesting Teixeira should play a "women's sport," ESPNNewYork.com reported. Padilla also said Teixeira has trouble with Latin players, but Teixeria called the comment "completely erroneous.""That's just comedy," Teixeira said...
10) Padilla believes Teixeira should make 70% of what he currently makes9) Given that Teix kind of owns him, Padilla must fantasize about being dominated by women, along with the men8) Padilla owns Teix in his fantasy league, and wants to give him fuel for a better second half7) It's great that this has flared up, because those Yankee - Red Sox games really deserve more media...
BOSTON -- At times, a couple of Boston's pitchers have had the Yankees' numbers. If it wasn't Josh Beckett going 4-0 against the Yankees with a 1.85 ERA in 2011, it was Vicente Padilla irritating Mark Teixeira by buzzing batters off the plate when they played for the Rangers. But on Friday night, both Teixeira and the Yankees had the last laugh. Teixeira plated the go...
The war of words continue between New York Yankees' Mark Teixeira and Boston's reliever Vicente Padilla. This has take the Yankees/Red Sox rivalry into uncharted territory and to a whole new level. ESPNdesportes reported Padilla has alleged that Teixeira's problem isn't with him, but Latin players in general. Reading in between the lines Padilla is basically accusing Teixeira [...]
BOSTON –– For years, Mark Teixeira complained about Vicente Padilla. Back in Texas, Padilla –– then a teammate of Teixeira's with the Rangers ––developed a reputation for beaning opposing batters. In retaliation, rival teammates would throw at the first baseman. Teixeira reportedly asked Padilla to ease off the aggressive pitching. Since Padilla didn't show much...
Vicente Padilla and Mark Teixera don't like each other. Oil and vinegar. Simple as that. And on Saturday, their over-seven-year spat reached a new level when Padilla publicly questioned Teixera's manhood. "In this sport, as competitive ball players, we get pretty fired up," Padilla said in a Spanish-language interview translated by NESN, "So I think, maybe, [Teixeira]...
I could be wrong, but it looked and sounded like an awful lot of Yankees fans at Fenway Park this weekend. It seemed like much more than in the past, to the point where you heard rival chants, the way you do at Mets games. Hmmmm, Is that because Red Sox fans are less likely to buy the tickets these days?There certainly was much less buzz about this series than there was in the recent...
Major League Baseball teams aren't the only ones looking to make moves that will help them after the All-Star break. Fantasy owners are looking for a few players who have been sluggish in the first half but could heat up after the break. Leading the pitching choices are Cliff Lee and Ian Kennedy, while Mark Teixeira, Dustin Pedroia and Mike Napoli are expected to see their hitting...
MLB News

Delivered to your inbox

You'll also receive Yardbarker's daily Top 10, featuring the best sports stories from around the web. Customize your newsletter to get articles on your favorite sports and teams. And the best part? It's free!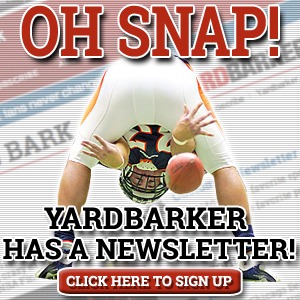 Latest Rumors
The Backyard

Today's Best Stuff

For Bloggers

Join the Yardbarker Network for more promotion, traffic, and money.

Company Info

Help

What is Yardbarker?

Yardbarker is the largest network of sports blogs and pro athlete blogs on the web. This site is the hub of the Yardbarker Network, where our editors and algorithms curate the best sports content from our network and beyond.