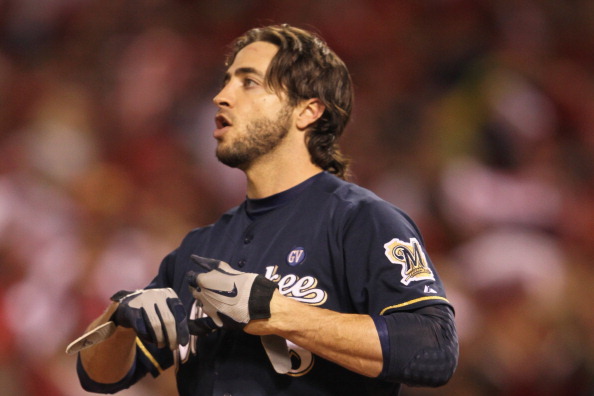 Spring training is here, and the reporting date for all players is in the next day or two. We've still got a week of practices and training before games kick off next weekend, so we're still just a tad bit away from watching REAL LIVE BASEBALL. But don't you fret, we've got a lot to talk about in the interim. Going into spring, there are a number of players in each league who fans have their eyes on for a variety of reasons, be it a return from injury or ineffectiveness, an impending rookie season, or the first year on a new team. Here are ten players that fans across the country should keep their eyes on as spring training starts to kick off.
1. Adam Wainwright, Cardinals. The St Louis Cardinals won the World Series last year, and Wainwright didn't throw a pitch for them all season. I don't think anyone would have foreseen that before the season. Regardless, Wainwright is reportedly healthy following his Tommy John surgery last spring, and ready to roll in the Cardinals rotation. For a team that lost free agent starter Edwin Jackson this offseason, a solid arm in their starting five would help out a ton. The Cardinals made it through last season without Wainwright at all, but having him in the fold would help out a ton. When healthy, Wainwright is a Cy Young contender, and adding an arm like that to your team can do nothing but help.
2. Ryan Braun, Brewers. We are apparently going to learn the verdict of Braun's appeal to his 50 game suspension in the next day or two. Braun's appeal being uphelp is absolutely critical to a Milwaukee Brewers team that lost Prince Fielder this offseason, and is facing an overall weakened NL Central. Not having Braun for 50 games might not cripple Milwaukee, but having him could give them a nice cushion in the division as they duel with the Cardinals and the much-improved Reds for the division title. Braun's appeal also has an effect on every other player in the league, showing that if the circumstances of your suspension are indeed extenuating enough, you can get it overturned.
3. Michael Pineda, Yankees. The New York Yankees traded a man who could have been their designated hitter for the next 15 years in Jesus Montero for Pineda, who had a fantastic rookie year last season for the Seattle Mariners. The Yankees are counting on Pineda to be an anchor for their rotation for at least the next five years behind CC Sabathia. When you consider the nonstop freight train of injuries suffered by Phil Hughes and the relatively unsure future of Ivan Nova after a rookie year that saw him post a great record behind average peripherals, it is absolutely critical for New York to get above average production from Pineda. Futhermore, if New York's three-headed DH platoon of Raul Ibanez, Andruw Jones, and Eric Chavez struggles while Montero thrives, Yankees fans may really not be happy with this deal.
4. Chone Figgins, Mariners. There are a lot of questions around this Mariners team that looks like it's going to be mediocre, but Figgins has been the one in the news recently. Manager Eric Wedge has stated that he's shifting Figgins to the leadoff role in the order, while incumbent leadoff hitter Ichiro Suzuki is going to move to the three spot on a regular basis for the first time in his American career. Figgins' first two years in Seattle have been an unmitigated disaster, and he has earned quite a bit of ire from the Seattle faithful. If he comes out of the gate and falls flat on his face in April, it could be a very long summer in Seattle, and a very short tenure in the leadoff spot for Figgins.
5. Tyler Pastornicky, Braves. The Atlanta Braves neglected to sign a big name shortstop this offseason, opting to use the rookie Pastornicky to replace the outgoing Alex Gonzalez. While Gonzalez's approach at the plate infuriated many Braves fans, he was an absolute master with the glove. If Pastornicky is at least able to match that defense, the transition will go a lot easier for the team. But if his offense isn't up to par like many are predicting, and his defense isn't up to snuff, Atlanta could be very irritated that they didn't go after Jimmy Rollins or Rafael Furcal on the free agent market this winter.
6. Miguel Cabrera, Tigers. While Prince Fielder is the new name in town, Cabrera is the one shifting positions. He'll be the new Tigers third baseman, a position he hasn't played since 2008. For the record, he averages about -1 DRS for every 100 innings he plays at third base. Assuming he plays 1200 innings at the hot corner this year, that would be a hit of 12 runs for the Tigers. As great as Cabrera is offensively, that's a huge hit on defense. Plus, there's a higher risk of injury for Cabrera at third than at first. This has all the potential in the world to end terribly for the Tigers and their nine figure superstar.
7. Carl Crawford, Red Sox. Owner John Henry admitted he didn't want him. New manager Bobby Valentine said there's a lot to fix. His first season in Boston couldn't get much worse. What else can go wrong for Carl Crawford? If he struggles again in 2012, the vicious Red Sox fans will likely put him in the same category as a guy like JD Drew, who had a reputation for being overpaid and always hurt. Crawford is a much better player than Drew (who was vastly underrated during his career), but that doesn't matter to the Boston fans who no longer have a curse hanging above their heads. They just want to win now, and if Crawford can't help them with that, they could run him out of town.
8. Bryce Harper, Nationals. Harper has been billed as the second coming since he was a Las Vegas high school student a few years ago. He blazed through the minors last season, finishing up at AA Harrisburg. Now, Nationals manager Davey Johnson is hinting that he wants Harper to start his 2012 season in the majors, playing right field while Jayson Werth shifts to center. The Nationals really don't have a better option for their final outfield spot on the roster (not that the retirement of Mike Cameron helped matters at all), and a strong spring from Harper could empower the Nationals management to say "screw it", and give Harper the starting job. He could probably use a little more time in the minors, but the most dynamic prospect in baseball will attract eyeballs, no matter where he starts the season.
9. Albert Pujols, Angels. He signed the largest non-ARod contract in baseball history this offseason and changed teams, going from the midwest to the west coast. The contract is heavily backloaded, and the Angels are being scrutinized for having to pay more to Pujols when he's approaching over the hill status than right now, when he's in his prime. For an Angels team that retooled with Pujols, CJ Wilson, and Chris Iannetta this offseason, the former St Louis superstar is going to need to lead the Angels to postseason success. Anything else could be considered a failure. There is a ton of pressure on him, but I'm sure he's used to that by now.
10. Anthony Rizzo, Cubs. Here's the thing about Rizzo: he's probably not going to be the Opening Day first baseman for the Cubs. But new team president Theo Epstein and new GM Jed Hoyer brought Rizzo in under the assumption that he would be a cornerstone player for the team for years to come. For a franchise whose first basemen have been Mark Grace, Derrek Lee, and not much else over the last 20 years, a solid, long-term replacement like Rizzo could do wonders for the franchise. At the same time, if Rizzo struggles like he did last season in the majors with the San Diego Padres, this might not end very well for the new Cubs management regime.
Photos courtesy of Daylife.com
[follow]
MORE FROM YARDBARKER

MLB News

Delivered to your inbox

You'll also receive Yardbarker's daily Top 10, featuring the best sports stories from around the web. Customize your newsletter to get articles on your favorite sports and teams. And the best part? It's free!