Found February 10, 2013 on MetsZilla:
For New York Mets fans, it seems like pitchers Matt Harvey and Zack Wheeler have had their names linked together for some time now, even if the two have only been pitching in the same organization for just over a year.  That's what excitement and anticipation will do as the hope of this somewhat jaded fan base looks for something to cling to as we head into the 2013 season.  Matt Harvey, who finished his 2012 campaign with a 2.73 ERA and 1.15 WHIP in 10 starts for the Mets, will be in the starting rotation when the new season kicks off, but Zack Wheeler is likely to begin the year at Triple-A once Spring Training comes to an end. Between now and then, however, the two will be viewed with anxious eyes by fans visiting the team in Port St. Lucie.  According to Kevin Kernan of the New York Post, Mets manager Terry Collins likely wouldn't have it any other way. Zack Wheeler followed Matt Harvey yesterday in a short bullpen session, perhaps a sign of things to come for the Mets' Future Aces. Photo by Michael G. Baron Manager Terry Collins set it up so Wheeler lockers next to Harvey to soak up advice on the path to the majors. Wheeler is almost certain to start the season in Triple-A, just as Harvey did last season. Harvey made his first start for the Mets on July 26. Wheeler could get to Citi Field earlier if he dominates in the minors. When the Mets needed a starter last April 23, they called up Jeremy Hefner in lieu of Harvey, who was mediocre for a time at Buffalo. Collins wants to make sure all of his pitchers understand the quickest route to a callup is posting dominating numbers at Las Vegas (the new home of the Mets' Triple-A affiliate). "Matt can help Zack in so many ways,'' Collins said. "I want him to learn from Matt and the quickest way for any of our young pitchers to get called up is put up dominating numbers in the minor leagues. If Matt had put up those numbers earlier, he probably would have gotten called up, but the reports on him were rather mediocre. I talked to Wally [Backman, Triple-A manager], and he said Matt wasn't using his curveball the way he should have used it.'' Right from his first start in the majors it was evident that Harvey had the make up of a great competitor.  Fans will certainly hope he can build on his success of a year ago and clearly Collins thinks he can help Zack Wheeler as he ascends to the majors.  Wheeler, according to Adam Rubin of ESPN New York, is also just looking for a shot to compete and knows the transition comes with challenges. I'm just going to try to go out there and do my best and make them make a decision, and make it sort of hard on them," said Wheeler, who already has been told by Terry Collins the Opening Day roster is a long shot. "Wherever they send me, I'm just going to go out and compete, because I know my job is to go out there and pitch. I'm not going to get down if they send me to Triple-A. I'm hoping I'll make the team, but if I don't, I'll go to Triple-A, work hard, and hopefully I'll get the call-up soon after." After a promotion from Double-A Binghamton, Wheeler made six late-season starts for Triple-A Buffalo in 2012. He went 2-2 with a 3.27 ERA while allowing 23 hits and 16 walks and striking out 31 in 33 innings. "The strike zone got a little bit smaller," Wheeler said, contrasting Triple-A to Double-A. "I wasn't really expecting that, but it did. The higher you go, the smaller it's going to get. You just have to adjust. I think hitters, they chase more down to up, instead of side to side. Like with the slider, they don't chase that sweeping slider. You just can't make mistakes. That's really what I learned." It really does seem as though Matt Harvey and Zack Wheeler are destined to have their names mentioned in the same breath for years to come and if that ends up being the case, it's likely to make a lot of people in New York happy.  Neither pitcher, however, has their sights simply set on the future.  As Harvey told Jorge Castillo of the Star Ledger: Photo by Michael G. Baron I'm keeping my head down and doing what I can do to win this year," Harvey said. "There's 25 guys going up to New York, and we're going to try to win from day one. Obviously, there's huge upside to what's possible in the next couple years, but we don't look at it that way. I don't look at it that way. I look at it as what's going on right now and how we can win."
Original Story:
http://www.metszilla.com/2013/02/10/t...
THE BACKYARD
BEST OF MAXIM
RELATED ARTICLES
Zack Wheeler (photo credit Daily News) It's no secret the Mets have concerns in their rotation, but that doesn't mean they should rush Zack Wheeler, regardless of how good a spring training he has. The Mets tooker a somewhat patient approach with Matt Harvey, waited to bring him up last summer and gave him ten starts in which he showed his potential. The Mets need to do the same...
I had the chance to talk to New York Mets left-handed pitching prospect Jack Leathersich last week before he heads off to Port St. Lucie for the start of Spring Training. After being taken by the Mets in the 5th round of the 2011 MLB draft, Jack has now completed two solid and exciting years as a pro, and has quickly risen up the ranks of many a Mets top prospects list. The talented...
As an overabundance of Michael Bourn rumors float around in the minds of Mets fans everywhere, the team will see pitchers and catchers report to spring training in less than a week. Pending any new additions, the Mets have spots on the opening day roster available, which should create healthy competition between players for the open jobs. Which spots are up for grabs? Who is most...
There are a number of sites that review mock drafts before the season gets underway and they will continue to mock draft until the real draft happens.  I've taken it upon myself to look at some of the selections and review them before I submit the player that I currently project as the Mets' First Rounder. Jonathon Crawford: RHP – (My MLB Draft, Minor League Ball) The Junior...
Next up in our projection series is Ruben Tejada. This time last year there were all kinds of doubt and angst surrounding Tejada. The doubt mostly came over concerns how he would do replacing fan favorite Jose Reyes. The angst came largely due to his manager throwing a tantrum that Tejada did not report to camp early. A year later there seems to be a complete absence of both...
In 1966, in the days before Tom Seaver, Jerry Koosman, Gary Gentry, and Nolan Ryan, when the Mets' young pitchers were named Dick Selma, Dick Rusteck, Darrell Sutherland, and Rob Gardner, the Mets tried to provide some veteran presence on the staff to help carry the team to respectability while the young pitchers developed. In the early sixties, you could make up a pretty good...
The New York Mets remain "hopeful" of signing free agent Michael Bourn, but there are currently "no discussions" between the union and the league about the team's draft pick concerns, according to Andy Martino of The New York Daily News. If the Mets sign Bourn, they would currently be required to send their first-round draft pick to the Atlanta Braves as compensation...
When the Mets sent R.A. Dickey to Toronto earlier this offseason (along with Josh Thole and Mike Nickeas), they received two of the Blue Jays' top prospects in Travis d'Arnaud and Noah Syndergaard.  Toronto also threw in veteran catcher John Buck to complete the deal.  Buck is expected to begin the season as the Mets' No. 1 catcher, eventually deferring to d'Arnaud when...
The Mets Hall of Fame is filled with Mets from the 1969, and 1986 era squads, and with John Franco's induction this past year, they are getting around to the 2000 NL Champions. There is though, an era woefully unrepresented, and while the exploits of the era fall well beneath the dominance of the mid to late 1980s, the miracles of 1969 and 1973, and the fun of the late 1990s-early...
Pundits often say a college football coach deserves at least two years to turn a team over before anyone can honestly pass judgement.  That time provides the new coach with enough time to recruit his own players and implement his own scheme.  General managers in Major League Baseball get no such grace period.  Thus the dilemma Sandy Alderson currently finds himself in. Since taking...
The offseason is winding down, and the Mets still have a small bit of business to deal with. Michael Bourn still remains unsigned, and the Mets are one of the only suitors. The problem is that if the Mets sign Bourn, they may have to surrender their eleventh overall pick because of the new draft-pick compensation system. However, the Mets, The Major League Baseball Players Association...
Greetings Zilla readers.  I'm pretty tickled to be teaming up with Vinny, Jason, and the gang.   From time to time I'll be sharing some unsolicited opinions from the corn fields of Indiana. A little introductory information before I start.  Not so different than many of you, I have been a lifelong Mets fan.  However, when I was five my folks moved us over 700 miles away...
Mets News

Delivered to your inbox

You'll also receive Yardbarker's daily Top 10, featuring the best sports stories from around the web. Customize your newsletter to get articles on your favorite sports and teams. And the best part? It's free!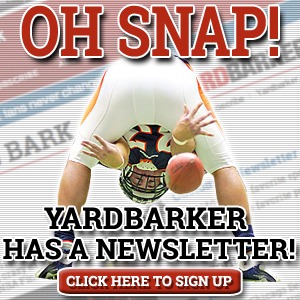 Latest Rumors
Best of Yardbarker

Today's Best Stuff

For Bloggers

Join the Yardbarker Network for more promotion, traffic, and money.

Company Info

Help

What is Yardbarker?

Yardbarker is the largest network of sports blogs and pro athlete blogs on the web. This site is the hub of the Yardbarker Network, where our editors and algorithms curate the best sports content from our network and beyond.