Found October 06, 2012 on hardballchat.com:
The Texas Rangers could look a bit different in the 2013 MLB season, having suffered a bit of a collapse to end the 2012 season. It culminated in the Rangers losing at home in the new wild card play-in game to the Baltimore Orioles. It may very well have been the final time we ever see Josh Hamilton wearing a Rangers uniform.
Hamilton put up some solid numbers once again in 2012, but it was his slumps over prolonged periods of time and his struggles late in the season that led many fans to boo him more often than not as the season progressed. Don't think that Hamilton did not hear any of it either.
Going 0-for-4 in last night's loss to the Orioles did not endear himself to the Texas faithful either.
"You hate to have it happen possibly the last game ever here, but at the same time, it's one of those things," Hamilton said. "I gave it my all every time I went out there. Hopefully, [fans] appreciated it more than they didn't. I think they do. It's one of those things, hey, we didn't get a win, but you can't win them all."
Down the stretch, it didn't seem as if the Rangers could win any of them. Not the last three against the Oakland Athletics that forced them to have to play last night, and certainly not to the Orioles at home. Texas is now going to miss going to the World Series for the first time since the 2009 MLB Playoffs.
"I always would love to stay here," said Hamilton after the loss. "They understand that. They know that. When we talked earlier in the year, we didn't get things worked out, so we said we'd wait until the year was over. They obviously get first shot. I told them they'd get first shot at the end of the year. We'll see what happens."
But while the Rangers may get the first shot, it far from guarantees that Hamilton will be sticking around in Texas going forward.
After each out by Hamilton, the boo birds sang louder and louder. After seeing just a total of eight pitches that produced a double play, a ground out and a pair of strikeouts, the sounds of the Texas crowd were far from lost on Hamilton.
"Personally, myself, it never would matter how high I was — if I went to a sporting event, I would never boo somebody or I would never yell obscenities at somebody," said Hamilton. "That's just me.
Hamilton later did say that he still has strong feelings toward Texas and the fans, making sure he thanked him as he could possibly be on his way out of town.
"To the fans, it's been a good ride," Hamilton said. "No matter if you send me off with boos or not, I still love you."
It could be just me, but this sounds like a man who is ready to not only test the free agency waters, but also more than ready to swim to a new team beginning in 2013.
The post Texas Rangers: Could Wild Card Loss To Orioles Be The Last Time We See Josh Hamilton In A Rangers Uniform? appeared first on Hardball Chat Baseball Blog.
Original Story:
http://www.hardballchat.com/2012/10/t...
THE BACKYARD
BEST OF MAXIM
RELATED ARTICLES
ARLINGTON, Texas Josh Hamilton did a lot of talking in past tense following his Rangers' 5-1 season-ending loss to the Orioles. The five time All-Star played what could have been his final game with the Rangers, and it was one he'd like to forget. It won't be easy. Hamilton went 0 for 4 and struck out twice. He saw just eight pitches at the plate and any chance at...
ARLINGTON Throughout the last few weeks, the argument can be made that Josh Hamilton hasn't appeared interested in playing baseball. The five-time All-Star outfielder who hit .395 in April and drilled 12 home runs in May, cooled during the second-half of the season and plummeted during the final month. The Rangers' 5-1 wild-card loss to the Orioles Friday night saw Hamilton...
Texas Rangers outfielder Josh Hamilton, who will be a free agent, said he would love to return to the team but his decision will be led by God. The devoutly religious Hamilton has been scrutinized for his play lately. He was booed during a 0-for-4 game Friday as the Rangers were eliminated by the Baltimore Orioles 5-1 in the American Wild playoff. "You hate to have it happen...
So this is how it ends for Josh Hamilton and the Texas Rangers. A rally-killing double play. An anxious strikeout. Boos. A first-pitch comebacker. More boos. Tepid applause before he stepped in as the tying run in the eighth inning of Friday night's American League wild-card game, one last chance at the redemption that never came. Three pitches. Two swings. One more strikeout...
The Texas Rangers had a great season that ended in disappointment. It would be easy to say the season itself was a disappointment because of how it ended, but that would minimize the success Texas had throughout almost the entire regular season. They led the American League West from April until the final day of the regular season when the Oakland Athletics overtook them and forced...
After going 0-4 and being booed during Friday's 5-1 loss to the Baltimore Orioles in the AL Wild Card game at the Rangers Ballpark in Arlington, Texas center fielder and impending free agent Josh Hamilton insinuated he has played his … Continue reading →
Last night, the great American feelgood story of the new millenium, Josh Hamilton, came to bat for what might be his final appearance in a Rangers costume. He fanned and walked away under a spit-shower of boos. (His shower of real booze, presumably, comes later.)Three hours earlier, the delightful Southern hospitality suburb of Red State America, Atlanta, showered debris across...
Jeff Zimmerman and I have done lots of work on player aging curves in the past 12 to 18 months. Jeff started things off with a series of hitter aging curves, which focused mostly on standard outcomes and WAR components. Jeff and I then joined forces this year for a series focused on pitcher aging.This time around, I wanted to know how a hitter's plate discipline changes over his...
Less than five weeks ago, Joe Saunders was a member of the Arizona Diamondback, but on Friday he will be the Baltimore Orioles' starting pitcher in the Orioles' most important game of the season so far. Orioles manager Buck Showalter announced Thursday that Saunders will be his starting pitcher in Friday's one-game wild-card playoff against the Texas Rangers in Arlington...
KANSAS CITY, Mo. As he peered out from behind a pile of boxes, Chris Getz couldn't take his eyes off the screen. There was Josh Hamilton, dropping fly balls like the kid in Little League who got stuck playing right field. There were the Oakland Athletics, a party in lemon yellow, hooting and hollering with glee. The Oakland Athletics, who, at the All-Star break, sat at .500...
NCAA violation College Football Jeff Driskel can't even get served at a local Gainesville restaurant – Throw The Flag Five Things: Nebraska – 11W North Carolina State Fans Did Gangnam Style During FSU Game [GIFs] – TheBigLead Geno Smith becomes Air Raid's greatest disciple – Forde tissues Must-watch video of military family reunion at USC-UGA game – SDS Other Sports...
MLB News

Delivered to your inbox

You'll also receive Yardbarker's daily Top 10, featuring the best sports stories from around the web. Customize your newsletter to get articles on your favorite sports and teams. And the best part? It's free!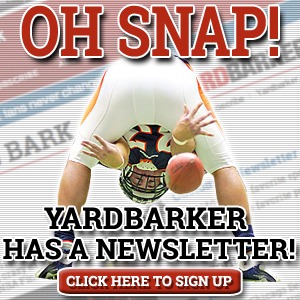 Latest Rumors
The Backyard

Today's Best Stuff

For Bloggers

Join the Yardbarker Network for more promotion, traffic, and money.

Company Info

Help

What is Yardbarker?

Yardbarker is the largest network of sports blogs and pro athlete blogs on the web. This site is the hub of the Yardbarker Network, where our editors and algorithms curate the best sports content from our network and beyond.