Found March 23, 2013 on Obstructed View OLD:
PLAYERS:
Jeff Samardzija
,
Ryan Dempster
,
Matt Garza
,
Chris Volstad
,
Paul Maholm
,
Travis Wood
,
Edwin Jackson
,
Scott Feldman
,
Scott Baker
,
Carlos Villanueva
,
Chris Rusin
,
Brooks Raley
,
Josh Vitters
TEAMS:
Chicago Cubs
,
Boston Red Sox
,
Atlanta Braves
Much has been written here in the last few days about the Cubs rotation injuries and what it means for the overall strength of the rotation. Most, or actually all of that has been negative. Sure, losing Garza can't be spun as a positive so I'm not going to do that. As the resident optimist, I am here to assure you that the Cubs rotation is still better than last year and better by a wide margin compared to the rotation the Cubs ended the season with (Garzaless, Dempsterless and Samardzijaless). The first thing we have to do as fans when trying to compare a rotation right now to a rotation from a previous season is to compare apples to apples. We want to compare this rotation to, for the purposes of this post, to last year's rotation by comparing the strength of each prior to the start of the season. Come July we can compare how the groups have performed, but right now, we have to compare pre-season to pre-season. For last year's rotation, I'm only going to say two words: Jeff Samardzija. I can't just say two words because, like Boyd Crowder, it takes me 40 words when 4 will do. See how I've already turned those two words into a bunch of crap? I'm good at that. When the Cubs announced that Jeff Samardzija would be in last year's rotation it was maddening, funny and everything in between. He was the worst possible starting pitcher on the roster based on what we knew at this point a year ago. Clearly the Cubs knew something we didn't and good for them, but we didn't know that and anybody who wants to say that 40 innings of decent work in the bullpen in 2011 predicted the kind of season he had last year is full of it. Ryan Dempster was the opening day starter last year. He was followed by Matt Garza, Jeff Samardzija (not only did he make the roster, but he was the number 3 starter!), Chris Volstad and Paul Maholm. Based on their previous years, I think most people expected little to nothing from Samardzija and Volstad. Most of us figured Travis Wood would come up soon enough to replace one of them. He did. Volstad kind of sucked and went to the minors. Using the OV projected playing time for 2012, the 5 members of the rotation were projected to be worth 7.9 WAR. The most recent CAIRO projections for the projected starting 5 this season is 7.8 WAR. Those 5 are Edwin Jackson (3.2), Matt Garza (2.4), Jeff Samardzija (1.6), Scott Feldman (1.2) and Scott Baker (0.4). Our OV projected playing times for those 5 last year was 873 innings, CAIRO, due to recent injuries to some of these pitchers, is only projecting 607 innings. The projections are based on the last few years and, take Jeff Samardzija for example, he was a reliever prior to 2012 so he's only projected to throw 135 innings. Scott Baker is projected to throw only 30 innings. Adjust those innings upwards and the rotation we expected this season is better than last year's. It's not a great rotation, but CAIRO and PECOTA have Samardzija projected much lower than a couple of the others. Scott Baker has recorded an out this spring before having to undergo another MRI. Matt Garza is battling an injury and will miss at least the first monty of the season. The rotation is shaping up to be Samardzija, Jackson, Feldman, Travis Wood and Carlos Villanueva. Samardzija, Jackson and Feldman are projected by CAIRO to be worth 6 WAR. The CAIRO for Travis Wood is 1.9 WAR and it's 1.0 WAR for Villanueva. So the expected Cubs rotation is projected to be worth 8.9 WAR, which is better than last year's rotation to begin the season. Even if the Cubs lose another pitcher or two to the DL, they're likely to be better than they were at the end of the season. Guys like Chris Rusin, Brooks Raley and others can't be expected to be nearly as bad as they were. Even a guy like Josh Vitters would improve upon his season last year because you can't do anything but improve. The post That revamped Cubs rotation appeared first on Obstructed View.
Original Story:
http://www.obstructedview.net/comment...
THE BACKYARD
BEST OF MAXIM
RELATED ARTICLES
Jeff Samardzija was so intent on becoming a successful pitcher for the Chicago Cubs, he once told Theo Epstein that he was going to dump his girlfriend in order to focus on improving. Epstein was the subject of an excellent feature written by Joe Posnanski. The article discussed Epstein's efforts to overhaul the culture of the Chicago Cubs organization after becoming the teamâ...
Everyone knows that Josh Vitters was terrible at baseball in his limited time at the big league level in 2012. Just how bad was he? In RE24 (min. 75 PA), Josh Vitters was the 17th worst offensive player in all of baseball last year, just above…Mark Buerhle. If he had 200 PA instead of just 109, he would have ran away with worst RE24 in the majors (everyone except Buerhle ahead...
Darnell McDonald singled twice, doubled, walked, scored twice, and knocked-in a run, Taiwan Easterling singled, doubled, reached base on an HBP, and drove-in two runs, Jeffrey Baez drove-in three runs with a two-run double and a bases-loaded HBP, and Dan Vogelbach crushed a tape-measure two-run home run, leading the Daytona Cubs to a 10-7 victory over the Bakerfield Blaze (Cincinnati...
The Chicago Cubs have been in quite a battle with the alderman of the Wrigleyville neighborhood in Chicago. Cubs owner Tom Ricketts made it very obvious that one of his intentions when buying the Cubs from the Tribune company was to make wholesale renovations to Wrigley Field and the surrounding neighborhood. He wanted to model this after what Boston did to the area surrounding Fenway...
Today on our Wrigley Talk Friday podcast, Adam, Julie and I discussed the Wrigley renovation saga as both Tom Tunney and the Cubs posture in the media, while Cubs fans kvetch over the potential loss of the manual scoreboard. We looked at the final roster and the few players remaining as possibilities, got sad, and successfully let Jesse Rogers troll us by bringing up Chone Figgins...
The Chicago Cubs never expected Scott Baker to be ready when the 2013 season started but his availability is still unknown after the pitcher's latest setback. Baker is attempting to work his way back from Tommy John surgery. There has been soreness all spring between Barker and his elbow but until now their was not a high level of concern. The Cubs plan to shut Baker down for a...
A young Lebanese immigrant awaiting sentencing for placing a backpack he thought held a bomb near Chicago's Wrigley Field wrote a letter to the judge saying he drank ''all day, every day'' for months before the would-be attack. In a seven page letter to U.S. District Judge Robert Gettleman, Sami Samir Hassoun apologizes and insists he has worked hard at becoming...
Pitcher Jeff Samardzija hit his second home run this spring and also threw six innings Thursday night to lead a split squad of Chicago Cubs over the Seattle Mariners 7-4. Samardzija, set to be the Cubs' opening day starter, struck out seven. He allowed four runs and nine hits. Samardzija hit a solo homer and an RBI single. Alfonso Soriano and Brad Nelson also homered for Chicago...
Scott Hairston blasted a tape-measure home run down the LF foul line and into the parking lot to cap a four-run 7th, and pinch-runner Shawon Dunston Jr scampered home with what proved to be the winning run with two outs in the bottom of the 8th, as the Cubs rallied to edge the Los Angeles Angels 7-6 in Cactus League action this afternoon at Dwight Patterson Field at HoHoKam Park...
The Cubs are going to toss some guys on the disabled list to open the season and have trimmed the spring roster to 35. Â As of now there are a couple spots up for grabs: bench guy and bullpen guy. Â My best guess for bullpen guy is that it goes to lefty Hisanori Takahashi, who would be a complement to James Russell as the southpaw contingent of the pitching staff. Â As for bench...
Darwin Barney and Dioner Navarro hit consecutive homers with two out in the ninth inning to help the Chicago Cubs beat the Milwaukee Brewers 4-1 on Friday. Barney belted a two-run shot before Dioner Navarro connected against Michael Olmsted for the final run of the game. Brewers starter Yovani Gallardo yielded an unearned run and four hits in 5 1-3 innings. He has one spring outing...
MLB News

Delivered to your inbox

You'll also receive Yardbarker's daily Top 10, featuring the best sports stories from around the web. Customize your newsletter to get articles on your favorite sports and teams. And the best part? It's free!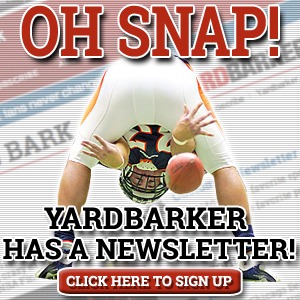 Latest Rumors
The Backyard

Today's Best Stuff

For Bloggers

Join the Yardbarker Network for more promotion, traffic, and money.

Company Info

Help

What is Yardbarker?

Yardbarker is the largest network of sports blogs and pro athlete blogs on the web. This site is the hub of the Yardbarker Network, where our editors and algorithms curate the best sports content from our network and beyond.