Found November 21, 2012 on Monkey with a Halo:
PLAYERS:
Jerry Dipoto
,
Fernando Rodney
,
Brian Fuentes
,
Ernesto Frieri
,
Mariano Rivera
,
Kevin Towers
,
Rafael Soriano
,
Matt Lindstrom
,
Jon Rauch
,
JP Howell
TEAMS:
Los Angeles Angels
,
Tampa Bay Rays
,
St. Louis Cardinals
,
New York Yankees
,
Arizona Diamondbacks
,
Colorado Rockies
,
New York Mets
Right near the top of Jerry Dipoto's off-season shopping list has to be bullpen help.  It is probably listed right underneath rotation help and maybe milk and eggs.  Regardless, getting some better, more reliable relievers is a major priority for the Halos after their 2012 season was largely torpedoed by the Bullpen of Perpetual Sorrow. This glaring need has become somewhat mutated though in recent weeks.  No longer is it a need for better relievers in general, but specifically a need for a "proven closer."  This seems to be what fans want and what the media deduces as their true target.  Neither seems to take into account the actual works that Jerry Dipoto has been saying on the topic though.  By that I mean the very specific quotes he has given about "never" looking to spend big money on a reliever, which usually goes hand-in-hand with a "proven closer," or how he thinks bullpens can be built with lower cost, middle relief options.  Nope, everyone ignores that and assumes the Halos will, nay, MUST sign a Closer with a capital-C. The thing about that is that those Closers tend to be expensive and, quite frankly, wildly overrated.  You don't have to look very far back in Angels' history to understand that concept or have you already forgotten about how well the Fernando Rodney and Brian Fuentes signings worked out for the Halos? If you are really married to the idea of having one true closer (which I am not, but Scioscia is), then I must ask what is so wrong with Ernesto Frieri? Just because the Angels' bullpen is broken doesn't mean that it is Frieri's fault.  In fact, the stats suggest he is much more a part of the solution than the problem.  Though he only was the Angels closer for about half the season, he performed well, converting 23 of 26 saves.  For the more sabermetrically inclined, he also delivered 26 shutdowns versus 5 meltdowns (excluding his time with the Padres).  In high leverage situations, he had just three meltdowns in 21 opportunities.  Mariano Rivera he is not, but he isn't exactly taking a gas can out to the mound with him either.  In fact, the likely reason that some are calling for Frieri to be demoted is recency bias.  If you asked most Angels fans what they remember about Frieri isn't his ridiculous dominance when he was first acquired by the Halos, it is probably the soul-crushing back-to-back losses he took in September against Kansas City and Texas.  Those accounted for two of his five meltdowns as an Angel, they just seem so much worse because of the horrible timing.  Sorry, but that just isn't enough reason to demote the guy. If there is a real problem with Frieri, it is that he didn't get enough opportunities to pitch in high leverage situations.  That would be the same problem for whoever serves as the Angels closer, which sort of defeats the purpose of finding a better closer, no?.  The fact of the matter is that the middle relief was the Achilles heel of the bullpen.  As a whole, the bullpen blew 23 saves, which tied them for the most blown saves in the American League.  As I mentioned before, only three of those blown saves were by Frieri.  Like I said, he isn't the problem.  Just to hammer the point home, the rest of the Angels bullpen also contributed 58 meltdowns, excluding the five Ernesto contributed.  That was a middle of the pack total, but the damning stats are that their WPA/LI was just 0.20, the second-worst mark in the AL, and delivered just 94 shutdowns (26 of which were Frieri), which was easily the lowest total in the AL.  What that basically means is that the bullpen didn't pitch in all that many high leverage situations compared to the rest of the league, but they also didn't get the job done in those lower leverage situations.  That's not good.  That's not good at all. With all that being said, it is pretty clear that the Angels don't need a new closer.  They just need better relief in general.  Granted, acquiring an upgrade at closer can accomplish that goal because it means moving Frieri down the ladder to pitch in middle relief and generally increasing the bullpen's talent level, but it probably isn't the most efficient use of resources since those proven closers are so hard to find.  And as we saw with Fuentes and Rodney, those closers sometimes aren't even good relievers.  Jerry Dipoto is probably better served from an ROI standpoint to just try and turnover the middle relievers.  Swapping out Hawkins, Williams and Isringhausen for younger arms with either a better recent track record or more upside should give the Angels the depth they need.  Then again, reliever performance is so volatile that it is really just a roll of the dice, but one would hope Dipoto can load the dice a bit by using his experience as a player and the knowledge he gained from learning at the feet of bullpen building master Kevin Towers. Even if JeDi's perceived expertise is overrated, going the middle relief route simply provides a better chance of hitting on at least one new arm becoming an asset since the Angels could likely sign three solid veteran middle relievers for the same amount that they could land Rafael Soriano for.  Sure, Soriano is better than any of those hypothetical three players, but if he goes off the rails or his elbow blows up, the Angels are dead in the water with a thin bullpen and no money to find a replacement.  Whereas if he signed something like Matt Lindstrom, Jon Rauch and J.P. Howell, he still has two other viable arms if one of those three goes wrong.  Of course, he could always split the baby, sign Fujikawa and add a cheap veteran.  It really all depends on just how risk averse he is and his own comments seems to strong suggest that he is very risk averse when it comes to building a bullpen.  In other words, Frieri will be just fine thank you.  Let Jerry fix the middle relief first and if Ernie ends up becoming the problem that he isn't but some seem to think he is, he can deal with it when that day comes, if it ever does. [follow]
Original Story:
http://www.monkeywithahalo.com/2012-a...
THE BACKYARD
BEST OF MAXIM
RELATED ARTICLES
The Angels have intensified their pursuit of Japanese reliever Kyuji Fujikawa, who toured Angel Stadium on Saturday and then went out to lunch with General Manager Jerry Dipoto and Manager Mike Scioscia. Upon returning to Japan on Sunday, Fujikawa, a 32-year-old right-hander who has been Japans top closer for six years, told reporters, I was very impressed with the way the Angels...
 By Jonathan Northrop - AngelsWin.com Columnist Williams and DiMaggio, Mays and Mantle, Bonds and Griffey…baseball has a history of paired superstars, players of similar talent that are associated with each other for much of their careers. Mike Trout and Bryce Harper, AL and NL Rookies of the Year of 2012, will almost certainly be paired in name for the rest of their careers...
  AngelsWin.com is never short on running contests through the season and offseason. This month we're proud to have teamed up with egraphs.com in an effort to bring recognition to this new way of receiving an autograph from your favorite players electronically. An egraph is a shared moment between you and your favorite star. It is immortalized forever with a beautiful high...
The November 20th, 2012 edition of daily news for the Los Angeles Angels of Anaheim including Angels meet with Fujikawa, wondering if the Angels be better off without Greinke and much more... The Story: The Angels hosted Japanese closer Kyuji Fujikawa for a visit yesterday. The Monkey Says: This was expected as Fujikawa is meeting many teams right now.  Hopefully this means...
Scott Kazmir's comeback season isn't done just yet.  Kazmir recently made his debut in the Puerto Rican Winter League with the Gigantes de Carlina. In four innings, he surrendered two runs on four hits, while walking one and striking out six.  He was all but written off once the Los Angles Angels released him at the beginning of the 2011 season. Months after being let...
Generally speaking, at least in terms of baseball free agency, the top free agent will set the market for the rest of the free agents as soon as he signs his big contract during the start of the offseason. Not to take away from the rest, but it is the best player who will sign a large contract, setting the parameters for the others to fall in line, almost sort of like a domino effect...
The Arizona Fall League season has commenced and now most baseball junkies are tuning into late night or early afternoon ESPN to watch the Latin American winter leagues.  But what can we really take away from these offseason leagues?  In truth, not a lot.  Players can sink or swim for any number of reasons in the offseason.  The most common, players can simply be too exhausted...
The Case for James Shields By Robert Cunningham - AngelsWin.comAuthor's Note: I originally wrote this article near the trade deadline (late July 2012) as I felt very strongly that the Angels wanted to acquire Shields for the division run. However, this event did not come to pass for, probably, the following two reasons: 1) The Rays, rightfully, felt that they were still in contention...
The November 21st, 2012 edition of daily news for the Los Angeles Angels of Anaheim including Angels add three to 40-man roster, Kuroda signs with the Yankees, considering a trade for James Shields and much more... The Story: The Angels added Brandon Sisk, Ryan Brasier and Travis Witherspoon to their 40-man roster in lieu of the Rule V Draft. The Monkey Says: Sisk and Brasier...
  Today is the one time of the year that everyone, no matter how well-off or unfortunate, gives thanks to what they have in their lives. Do you hear that Angel fans? This is the one time of the year that you all HAVE to thankful with what the Angels have given to you without any undue whining or griping. It's the season for thanks, the season for positive reflection, so...
MLB News

Delivered to your inbox

You'll also receive Yardbarker's daily Top 10, featuring the best sports stories from around the web. Customize your newsletter to get articles on your favorite sports and teams. And the best part? It's free!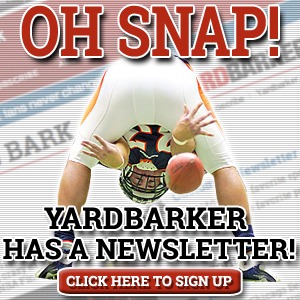 Latest Rumors
Best of Yardbarker

Today's Best Stuff

For Bloggers

Join the Yardbarker Network for more promotion, traffic, and money.

Company Info

Help

What is Yardbarker?

Yardbarker is the largest network of sports blogs and pro athlete blogs on the web. This site is the hub of the Yardbarker Network, where our editors and algorithms curate the best sports content from our network and beyond.