Found March 20, 2012 on Baseball Prospectus:
PLAYERS:
Ryan Howard
,
Chase Utley
,
Roy Halladay
,
Cliff Lee
,
Cole Hamels
,
Freddy Galvis
,
Charlie Manuel
,
Placido Polanco
,
Jimmy Rollins
,
Michael Martinez
,
Ty Wigginton
TEAMS:
Philadelphia Phillies
Have you already penciled the Phillies in atop your projected NL East standings? Well, you might want to find an eraser. Ryan Howard is going to miss the first two months of the season while recovering from the Achilles injury he suffered last October, and it now appears that Chase Utley will be joining him on the disabled list with recurring knee woes. Roy Halladay, Cliff Lee, and Cole Hamels should hold down their end of the fort, but questions about the Phillies' offense are looming rather large as the season approaches. The probable replacement for Utley is 22-year-old minor leaguer Freddy Galvis, who hit .278/.324/.392 while splitting time between Double-A and Triple-A last season. Though he may one day develop into a respectable hitter, Galvis is currently an all-pick, no-stick player, offering little pop and even less plate discipline. He should adequately supplant Utley's glove, but he won't be batting in the middle of Charlie Manuel's order any time soon. With their f...
Original Story:
http://www.baseballprospectus.com/art...
THE BACKYARD
BEST OF MAXIM
RELATED ARTICLES
So we've learned that Chase Utley probably won't be ready for Opening Day, a reality many of us assumed but wanted badly not to hear this season.In the last episode of Phillies Nation TV, Pat asked why Utley hadn't yet seen an inning in the field or a plate appearance against live pitching. It was a valid question that offered more and more room for pessimism the longer you...
According to a recent story by the Courier-Post, chronic knee pain could end Chase Utley's career. Utley, who left the Philadelphia Phillies spring training camp on Monday to see a knee specialist, has been suffering from a combination of damaged cartilage and severe tendinitis in both knees. "I worry about Chase because it's a chronic knee problem," Phillies GM Ruben Amaro...
Chase Utley rarely speaks to the media, but he did stop by to answer a few questions. His answers, not surprisingly, were short. Q: How are you feeling? A: "I have nothing new to update you on." Q: Will you be able to get on the field next week? A: "I'd like to be." Q: Do you believe that's realistic? A: "We will see. We'll see how I feel. We're...
Last season, Chase Utley opened the season on the disabled list due to knee tendinitis. He would miss 46 games. Now, reports are surfacing at CSN Philadelphia that the 33-year-old second baseman has left Phillies camp to see a specialist for his continually sore knees. It's now considered "likely" Utley will begin the season on the disabled list, putting the Phillies' entire...
Philadelphia Phillies second baseman Chase Utley left camp to visit a specialist in regard to his ailing right knee. "Chase's rehab process has come to a bit of a plateau," Phillies general manager Ruben Amaro Jr. said in a statement. "He has made some strides, but not enough to take the field. "He is headed out of town for a few days to be evaluated by...
It seems we, as Phillies fans have spent the last few seasons being optimistic about how the Phillies will fare. And for good reason most of the time. After the Phillies won the World Series in 2008 and went back to it in 2009, it seems like the Phillies have only gotten better. The results, however, have indicated otherwise. The 2012 season may be a little different for the Phillies...
The Philadelphia Phillies have reached the point where they will be judged on whether they win their last game. Anything less is unacceptable. Five straight division titles, two National League championships and one World Series victory have raised expectations to enormous proportions. It's all-or-nothing in Philadelphia, though key injuries may give the Phillies some kind...
The latest news on Chase Utley is not good. The Philadelphia Phillies' second baseman has hit a "plateau" in his rehab for his chronic knee problem. Utley has already missed 102 games combined over the last two seasons and his once great career seems at a crossroads. 2010 wasn't quite as off for Utley statistically, but last year, his numbers really dipped. His...
It has become a war of attrition at second base in Philadelphia. On Monday, we heard that Phillies second baseman Chase Utley has plateaued in his rehab. He is not expected to be healthy by Opening Day. To make matters worse, utility infielder Michael Martinez broke a bone in his foot after being struck by a pitch from Orioles' reliever Jim Johnson on Tuesday afternoon. The 29...
Chase Utley, Philadelphia Phillies (Bilateral Knee Soreness) Both of Utley's knees are in pain. They likely degenerated further from his 2011 condition despite modifications to his strength and conditioning program. Last year, the second baseman dealt with chronic patellar tendinitis and trouble with the cartilage on the back of the kneecap. The patellar cartilage has very little...
Just a head's up, the GMs are currently recovering from a long, long weekend (our best friend got hitched at the Stoudt's Brewery in Adamstown...) and are neck deep in actual work because a few weeks ago we lost most of our advertisers because we called Jose Reyes a "slut" and had to get real jobs to make our child support payments. So, bear with us the next few...
  The Phillies say they aren't seeking a replacement for second baseman Chase Utley, who left the team Monday to be evaluated by a specialist.   But their latest injury – a broken bone in infielder Michael Martinez's foot – almost certainly means that the team will pursue a utility man.   Martinez suffered his injury Tuesday when he was hit by a pitch in a Grapefruit League...
Phillies News

Delivered to your inbox

You'll also receive Yardbarker's daily Top 10, featuring the best sports stories from around the web. Customize your newsletter to get articles on your favorite sports and teams. And the best part? It's free!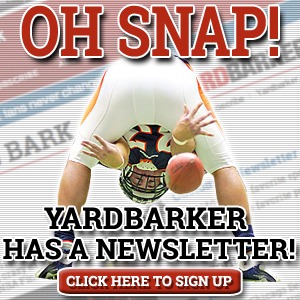 Latest Rumors
Best of Yardbarker

Today's Best Stuff

For Bloggers

Join the Yardbarker Network for more promotion, traffic, and money.

Company Info

Help

What is Yardbarker?

Yardbarker is the largest network of sports blogs and pro athlete blogs on the web. This site is the hub of the Yardbarker Network, where our editors and algorithms curate the best sports content from our network and beyond.