Found October 12, 2013 on NorthWest Sports Beat:
Is it finally their time? There is certainly plenty we don't know about the future for the 2014 Seattle Mariners. Who will manage the team?  Will they really invest in any big names like Jacoby Ellsbury? Heck, who will own the team? Rather than continue to speculate on the "what ifs", let us examine two position players we know will at least be on the roster come Spring Training. We'll take a look at what they must do as contributors if the M's are to see their first winning season in over a decade. Justin Smoak I believe I can be quoted last week as saying "it's put up or shut up" time when it comes to the Mariners' powerful switch-hitting first baseman, Justin Smoak.  The Freak from Goose Creek, S.C. came to the Mariners in 2010 when the teamdealt co-ace Cliff Lee to the Texas Rangers. Smoak is going to be eligible for salary arbitration this winter for the first time in his career.  Seattle has a pretty consistent history of not allowing its players to make it to that hearing, so it's going to be interesting to see what the M's offer him, given his overall lackluster performance so far. Keep in mind, this a guy who waited until 15 minutes before the deadline to finally agree on his first pro contract with Texas after the draft.  Texas finally offered up $3.5 million as a signing bonus just to get Smoak into the minor leagues. It's put up or shut up time for Justin Smoak. While few would argue Smoak's defense at first being subpar, he has been inconsistent at best so far in his major league career with the stick.  He has four seasons under his belt with over 100 games played at the major league level.  In that time, his career batting line looks like this: .227 average, .334 on-base %, 67 HRs, 204 RBIs Smoak is coming off his best season ever as a major leaguer.  He just hit .238 with 20 homers for the M's in 2013. None of those numbers are very sexy, with a possible exception of that 20-homer season for the first time in his career.  Clearly there is still plenty of improvement needed if Smoak is finally going to break out. Despite the risk of a big-money deal and mediocrity at the plate, a switch-hitting, lefty-throwing first baseman who shows the potential to hit for a lot of power is a very strong aphrodisiac. The Mariners are going to make a good offer to Smoak this winter, and he's finally going to have to produce. The question is: Will he? I say yes. The 2014 season is when Smoak finally puts it together.  He'll cut down on the strikeouts and hit at least .275 with 30 Homers.  He'll also break the 100 RBI total for the first time in his career.  You heard it here first. Kyle Seager The Mariner's third baseman, Kyle Seager, is sneaky.  He seems to fly under the radar a lot.  In his early days in the big leagues, he was the afterthought — the "other guy" that came up with Dustin Ackley.  A third-round pick out of college by the M's, Seager has never been thought of as the number one prospect in the Mariner system. Kyle Seager. (Photo: Otto Greule Jr/Getty Images) The stat's say otherwise, however. Seager has a career .260 batting average.  That's the highest average posted by any of the Mariners' "next generation" players. Seriously, if I asked any of you three years ago which of these four guys (Justin Smoak, Dustin Ackley, Jesus Montero or Kyle Seager) is going to have the best overall numbers in three years who do you think would have won my poll? It sure as hell wouldn't have been Seager. Further proof of the "quiet cool" Seager has displayed at the plate, Kyle has just stealthily put up back-to-back 20-homer campaigns, and he has averaged over 80 RBIs each of those last two seasons as well. His last three season batting average totals are .258, .259 and .260.  That's remarkably consistent for a player with only 2.5 seasons played. You want further proof that Seager is figuring things out at the plate?  His walk total from 2012 to 2013 jumped over 20 walks. Seager's defense has been only average.  Yes, I've seen his highlight reel, and he does turn in some amazing plays; but occasionally he seems to just boot an easy one for no apparent reason. Keep in mind, though, that he did not play 3rd base in college, and he's had to learn the position on the job with Seattle.  I think some of those errors will start to disappear in 2014. Seager is ready to bust it loose at the plate.  His walks improvement combined with another year playing 3rd every day should make Kyle relax even more as he just continues to gain a lot of confidence in his swing. Look for Kyle Seager to do something in 2014 no Seattle Mariner has done in a very long time.  Kyle Seager will hit .300 on the year. With Kyle hitting .300 and Justin mashing the ball at least 30 times, that could translate into a lot more runs for a run-starved franchise and maybe even a winning season in 2014 for the Mariner faithful. CLICK HERE TO CHECK OUT THE MARINERS BLOG IN OUR CLUBHOUSE TODAY AT NWSB!
Original Story:
http://www.nwsportsbeat.com/mariners/...
THE BACKYARD
BEST OF MAXIM
RELATED ARTICLES
These guys have nasty stuff Someone asked me last week why I love baseball, especially Seattle Mariners baseball given that they have been so anemic in their last 10 or so seasons.  I always give the same reason. Just when I think I've seen it all, someone on the field goes out there and proves me wrong. I tell you that short story because I want to talk about the three best...
The 2013 Seattle Mariners had an extremely left-handed heavy lineup. Perhaps not surprisingly, they struggled more than any other team in baseball against left-handed pitching. This winter could make the club even more lefty tilted.
It's not always fun to look at Brian Cashman's trades from the other side of the equation. The Yankee version goes that we acquire solid veterans and give up nothing, either because the other team wanted to dump salary or they simply aren't as smart as us.Take Seattle, of course. Of course, the ultimate deal - Jesus Montero for Michael Pineda - now looks, at best, to...
Lou Piniella, back in the dugout? The Seattle Mariners recently contacted Piniella about the possibility, asking him to come out of retirement to manage their team again. One source with knowledge of the discussions described the Mariners' pursuit of Piniella as "a full-court press." Piniella, however, declined the Mariners' overtures. "I talked to them...
The Seattle Mariners might have finished light years out of the most recent playoff picture, but the band that helped popularize the grunge sound of the Pacific Northwest will be alive and well during the upcoming World Series. Pearl Jam, fresh off the release of their tenth studio album "Lightning Bolt" will be providing the soundtrack to this year's World Series telecast…a...
The Seattle Mariners, who currently have no manager after 2013 skipper Eric Wedge resigned, apparently turned to former (and currently  retired) manager Lou Piniella to retake the helm for the 2014 season.  According to Ken Rosenthal of FOX Sports, the Mariners made a "full court press" to bring back their most successful manager in franchise history: "I talked to them about...
When you look at the numbers Jacoby Ellsbury has put up so far this postseason—after just returning from a fractured foot—every muscle in your body has to scream "PAY HIM!!" In the ALDS against the Rays, Ellsbury batted .500, with seven runs and four stolen bases in just FOUR games. He was vital in the Game 4 clincher, when his single got Bogaerts to third. He then...
The Guru Contributing Writer The Red Sox worst-to-first season is not over yet as they prepare for the ALCS and a possible third World Series title in 10 years. However, 25 other teams find themselves right where the Sox were last year - watching the playoffs from the couch with a bucket of chicken and a couple cold ones. One of those teams is the Seattle Mariners and they are...
The Red Sox's free-agent list provides a kind of one-stop shopping for many teams in the majors including the two in New York. You could imagine for example Jacoby Ellsbury Mike Napoli Stephen Drew and Joel Hanrahan interesting the Mets. And Napoli Drew Hanrahan and Jarrod Saltalamacchia enticing the Yankees. But one key issue is which of these players will receive the tender...
Sam Galanis Contributing Writer Now that the Sox are barrelling their way through the postseason, it's getting to be the time for awards. No matter what team wins, there'll be an ALCS MVP and a World Series MVP. So who are all the MVPs on the Red Sox? Batting: This one is a little tricky for me. If we're talking regular season, I'm going to have to go with David Ortiz....
MLB News

Delivered to your inbox

You'll also receive Yardbarker's daily Top 10, featuring the best sports stories from around the web. Customize your newsletter to get articles on your favorite sports and teams. And the best part? It's free!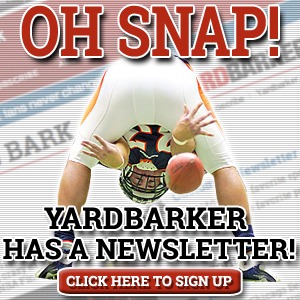 Latest Rumors
Best of Yardbarker

Today's Best Stuff

For Bloggers

Join the Yardbarker Network for more promotion, traffic, and money.

Company Info

Help

What is Yardbarker?

Yardbarker is the largest network of sports blogs and pro athlete blogs on the web. This site is the hub of the Yardbarker Network, where our editors and algorithms curate the best sports content from our network and beyond.