Found October 17, 2012 on Sportress of Blogitude:
From Sportress of Blogitude:
The New York Post is doing a phenomenal job of ensuring readers discover each and every detail about New York Yankees struggling slugger Alex Rodriguez's supposed dalliances with a couple of young ladies in the stands during Saturday's Game 1 loss to the Detroit Tigers in the ALCS.
Now comes news that one of the gals has been identified as Kyna Treacy (above, right), an Australian bikini model.
For those playing catch-up with the story, here's what allegedly transpired:
After A-Rod was removed from the game in the 8th inning of Game 1 of the ALCS on Saturday, a witness said Rodriguez had a ball boy toss a ball up to two women seated in stands a few rows behind the Yankees dugout. On the ball reportedly was a message that requested that the ladies provide their phone numbers and return the ball. The girls reportedly wrote something on the ball and it was returned to a grinning A-Rod who continued to flirt with the two women, although the flirtation apparently ended once Derek Jeter was injured in the 12th inning. What a team guy, that A-Rod, to halt his interactions with women in the stands once his teammate went down.
One other detail about A-Rod that warrants a mention: He is believed to be still dating former WWE Diva Torrie Wilson, so there's that. Between not paying attention to what was going on in the game due to being preoccupied with gals in the stands compounded by the fact he might be looking for a pinch hitter for Wilson, a disturbing portrait is painted of Rodriguez in light of his actions, although no more disturbing than that rumored centaur portrait, of course.
The Post has now identified one of the young ladies as the aforementioned Treacy, who not only is a former Bondi Beach girl but also has her own swimwear line, Kini Bikini. The other young woman is Kate Quinn, a fellow Aussie and a pal of Treacy's. Both currently reside in New York City.
The Post also reported that Treacy is 33, but that appears to be inaccurate, as Treacy tweeted Wednesday morning that she is in fact 27. Good to know.
A-Rod has had no comment up to this point regarding the alleged on-the-field flirtation, nor should it be expected in the future.
Whether or not the entire sordid scenario played out how the Post reported it and A-Rod was trying to get a little something on the side — although you have to question his methods (did he expect no one to notice?), the fact that Treacy has been connected in some manner to Rodriguez is sure to raise her profile a notch or two or ten. In light of that, follow this link for miscellaneous photos of Treacy.
Also from Sportress of Blogitude
Photos: Outtakes from Kate Upton's GQ shoot
Video: See Arianny Celeste's music video
Photo: Bodybuilder's hilarious mistake
Original Story:
http://www.sportressofblogitude.com/2...
THE BACKYARD
BEST OF MAXIM
RELATED ARTICLES
Judging from the way the Yankees have handled him, it is safe to assume that we have seen the last of Alex Rodriguez in the 2012 postseason. It does not even appear that he will pinch hit going forward. How did it come to this? And, why?When Raul Ibanez pinch hit for A-Rod in Game 3 of the ALDS, I understood and applauded Joe Girardi for the move. It took guts to remove a player...
New York Yankees star benchwarmer Alex Rodriguez reportedly went on a date with model and bikini designer Kyna Treacy right after he flirted with her during last Saturday's playoff game against the Detroit Tigers. The Telegraph reports that Rodriguez called her up after last Saturday's game. Treacy's friends say that she and A-Rod went on a date."I think she was pleasantly...
"I watched him flirt with two admittedly very cute young women nearby,'' a witness said of Alex Rodriguez Saturday night -- after he had been benched yet again, this time against the Detroit... Full story at Bob's Blitz ~ http://www.bobsblitz.com
As beautiful as Kyna Treacy may be, she still dates losers. Just don't tell the New York Post that. On Friday, the New York Post ripped Alex Rodriguez and the Yankees -- who were swept out of the ALCS on Thursday night by the Detroit Tigers -- by creating a cover that mocks the reported rumor of A-Rod hitting on women during a postseason game earlier this month...
Alex Rodriguez is having a rough postseason. And with Yankees president Randy Levine unwilling to commit to A-Rod for next season at this point, who knows if this is the last postseason that we'll see A-Rod in pinstripes. One tidbit that probably won't help A-Rod's chances of returning to the Yankees is a report in the New York Post that A-Rod wasn't fully focused on Saturday's...
The New York Yankees have not said much in regards to Joe Girardi benching Alex Rodriguez during the ALCS, in which the Yankees were swept by the Detroit Tigers. There were some that wondered if the move by Girardi was well received by team management and ownership. They aren't entirely too pleased with Alex, either. [...]
Arod, benched in game three of the ALCS, mouths 'Hi Mom' to TBS cameras. Meet the feeble. **Follow us on Twitter. Subscribe, or Return to BobsBlitz.com.Follow us on Twitter. Subscribe or... Full story at Bob's Blitz ~ http://www.bobsblitz.com
Alex Rodriguez's name was not on the New York Yankees' lineup card for Game 4 of the ALCS, and although the game was postponed by rain, the three-time AL MVP is expected to be benched when the Yankees and Tigers resume the series Thursday at Comerica Park. "I'm obviously not doing somersaults," Rodriguez said. "I'm not happy about it. Obviously, you...
During this postseason, Alex Rodriguez has almost become a sympathetic figure. Imagine that. That little incident where the third baseman reportedly tried to hit on a woman behind the Yankees' dugout during the game notwithstanding, Rodriguez has seemed to be largely scapegoated by the team for its collective offensive struggles, yet handled it with grace. Amid being pinch hit...
And we are pretty sure that this will all be blamed on Alex Rodriguez. The New York tabloid media continues having a field day with the New York Yankees after they were swept by the Detroit Tigers in the American League Championship series. Of course, one must remember that in New York World, they are supposed to be in and win the World Series every year. Now back to the rest...
Struggling center fielder Curtis Granderson and third baseman Alex Rodriguez were not in the New York Yankees' lineup for Game 4 of the American League Championship Series on Thursday against Detroit. Manager Joe Girardi stuck with the same lineup that he listed before Game 4 was rained out Wednesday night. The Tigers held a 3-0 lead. Brett Gardner replaced Granderson in...
CC Sabathia, Alex Rodriguez, and the Yankees talk about being swept by the Tigers and how things could change in the future. Note who doesn't have goofy smiles. Your browser does not support... Full story at Bob's Blitz ~ http://www.bobsblitz.com
Yankees News

Delivered to your inbox

You'll also receive Yardbarker's daily Top 10, featuring the best sports stories from around the web. Customize your newsletter to get articles on your favorite sports and teams. And the best part? It's free!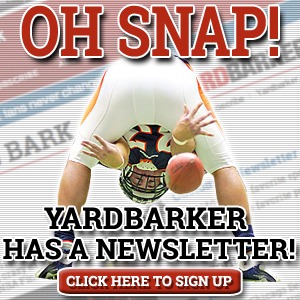 Latest Rumors
Best of Yardbarker

Today's Best Stuff

For Bloggers

Join the Yardbarker Network for more promotion, traffic, and money.

Company Info

Help

What is Yardbarker?

Yardbarker is the largest network of sports blogs and pro athlete blogs on the web. This site is the hub of the Yardbarker Network, where our editors and algorithms curate the best sports content from our network and beyond.