Found December 10, 2012 on SF Lunatic Fringe:
Today is the last day for entries in our DVD Giveaway!  Get your entries posted to our Facebook, Twitter or Google+, and we'll announce the winners of the drawing tomorrow! Now, let's talk about the Dodgers. First of all, the unavoidable sound effect the Dodgers will play of "Ha-dou-ken!" every time a strikeout is notched by Ryu Hyun-jin will sound clever only to them, but god, will it get annoying. The bigger issue is that the Dodgers are spending way too much money.  Way too much.  And unlike the Dodgers trade, they're getting better.  Zack Greinke is not a Top 5 pitcher in the NL.  But unlike him getting paid like an ace, the Dodgers aren't expecting an ace, they're expecting a number 2 pitcher.  He's a very good one of those. I admit that the Dodgers rotation looks pretty damn intimidating right now. A while ago, it was reported that Nick Swisher wanted to come to San Francisco, and why not?  But the hot-stoveness was tempered when it was reported that the Giants don't feel the need to go after a big-ticket item like him. The Dodgers coming down with Greinke, Hyun-jin and others might just be the motivation to make the Giants consider it. The Giants don't need to get into a tit-for-tat with the Dodgers.  That's not the best way to do business.  But the Giants should look at opportunities.  Left field right now is probably the biggest weakness in the lineup.  Blanco might not be the weakest bat in the offense overall (Crawford is right there in the discussion, though it's not an easy choice either way), but good defense in left doesn't have as much impact as good defense at shortstop. Swisher is a switch-hitting outfielder with a line-drive bat and who takes a fair amount of walks.  He'd step in the door as someone who would challenge for being the top home run hitter, and who'd probably see a nice increase in doubles and triples.  He'd be good protection for anyone in this lineup, and extend any pitchers the Giants face to have to throw more pitches in more dangerous situations.  And the Giants have an opening. Now, there's a lot more to consider, such as whether the Giants want to save left field for an aging Angel Pagan once Gary Brown is ready (hoping against hope), or whether an eventually rebranded NBC Sports Bay Area (come on and just do it already, people…we all know it's coming) will be able to pony up anything to help actually give the Giants an income that would be a sixth of what the Dodgers get. But…I want, I want, I want.  And the Dodgers are sure putting the Giants in a position to compete with that. Also, the Diamondbacks got Brandon McCarthy, and I'd like some more hitting to go up against him, too, please. Also, for all of you who came to this post seeing the title and expecting to see an announcement of who's playing in a movie about a dwarf, warrior, valkyrie and wizard in an frustratingly endless maze and one of the most memorable narrating voices of all time…I feel your pain.  Sorry to be a tease!
Original Story:
http://www.sflunaticfringe.com/2012/1...
THE BACKYARD
BEST OF MAXIM
RELATED ARTICLES
MAKE THAT MONEY
The Dodgers and free agent pitcher Zack Greinke reportedly have agreed on a major contract that will add another arm to LA's staff.
LOS ANGELES Finally. An honest man. Maybe even two. Zack Greinke said that when it came down to choosing the Dodgers over other teams pursuing him, it was all about the money. General manager Ned Colletti said that the Dodgers have done what they set out to do, and now theyre done with the nearly 600-million shopping spree. The new Dodger right-hander said that he was leaning...
The Los Angeles Dodgers announced on Monday that they have signed Zack Greinke to a six-year contract. The deal, which had been reported several days ago but became official Monday, is worth approximately $147 million over six years, ESPN reported. The contract is the largest ever for a right-handed pitcher, and, in terms of total dollars, is the second richest in history for...
It appears Zack Greinke will be staying in Los Angeles when the 2013 MLB season begins, but the right-hander will not be pitching for the Angels. Tim Brown of Yahoo! Sports is reporting the Dodgers will most likely land the most prized pitcher on the free-agent market this offseason. Greinke pitched for both the Milwaukee Brewers and Los Angeles Angels of Anaheim last season and...
A person familiar with the negotiations tells The Associated Press that the Los Angeles Dodgers are trying to close a deal with pitcher Zack Greinke worth $147 million over six years. The person spoke on condition of anonymity Saturday night because there was no completed contract. Greinke is the top free-agent pitcher on the market, and has attracted interest from the Dodgers...
After lots of speculation, from being the favorites to being written off, the Dodgers announced that they've agreed to terms with right-hander Zack Greinke on a record-setting deal.
The Dodgers and Zack Greinke have agreed to a six-year, $147 million contract, according to Jon Heyman of CBS Sports. The deal is pending a physical. Greinke, 29, went 15-5 last season for the Brewers and Angels with a 3.48 ERA in 34 starts. Original Post 9:00 AM Jim Bowden of ESPN tweeted that free agent starter Zack Greinke was "blown away" by the offer from Nolan Ryan and...
It's difficult to like what the Los Angeles Angels have done this offseason, particularly when they seem likely to lose free-agent right-hander Zack Greinke. I wrote recently about the different approaches of the two L.A. teams . But the Angels' starting-pitching choices may not be as illogical as they appear. I'm not saying I like them, mind you -- right-hander Tommy...
The Dodger are trying everything they can to make themselves competitive this year. The huge trade they pulled off last season didn't pan out the way they thought it would, so they were going to do something in the off season to make a sudden push to the top again. As a Padres fan I am hoping they fall flat on their face. Especially after yesterday they signed Zack Greinke to a...
The Dodgers seem to have no limit on their spending this offseason. The team agreed to a six-year, $36 million contract with Hyun-Jin Ryu on Sunday, after winning his negotiation rights in November by submitting a $25.74 million posting fee, according to Jon Heyman of CBS Sports. Ryu will join Clayton Kershaw, Zack Greinke, Josh Beckett and Chad Billingsley in the Dodgers' formidable...
Less than 24 hours after the Los Angeles Dodgers agreed to pay free-agent right-hander Zack Greinke $147 million over the next six seasons, they announced that they signed South Korean left-hander Hyun-Jin Ryu to a six-year, $36 million contract. Ryu, 25, was a seven-time All-Star and league most valuable player with the Hanwha Eagles. Over his career, he was 98-52 with a 2.80 earned...
LOS ANGELES (AP) -- Flush with cash after the team's sale this year, the Los Angeles Dodgers are busy spending it on starting pitching. The team introduced left-hander Ryu Hyun-jin (Ree-YOO He-YUN jin) of South Korea on Monday, making him the first player ever to go directly from the Korean league to the major leagues. Ryu signed a 36 million, six-year deal after talks...
MLB News

Delivered to your inbox

You'll also receive Yardbarker's daily Top 10, featuring the best sports stories from around the web. Customize your newsletter to get articles on your favorite sports and teams. And the best part? It's free!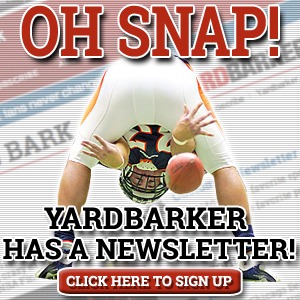 Latest Rumors
Best of Yardbarker

Today's Best Stuff

For Bloggers

Join the Yardbarker Network for more promotion, traffic, and money.

Company Info

Help

What is Yardbarker?

Yardbarker is the largest network of sports blogs and pro athlete blogs on the web. This site is the hub of the Yardbarker Network, where our editors and algorithms curate the best sports content from our network and beyond.