Found November 05, 2011 on Hall of Very Good:
Alright, internet, let's make a deal.  When Jose Canseco stops making "news"...I'll stop regurgitating it.
The other day, I told you about how
the former slugger is contemplating suing
the North American Baseball League for money he was owed.
And today?  Update!
According to NBC affiliate KYMA
in Yuma..."hazardous waste removal" is one of the reasons the NABL didn't make good on dude's salary.
The other..."violating league rules".  Ooops.
Read for yourself.
In an e-mail sent to KYMA-TV, North American Baseball League CEO Kevin Outcalt says that Canseco never received his full salary due to a number of violations against the league. Outcalt states Canseco was fined $16,000 by North American League Baseball Operations Director Harry Stavrenos for "violating league rules." Outcalt clarified this charge later in a phone interview, saying Canseco was originally fined $25,000 for forfeiting and refusing to put his team on the field for a game in Chico this past August. After a league review of the violation, the fine was reduced to $16,000.

The e-mail also alleges that Canseco stuck the league with a $3,500 dollar bill for damages and cleaning that included the removal of "hazardous waste material" from the house Canseco rented on Martinez Lake.
 
The total sum of $19,500 was deducted from his contract.
So...about that hazardous waste.  
KYMA-TV also reached out to Yuma General Manager Jose Melendez, who lived with Jose Canseco this season on Martinez Lake. Melendez says the damages done to the house were largely from Canseco's dog, a great dane named "Bruce." Broken screen doors, stains on carpets and couches, and patio damage were among some items for which tenants were charged. Melendez says that some of the charges are legitimate(screen doors, patio damage), but there are still some cleaning/travel charges they are disputing with the realtor.
On the plus side, Melendez (a decent dude and
a good friend of The Hall
, by the way) says Canseco already has plans to join Pete Rose in an "autograph and appearance business" in Las Vegas this coming winter.
To be continued...
Original Story:
http://www.hallofverygood.com/2011/11...
THE BACKYARD
BEST OF MAXIM
RELATED ARTICLES
AIRING OF GRIEVANCES
Canseco took some shots at his former semi-professional ball club, the Yuma Scorpions, and the league it plays in, saying there is "going to be major lawsuit against them" and that the league was a "travesty."
Lenny Dykstra is on record claiming that Jose Canseco ruined his career. On Saturday, the former baseball sluggers will have a chance to take their swings inside the boxing ring in a celebrity bout. Tareq Salahi, who was one of the White House party crashers, was originally slated to fight Canseco. "Canseco ruined my career by spreading lies. I called Tareq and begged him...
As I'm sure you are aware, Jose Canseco's brain has almost completely melted due to repeated steroid use and advanced egomania. However, he has just enough brain cells left to hit other fighters, random celebrities, and former ballplayers in the face during what could be referred to as "MMA" bouts. A match between the former Bash Brother and everyone's...
Lenny Dykstra was a no-show for his celebrity boxing match with fellow former major-leaguer Jose Canseco. The reasoning for his absence for Saturday's bout - perhaps not surprisingly - is somewhat clouded. The Philadelphia Inquirer reported that Dykstra believed that he was never scheduled to fight. The newspaper cited a conversation with Dykstra's long-time friend John...
NAILS BAILS
Okay, word is that Lenny Dykstra backed out of a "bad boys of baseball" fight with Jose Canseco. Or he didn't. Or there wasn't even a fight agreed to. The Hall Of Very Good tries to get to the bottom of this.
So everybody was all excited about the Jose Canseco-Lenny Dykstra boxing match that was to take place on Saturday night. People cancelling Alabama-LSU plans every which way you look. America was so ******* prepared to see a tobacco-chomping MLB has-been take on a needle-in--the ass-24/7 MLB has-been that can't read. This is the title bout boxing's been missing since the...
According to philly.com Lenny Dykstra may have never even been scheduled to fight Jose Canseco last night.  It was first reported that the main promoter Alki David had met with Dykstra on Thursday and paid him $5,000 in cash and that Dykstra would get $10,000 more after the fight.  It was said that Dykstra pulled out of the fight around 6 EST the night of the fight.  His...
In a celebrity boxing event that has more tawdry plotlines than Kim Kardashian's 72-day marriage admitted steroid user Jose Canseco is scheduled to fight three, 1-minute rounds with disgraced former Met Lenny Dykstra, nicknamed "Nails" for his hustle and no-holds-barred play on the field.
It turns out that you and I weren't the only ones who forgot about the Lenny Dykstra-Jose Canseco fight on Saturday night after gaping at the car wreck of a headline earlier this week. Also suffering a memory lapse? Ol' Nails himself as Dykstra failed to show up for his whuppin' at the pay-per view event. So was Dykstra too busy watching the field goal kicking contest...
from Randy Starkman of the Toronto Star, Georges Laraque is angry at being compared to baseball whistle-blower Jose Canseco in the wake of claims he made in his new book that steroid use was common in NHL dressing rooms. "Some people are stupid enough to say that I'm the new Canseco of hockey," Laraque told the Star in a telephone interview Sunday. "First of all, I've...
There have been only a few simultaneous knockouts in the history of boxing. Fortunately, there's still time to pray for another one Saturday night when Jose Canseco steps back into the celebrity ring against Lenny Dykstra in Hollywood.
There have been only a few simultaneous knockouts in the history of boxing. Fortunately, there's still time to pray for another one Saturday night when Jose Canseco steps back into the celebrity ring against Lenny Dykstra in Hollywood. Seriously, who are you supposed to root for? The superstar-turned-snitch who's always low on money and already beyond embarrassment? Or the...
MLB News

Delivered to your inbox

You'll also receive Yardbarker's daily Top 10, featuring the best sports stories from around the web. Customize your newsletter to get articles on your favorite sports and teams. And the best part? It's free!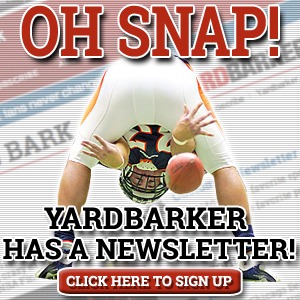 Latest Rumors
Best of Yardbarker

Today's Best Stuff

For Bloggers

Join the Yardbarker Network for more promotion, traffic, and money.

Company Info

Help

What is Yardbarker?

Yardbarker is the largest network of sports blogs and pro athlete blogs on the web. This site is the hub of the Yardbarker Network, where our editors and algorithms curate the best sports content from our network and beyond.