Found May 27, 2013 on The Daily Stache:
Editors Note: An e-mail was received by The Daily Stache this morning at just before 3 AM with us being asked to post this and we agreed. I have been calling out different beat writers for their stupidity this season and now someone wants to go even farther. He calls himself the "Mong Slayer" and this is his Manifesto. daily stache, you are reading this because i've seen the mongslaying powers of your mets blog and i've come to offer my support. i am called the mongslayer. but i am not the greatest mongslayer in the world. consider this a tribute of sorts and a mongslayer manifesto to my metstwitter brethren… you may be reading this and wondering, who is the mongslayer? i say, a mongslayer is the resistance. mets fans and metstwitter denizens put up with enough BS as it is with the team's growing pains. the last thing mets fans deserve are awful, condescending, egotistical, tone-deaf ****-disturbers like andy martino trying to click-bait anything they can at the expense of 22-year-olds. controversy sells, and andy martino is a professional mong. and he's very good at his job, sadly. martino's professional agenda is to sell papers and get page views by pandering to the lowest commong denominator with irrelevant info to distract people from the fact that andy martino sucks. martino's anti-zack wheeler agenda appears to be part of a warped agenda in martino's mind where he would rather bully a 22-year-old minor-leaguer rather than actually do his homework and report on relevant baseball information objectively. yet he is never held accountable. martino is not the only mong that pollutes the vibrant metstwitter community. alas, he is one of the highest-ranking mong. unfortunately, he has a large audience to spew his poisonous opinion, in his tabloid rag paper, and on the mets' own channel, which is more of a hilarious moment in wilpon incompetency than anything. but i digress… who is the mongslayer? the mongslayer is anyone. the mongslayer is everyone. a mongslayer need not be but one person. a mongslayer is an idea. a mongslayer is the resistance. the mong, they live among us, some on metstwitter, with their deluded thoughts, and some in the media, with their heads so far up their own asses, they can't see the light of day. a mongslayer can fight words with words. prose and poem can be powerful in 140 characters. or less. or more. on twitter. on a blog. anywhere. your voice, your rejection of the status quo, you can embrace a better conversation, where fans can think for themselves, and be smart without being smart-asses. a mongslayer can be anything you want it to be, if you fight for justice. your own justice. a fight for higher standards instead of the things we hear regurgitated down our collective throats like we're sheep. we're not sheep. a mongslayer is not a sheep. we're not falling for your two-bit shtick anymore. not martino. not adam rubin, who has lobby forever and will do so infinitely, until the end of days. step your game up, phonies. martino should stop trying to take shortcuts, instead of just being fair to a 22-year-old kid. martino is probably jealous that zack wheeler is already better at what he does than martino ever will be at anything. although if he keeps getting paid to troll like mong for a living, that's a pretty sweet gig. touché, douche. that is, until the audience tunes out. and the clicks don't come. and the papers stay on the shelves. until a mongslayer protests nobly. and then another. and then another. tune out the mong. don't click. don't read. don't pay attention to irrelevant ********. the mainstream media mong are afraid, because they know that the best mets information comes from mets fans, who care about this team, and do their damnest to express themselves about this team. the daily stache understands the power of mets fans, and harnesses this power for good. something as simple as a recap of metstwitter's raw emotion in 140 characters shows us the best of mets fandom, win or lose, every game. whether you blog, or you tweet, or you care at all about the mets, don't let the mong of the world ruin the small flickers of hope that the mets have in a very, very bright future. a wise man once said that the night is always darkest just before the dawn. that dawn is coming. the mong will be vanquished. the mong will be slayed. the mongslayer can't do it alone. no one mongslayer alone can. but the rise of the mets fans and their passion can be strong enough to quell whatever in the world is considered journalism about our mets those days. a mongslayer is not a hero, just your friendly neighborhood mongslayer. sweeping the streets and making things better for the thinking fan. metstwitter will rise. the mong will fall. one by one, they will fall. ya gotta believe The post The @MongSlayer Manifesto appeared first on The Daily Stache.
Original Story:
http://dailystache.net/the-mongslayer...
THE BACKYARD
BEST OF MAXIM
RELATED ARTICLES
Since the beginning of the 2012 season the Mets have been patient with Ike Davis's struggles. They even kept him in the majors, allowing him to turn around his season, putting up a wRC+ of 141, offsetting his wRC+ of 79 in the first half. However, his start to this season has been nightmarish. Hitting a humbling line of .137/.236/.245, the public has expressed its discontent with...
With the MLB Draft only 8 days away, it's that time of year to start looking at potential draft targets for the New York Mets. I find the Rule 4 MLB Draft one of the most interesting drafts to preview because of the fact that it involves both High School and College aged players together. Like most other sports, scout's perspectives on prospects are always changing. As a result...
Assuming the Mets play tonight, Ike Davis will bat in the eighth slot. Terry Collins didn't give a good explanation for the drop in the order, simply saying he wanted to get Marlon Byrd in the game and separate his lefty hitters. Of course, he could do that without dropping Davis. However, the only thing lower than batting eighth is Triple-A Las Vegas, but the Mets don't want...
I have always been dubious about Bobby Parnell. Despite the electric fastball, he's struggled with his command, control and composure on the mound. I always felt that Parnell had the most hittable 98-mph fastball in the history of the game. I personally was ready to give up on him last year, and suggested it was time to move on since he was due a hefty arbitration pay raise in...
The Mets' bullpen may soon be getting some much needed relief of their own as relievers Jeurys Familia and Scott Atchison both began their rehab assignments with Advanced-A St. Lucie on Saturday. Each reliever tossed a scoreless 1-2-3 inning and struck out one as they began their road back to the Mets. Familia, 22, who was placed on the disabled list with right biceps tendinitis...
Starting Lineup Daniel Murphy – 2B Rick Ankiel – CF David Wright – 3B Lucas Duda – LF John Buck – C Marlon Byrd – RF Ike Davis – 1B Ruben Tejada – SS Shaun Marcum – RHP Game Notes The Mets have lost eight straight games at Citi Field. With 12 losses in their past 15 games overall, the Mets have fallen 12 games under .500 at this early a date for the first time...
Monday #Mets vs #Yankees:Tejada-6Murphy-4Wright-5Duda-7Buck-2Ankiel-8Davis-3Baxter-9Niese-1 — Adam Rubin (@AdamRubinESPN) May 27, 2013 #Yankees lineup vs Mets: Gardner CF, Nix SS, Cano 2B, Wells LF, Adams 3B, Ichiro RF, Overbay 1B, Stewart C, Hughes P #SubwaySeries — New York Yankees (@Yankees) May 27, 2013 1 down 26 to go — Matthew Falkenbury (@dailystache) May 27, 2013...
The first of four games versus the Yankees this season, with all four games played consecutively.  Game time is 7:10 PM. To get started just enter your email address and desired username: Name E-mail Related Posts:Game Chatter – Jonathon Niese vs. Vance Worley…Game Chatter: Jonathon Niese vs. Francisco Liriano (5/11/13)Game Chatter: Jonathon Niese vs. Cole Hamels (4/28/13...
Shin-Soo Choo: Could he be a target for the Mets this winter? In a recent interview with Matthew Cerrone of MetsBlog, ESPN's Buster Olney talked about the free agent market, specifically how the Mets will have to approach the offseason in order to land some of the best players on the market: For example, take Shin-Soo Choo, who is a free agent this fall. I think the Mets will...
Like many jocks before him, Keith Hernandez has managed to parlay a successful career in professional sports into an equally successful broadcasting career, currently serving as an analyst during broadcasts of New York Mets games on SNY and WPIX. But for all his successes, Hernandez made a derp for the ages during the broadcast of [...]The post Um, guh? Keith Hernandez calls broken...
The 17th annual Subway Series (first was in 1997) starts tonight at Citi-Field, and other than sharing a city these two New York teams are heading in very different 2013 Subway Series. directions. As this sorrowful story line has not changed since 2009; the Yankees keep on winning, while the Mets cannot stop losing. The Bronx Bombers are sitting atop the AL East with a 30-19...
It's rivalry week where most teams are playing their Interleague partner. Of course it feels different this year as there is always an interleague series happening and one rivalry pair (Houston/Texas) is no longer interleague so they aren't playing right now. Anyway, the Mets won last night and look to continue that into a long streak to reverse the direction the team is moving...
Mets News

Delivered to your inbox

You'll also receive Yardbarker's daily Top 10, featuring the best sports stories from around the web. Customize your newsletter to get articles on your favorite sports and teams. And the best part? It's free!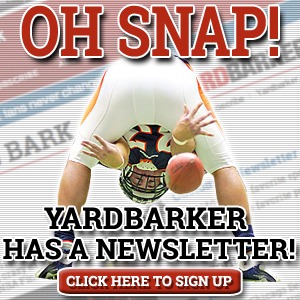 Latest Rumors
The Backyard

Today's Best Stuff

For Bloggers

Join the Yardbarker Network for more promotion, traffic, and money.

Company Info

Help

What is Yardbarker?

Yardbarker is the largest network of sports blogs and pro athlete blogs on the web. This site is the hub of the Yardbarker Network, where our editors and algorithms curate the best sports content from our network and beyond.